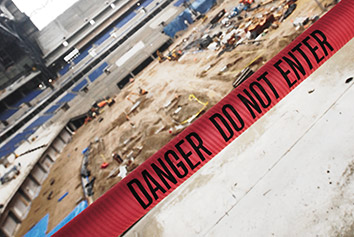 A carefully crafted contract resulted in the Indiana Supreme Court finding a construction company had no duty of care to a subcontractor's injured employee.
In Hunt Construction Group, Inc. and Mezzetta Construction, Inc., v. Shannon D. Garrett, No. 49S02-1106-CT-365, the justices reversed a Court of Appeals decision that found Hunt Construction Group – the project manager for the construction of Lucas Oil Stadium in Indianapolis – owed a duty of care to a subcontractor's employee who was injured on the job.
Shannon Garrett, an employee of Baker Concrete, was on the jobsite in 2006 when another Baker Concrete employee was removing a piece of forming material above her, and the material fell, injuring Garrett's head and left hand.
Hunt had no contract with Baker Concrete, but it had a contract with the Stadium Authority to oversee daily operations. Sean Devenney, an attorney who practices construction law with Drewry Simmons Vornehm, said Hunt went beyond what it was contractually obligated to do, taking steps to train workers about safety. Devenney said that the Supreme Court's decision is important, because if Hunt had to defend itself at trial, construction companies might not see the value in providing additional safety training.
"It is going to be the defining case for quite some time about how to attempt to craft safety programs for clients without taking on liability that they really don't have very much control over," he said.
Precedent
The justices cited Nathan Stumpf and Sarisa Stumpf v. Hagerman Construction Corp. and D.A. Dodd Inc., 863 N.E.2d 871, 878 (Ind. Ct. App. 2007) – a case often relied upon in determining the duty of care in construction accident lawsuits. In that case, the Court of Appeals turned to the language of Hagerman's contract to determine the company had owed a duty of care to a subcontractor.
The COA found in Stumpf that Hagerman's contract with Purdue University showed that Purdue intended for Hagerman to be responsible for safety on the job site. Devenney said that while both Stumpf and Hunt concern the liability of a construction manager, the cases are distinguished by the language of contracts.
Devenney
"In Hunt, they were very specific and they had many instances where they were clear that they were not taking on the role of safety for the contractors who were doing work," he said.
Jeffrey Hammond, of Cohen & Malad, had argued on behalf of Garrett in the COA appeal. He said that he thinks Hunt will be limited in its applications going forward, as the type of complex agreement between parties in the case occurs primarily on large public projects.
"The reality is, you don't see these agreements. In all the cases that I've dealt with, construction manager agreements don't come up that often," he said.
Hammond said that in large projects, the owner attempts to add layers of safeguards. He equated the construction manager's role to that of an editor who proofreads a writer's work.
Hammond
"The Stadium Authority should be commended for its commitment to worker safety and for paying a lot of money to Hunt to enforce project safety rules, and I encourage other project owners around the state to place high value on worksite safety," he added.
Hammond said that as project owners put increasing emphasis on overall safety, they may be looking at construction management companies more carefully.
"Companies or contractors who put profits over safety and seek ways to avoid accountability for their worksite safety obligations are probably not going to get the job," he said.
Opinions divided
The Supreme Court's opinion in Hunt was not unanimous. Justice Brent Dickson's perception was that the duty of care Hunt owed to Garrett was a "mixed question of fact and law."
Devenney interprets that to mean Dickson would prefer to see the matter go before a jury.
"I think what he would be saying is that he's looking at the contract and the activities Hunt took on with this project … probably what he's saying is he trusts the jury to decide whether Hunt should be held accountable," Devenney said.
Voigtmann
When the Court of Appeals issued its opinion in this case, that decision wasn't unanimous, either. Judge Ezra Friedlander agreed with the COA majority that Hunt did not assign a non-delegable duty to Garrett to assume vicarious liability, but he disagreed that Hunt owed a duty to Garrett based on conduct.
Safety in the industry
Mark Voigtmann leads the construction section of Faegre Baker Daniels' real estate and construction group. He said safety is an ever-present concern in the construction industry.
"I think this decision is very helpful and despite appearances, is actually a pro-safety opinion, because it clarified that a construction company such as Hunt here can be involved in a very direct way in providing for the safety of all construction workers at a particular site while still being able to not bite off complete responsibility for that safety," he said. "Reasonable minds can differ on this thing – I'm just a disinterested outside party looking in."•
Please enable JavaScript to view this content.