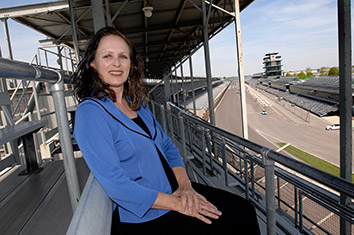 Susan Rivas enjoys the sound of cars zipping around the track at the Indianapolis Motor Speedway. Her office window overlooks the back of the grandstand, about 100 feet away, where workers are busy readying the stands for thousands of visitors.
This is an exciting and busy time of year for Rivas, who joined the Indianapolis Motor Speedway Corp. as corporate counsel and senior director of legal affairs last September. In her role, she provides legal services for IMSC and all of Hulman & Co., including INDYCAR, Clabber Girl, IMS Productions and INDYCAR Entertainment.
 
"I was a partner for 13 years at Ice Miller, and I did work from time to time for the Speedway and also for the Clabber Girl Corp. and worked closely with Gretchen (Snelling), the general counsel, when she was at Ice
Miller. So I would say it was a little bit of a dream job, based upon a longtime association," Rivas said.
"The days go really fast. The people I work with are tremendous – we laugh a lot, and we work cooperatively; it's really a lot of fun," she said.
Small staff, big job
IMSC's legal department is comprised of one paralegal, one administrative assistant and two lawyers – Rivas and Snelling, IMS vice president and chief legal counsel. Ice Miller handles litigation for the corporation.
Rivas said that having such a small staff means everyone must share responsibilities to get the work done. And Rivas is typically the last set of eyes on a contract.
"My specific job involves review of a lot of contracts because – especially at this time of year – we just do a tremendous amount of contracts, and I'm the last person that has to sign off, unless it's something that the general counsel gets involved in," Rivas said. "So I consider my job to be making sure that contracts are right, and also that they're done quickly."
The staff is always looking for ways to streamline processes and boost efficiency.
"The legal profession is lagging behind the world in efficiency. When you have to sit down and draft an agreement, it's a consumer of time, and the business is moving on very quickly. So we're struggling always to be more efficient and give better service to our clients," Rivas said.
Variety and challenge
Rivas has been a business lawyer her entire career. She developed Ice Miller's antitrust investigation, regulatory and counseling practice and advised DowElanco (now Dow AgroSciences) on joint ventures, acquisitions and other corporate issues. This broad experience serves her well in her job at IMSC.
"I think most people view us as a place where you hold races, but there's a huge entertainment side to it that's just like any other entertainment business, in that we have suites, we have concerts here, we sell alcohol, we sell food … so there's just a tremendous variety of legal work to be done."
Rivas said she's still learning about some specific racing law issues, and she enjoys the challenge of learning something new and different. She's also keenly aware of the potential for liability.
"It's very specialized in racing – the risks are severe – and you have to be completely on top of it with insurance and releases. Really, letting people come on the property is a big deal," she said.
When Rivas isn't working, the former English major tries to find time for reading, exercising and riding her bike. She also enjoys traveling with her daughter, who attends college out-of-state, and son, who is a senior in high school. The family recently took a trip to France.
Snelling is glad to have Rivas on staff.
"I am so pleased that Susan joined us," Snelling said. "Her skill and expertise have had an immediate and positive impact on our business. She has deep knowledge of many areas of law and provides very practical advice and innovative solutions to our family of companies."•
 
Please enable JavaScript to view this content.