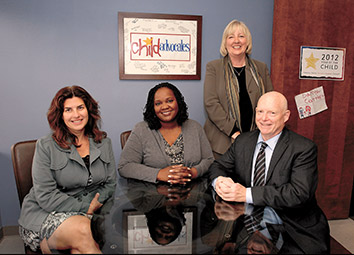 "In that court hearing you'll have a mother and her attorney, you'll have a father and his attorney, you'll have a DCS (Department of Child Services) caseworker and their attorney. The child is rarely ever in court. Without a guardian ad litem or CASA (Court Appointed Special Advocate) there's nobody in that courtroom speaking for that child."
It is thus that Barry Chambers, chief counsel for Child Advocates, describes the role his organization plays in cases of child abuse and neglect. As CASA for Marion County, Child Advocates is celebrating its 30th anniversary, having assisted more than 75,000 children since its inception. Today, the organization advocates for every child involved in a Marion County abuse or neglect case – more than 5,000 annually – with the help of more than 400 volunteers.
Long time coming
In 1982, the Indianapolis chapter of the National Council of Jewish Women saw a need for greater community involvement in and information about children involved in cases of abuse and neglect. Using a model created by a judge in Seattle, the group trained volunteers from the Junior League of Indianapolis to become the "eyes and ears of the court" so more informed decisions could be made about children in these cases.
In the beginning, the organization only could handle a limited number of cases, yet word spread and Child Advocates and the CASA program continued to grow. In 2005, the Indiana Legislature changed an earlier statute that said every child should have a guardian ad litem or CASA to say every child shall have a guardian ad litem or CASA.
"At that point we were supposed to represent all children, but there was no new funding attached to that," said Cynthia K. Booth, executive director of Child Advocates. "In 2010, there was a Court of Appeals case that said the county should be filling that gap, so since that time through a bipartisan effort … the county came up with a way to support our services in Children in Need of Services cases."
Other programs have been introduced by the organization, including a custody program to advocate for children involved in paternity, divorce or custody cases. In these instances, judges will call on Child Advocates if they feel the child needs an advocate.
CASA connection
Recruiting and training CASA volunteers is a key role Child Advocates plays in assisting at-risk kids. Word-of-mouth is the organization's primary means of enlisting new volunteers.
"Our volunteers come from all walks of life," said LaDonna Wattley, volunteer program director. "It's a really nice mix of people. You can have a therapist, you can have an attorney, somebody else might be the cake decorator at Kroger or a teacher. In class you're all volunteers. You're finding out from the child what they really would like to have happen."
The organization is in need of 300 additional volunteers to help with abuse and neglect cases in Marion County. Training covers the professional and emotional side of being a CASA.
"My standard quote is that 'Being a CASA is heartwork,'" Wattley said. "We don't sugar-coat. It's being really sure that people understand their role. Our volunteers really are advocating, they're monitoring and they're reporting to the judge. We talk a lot about the realities of the system … and we try to make them understand there's only so much you can do."
A child's eyes and ears
Nancy Englert, a project attorney for Ice Miller, has been a volunteer CASA since 2008. She's advocated for 30 children from all races, backgrounds and circumstances. Case results are as varied as the kids for which she advocates.
"The best kinds of cases are when parents take responsibility for what happens and are motivated to do what the judge tells them to do," Englert said. "On the other hand, I've worked in situations where the parents just don't seem to do what they're supposed to do for a variety of reasons."
She cited mental illness and drug abuse – which often go hand in hand – as well as alcohol abuse, domestic violence, lack of education and poverty as reasons why parents don't cooperate with a judge's orders.
"Not all of those things are prevalent in all cases," she said.
Englert, like all CASA volunteers, works closely with a guardian ad litem from Child Advocates. She meets with the child as well as the caregiver, the DCS caseworker, therapists, teachers, social workers and physicians to discuss their thoughts on what's best for the child. From these meetings, she compiles advocacy reports on the child's behalf. These, along with reports from others involved in the case, are submitted to the judge, who takes each into consideration when making decisions about the child's future.
"It's the children who have the least control, because they're children," Englert said. "They may be the most vulnerable people in the world because not only are they children but they don't have their parents with them to be their advocates. It's a really big responsibility, but I can't think of any volunteer role that would ever be more meaningful."•
Please enable JavaScript to view this content.