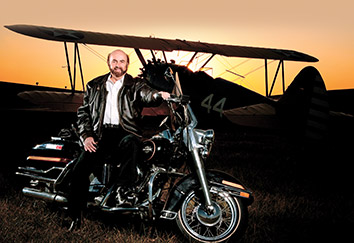 Attorney Rod Taylor always wanted to learn how to fly. But for much of his early life, time seemed to be the only thing that flew. He went to college, then law school, started practicing law, and before he knew it, his children were heading to college and he still hadn't flown a plane.
Then at the age of 49, he was browsing in a bookstore and saw a book about learning to fly after age 50. He bought the book that day and an airplane the next.
Now 64, Taylor is an accomplished pilot who regularly flies himself to destinations for work. And the Capitol City Ford 2012 Indianapolis Air Show just named him Aviator of the Year.
Getting off the ground
Taylor grew up in Southern Illinois, and he credits that background with inspiring his interest in flying planes.
"I'm an old farm boy, so I probably have a more-than-usual interest in mechanical things, and another interesting statistic is that older children dominate the ranks of pilots," he said.
Taylor's theory about birth order and propensity for flight comes from conversations he's had with other pilots who – like himself – are the first-born child in their families.
Taylor relies on his piloting skills to get to far-away appointments. And as a busy personal injury attorney for Christopher & Taylor, and legal counsel for the Indiana, Illinois and Ohio chapters of American Bikers Aimed Toward Education, he travels often.
Being able to hop in his plane and go somewhere offers "an exhilarating moment of freedom," Taylor said.
Attorney Bob Duncan, chair of the Indianapolis Air Show and interim director of the Indianapolis Airport Authority, has been a pilot for 51 years and has trained at least nine Indiana attorneys to fly.
Duncan's family lived in New Jersey, and when he was 16, his father learned he was being transferred to Indiana for work. He offered his son a good reason to cooperate.
"My dad just said, 'You don't raise a big stink about this move, and when we move to Indiana, you can learn how to fly,'" Duncan said.
Duncan, who handles aviation law as of counsel for Norris Choplin & Schroeder, said that what began as a hobby has turned out to be much more.
"It's like anything else in life – you find an interest, you stay with it and it becomes part of your lifestyle," Duncan said.
Making hobbies count
Taylor is also an avid motorcyclist, and in 1994, he found a way to enjoy that hobby and raise money for a good cause at the same time. He established the Miracle Ride, an annual motorcycle ride that benefits the Riley Children's Foundation and Riley Hospital for Children. The success of that event and his love of flying motivated Taylor to – with the help of others – found the Indianapolis Air Show in 1997. Proceeds from that event benefit the Central Indiana Community Foundation and support the Riley foundation and hospital.
The idea for his charitable efforts came after Taylor saw the patients at Riley.
"I think what initiated it was a tour at Riley Hospital, and I defy anybody to go on a tour at Riley and not ask what you can do to help out there," he said.
Taylor is humbled by the number of volunteers who sacrifice their time to orchestrate the events – the air show alone requires the assistance of about 500 to 600 volunteers. Many of the volunteers who help with the air show have some connection to Riley. Duncan's own daughter and two grandchildren have been patients at the hospital, and his daughter now works there.
Duncan
Kevin O'Keefe, president and CEO of Riley Children's Foundation, shares Taylor's respect for the people who plan and work year-round to make the charitable events happen.
"One of the lasting impressions we have of these two events is that these are all volunteers who rally around Riley and the kids. You have thousands of people – some of whom give up vacation time to attend meetings or work these events – and they're all doing it for the sake of these kids, to help us take care of the sickest of the sick kids in the state," he said.
O'Keefe said Taylor's personality plays a big part in getting people to volunteer.
"Rod can talk to anybody and be comfortable with them, and I think the person on the other side of the table is comfortable with Rod. He's very passionate about his commitment to Riley, and he's just willing to do whatever it takes for the purpose of the mission," O'Keefe said.
The air show and Miracle Ride combined have raised more than $5 million for Riley.
Recognition
Taylor said that any air show that features an armed forces jet team is considered to bear a mark of distinction, so he's proud of the fact that the U.S. Navy Blue Angels flight squadron has twice named the Indianapolis show the best in the country. And as a U.S. Army veteran, he enjoys that the air show attracts so many members of the military.
The Indianapolis Air Show executive committee receives nominations for Aviator of the Year and picks the honoree.
"Rod was nominated this year, and since he's been an integral part of the air show and was essentially the founder of it, we thought it was appropriate to honor him in this manner," Duncan said.
Past winners include Dr. Worthe Holt, who began his military career as a flight surgeon and is currently assistant adjutant general for the Minnesota National Guard, and Margaret Ray Ringenberg, a pilot who flew bombers, fighters and transports to troops overseas during World War II. Taylor said he is honored to be among such an elite group of aviators.
"I keep thinking of myself as a newbie, although in the aviation world, going on 14, 15, 16 years, I suppose sometime I need to quit saying that," Taylor said.•
Please enable JavaScript to view this content.