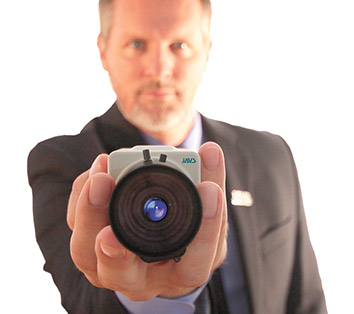 Three Indiana courts are weeks away from beginning an unprecedented experiment: recording proceedings with digital video that will form the official trial court record.
"This is a deliberate and wise examination," of how such a system would work, said Court of Appeals Judge Cale Bradford, who is among those overseeing a pilot project at the direction of the Indiana Supreme Court. The project will install automated video systems in the courtrooms of Allen Superior Judge Nancy Boyer, Marion Superior Judge Mark Stoner and Tippecanoe Superior Judge Loretta Rush.
Cameras in those trial courts will roll on or before Aug. 1, according to Supreme Court administrative staff. The video will be the official transcript unless a judge orders a paper transcript in a particular case.
 
Bradford said the video trial project will run for a year with the expectation that each of the courts will generate 15 diverse appeals: termination of parental rights cases from Rush's court;
major felony convictions out of Stoner's court; and civil decisions from Boyer's court. Each of those appeals will be heard by a panel consisting of Bradford and appellate judges James Kirsch and Melissa May.
Bradford acknowledged video transcripts will take adjustment for attorneys and judges. But he expected efficiencies in preparing the video transcript to outweigh any additional time judges and lawyers will have to spend consulting video transcripts.
Bradford
Indiana's pilot is looking to Kentucky, where courts statewide have relied almost exclusively on video transcripts for nearly 30 years.
"On our end, the difficulty will be from going to reading and writing to viewing and writing," May said in an email. "I can't say there aren't concerns with potential time issues, but when we try it, we will find out the upsides and downsides of the Kentucky system." 
"My personal concern is that video transcripts may speed up transcript preparation, but will slow both the briefing and decisional parts of the appellate process so that we end up with no net gain in shortening the overall time for processing appeals," Kirsch said in an email. 
Selling the system
"Indiana's approach is the most deliberate and thoughtful of any court we've worked with," said Kurt Maddox of Jefferson Audio Video Systems in Louisville, Ky., the company that will install multiple cameras in each of the three courts in the next several weeks.
Kirsch
The question for courts, Maddox said, is "what really is the right way to do this in 2012?"
Maddox's official title with JAVS is chief evangelist. He preaches the virtues of the video record, which JAVS has helped make the standard in Kentucky courts since 1983. Maddox said converting courts with deep traditions can be a mission compared with the relative ease with which some developing nations embrace video court records.
"In the U.S., it just takes a tremendous amount of effort," he said, to overcome the institution of paper transcripts. "The Kentucky model sits out there challenging the traditional wisdom every day."
May
Maddox said video transcripts are more accurate and efficient than those prepared by even the fastest and most professional court reporters. Kentucky's statewide court system estimates it has saved $24 million per year since it switched to a video court-reporting system.
"I have a strong belief, I think based on good evidence, that the taxpayers are on the hook for a lot of money simply because of the lack of interest" in moving toward video transcripts, he said.
JAVS uses a system in which multiple cameras are linked to microphones that are voice-activated and switch cameras to the speaker using an automated controller called a Centro.
"We create an automatic production without an operator," Maddox said. Instead of the traditional period allowed for transcription – 90 days in Indiana – the transcript in video form is available as soon as the trial concludes, he explained.
The cost of installing and operating the leased systems for the Indiana pilot project has not been determined. Negotiations are continuing, officials said, and the state could retain an option to purchase the equipment.
Concerns for the record
Video transcripts raise a host of concerns for court reporters, from misplaced or overwritten (taped over) recordings to the inclusion in the official record of such distractions as ambient courtroom noise and how a defendant looks or sounds.
"While the Indiana Shorthand Reporters Association understands the motivation of the Indiana Supreme Court to engage a pilot project to explore other ways to make the court record, we still believe the best way to ensure the record is accurate and is efficiently produced is when it is captured and prepared by a certified shorthand reporter," according to an ISRA statement from vice president Victoria Dudeck.
The association that represents certified court reporters said audio/video records are unreliable, and problems with the recordings sometimes aren't discovered until transcripts are filed for review.
"There are numerous examples of hearings in which a microphone didn't work or the entire system didn't record properly. Sometimes, operator error as simple as the recording monitor forgetting to turn on the machine can render dozens of proceedings unrecorded," according to ISRA.
The association said requiring court reporters be certified and participate in continuing education would present a better improvement for court records than video transcripts.
Adam Finkel, senior government relations specialist for the National Court Reporters Association, said courts are bearing the brunt of government cost-cutting nationwide, and video transcripts are presented as a long-term cost reduction that's put a skilled, time-tested profession on the defensive.
Finkel said there's good reason to resist automating court records, even if some savings are realized: "You're putting a price on justice and the courts."
Maddox said problems and human error arise with court reporters as well, but concerns about technical problems are overstated. He said video transcripts are the most complete and accurate available.
Moving forward
Stoner plans to visit Kentucky courts and confer with judges there to get some guidance on best practices and how the system has been used there. Plans are moving forward to have cameras installed as soon as possible in his Marion Superior courtroom.
"(JAVS') IT folks are talking with my IT folks to make sure it all works together," he said.
Stoner said judges will have some control over the system, such as overriding voice activation, but he doesn't want to be "distracted by determining camera angles" when he's advising someone of his rights when entering a plea, for instance.
Rush said the new system will require training, and not just for court personnel. "I've already started talking to the attorneys in my (Tippecanoe Superior) court, and really what we're going to do is bring them along right from the beginning to get training on it," Rush said. "How do you do a brief, how do you do an appellate summary from a video?"
"Those of us who've never seen anything other than a written transcript wonder how in the world this will ever work," Boyer said. The Allen Superior judge has gotten some answers from JAVS and from practitioners in Kentucky. Typically, court events such as who's testifying, direct, cross-examination, and exhibits in evidence are noted in a log that corresponds to time stamps on the video.
The video transcript will allow attorneys to have records of proceedings at the close of each trial day, Boyer said. The availability means, for instance, that an attorney could use video of witness testimony as part of a PowerPoint presentation during closing arguments.
"It could be very powerful," she said.•
Please enable JavaScript to view this content.