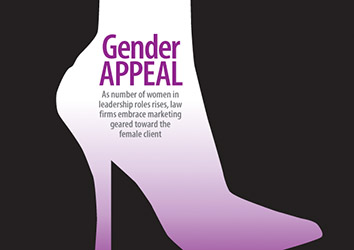 For years, marketing research has indicated that when it comes to the purchase of products and services in the home, women are a target audience. As women have claimed their place in executive and administrative offices throughout America, becoming key decision makers for small and large businesses, professional service providers have taken notice and become creative in their approach to maintaining relationships with female clients.
"When I started practicing law my mentors were male partners, and they have a very distinct model for marketing," said Lewis Wagner LLP attorney Dina Cox. But the "dinner, drinks and sporting event" approach that many of today's lawyers were trained with doesn't apply to everyone, she explained. "As women have risen to the point where they are referring business out, it has affected marketing."
 
Lewis Wagner recently hosted a wine-tasting event for female clients and business sources. One of the goals of the event, Cox said, was to thank those women who had supported the efforts of the firm's female attorneys to be rainmakers. It also provided a nice opportunity for the firm's female attorneys to socialize with female clients who work primarily with the firm's male partners.
Extending the women-to-women networking concept a bit further, the firm made a point of using a woman-owned catering business, and it made a $5,000 contribution to Grameen America Indianapolis in honor of its female clients and referral sources. Grameen makes microloans to low-income women to pursue business initiatives.
Walker
"This was a way of putting our money where our mouth is," Cox said. "We wanted to be overt in saying 'thank you women, you've placed your confidence in us.'" It was also important, she said, to pay it forward.
Recognizing that there is no one-size-fits-all approach to building relationships, Bose McKinney & Evans LLP Chief Marketing Officer Jennifer Walker said women-
focused events are one more way law firms can appeal to a broader audience.
In 2011, the firm hosted a fashion show and reception at Saks Fifth Avenue, an event that will be "back by popular demand," in 2012, Walker said.


Firms often offer tickets to sporting events, concerts or tables at not-for-profit dinners as part of their marketing programs. "The key is listening to what the clients want and be able to provide that," she added.
Perry
Bose labor and employment attorney Sandra Perry observed that women-centered events like the fashion show bring clients together in a fun and relaxed environment. These events not only provide an opportunity for lawyers to build relationship with clients, they enable clients to connect with others in their respective profession. She said she has seen women who work in similar fields walk away from these events with new friendships and with additional professional resources.
"It is about adding value, not just giving legal advice," Perry said.
Because female attorneys from different practice groups are coming together to hosts these events, there is a cross-selling aspect as well, Perry explained. The events provide lawyers an opportunity to network with clients in different areas of the firm's business.
"One of the biggest challenges when you are a busy attorney is that you have great relationships over the phone with people, but you have to carve out time to go out and meet people too," Perry said.
Target your market
The world has become more sophisticated about marketing, and we are seeing more niche events, explained Borshoff principal Jennifer Young Dzwonar.
"Almost everywhere when it comes to marketing, it is more successful to hone in on sections of the market than to throw it wide and hope everyone will come," Dzwonar said. "Really key in on what interests people and go for that rather than trying to drag them to something to get their attention. Try to get to the real decision makers for your product or service. The narrower you can make that, the better the bang for your buck."
Savvy marketing also includes structuring networking events so that they fit into women's schedules. Crafting social events that allow women to multi-task have also been a hit.
"Professional women have a lot of demands outside of their professional lives," Perry said. The fashion-show-centered gathering runs from 5:30 to 8 p.m., giving women a chance to enjoy the event but still be home for family time or to take care of other things.
Bingham Greenebaum Doll LLP hosts a reception associated with the Junior League of Indianapolis' always-popular Holiday Mart, giving female clients the opportunity to enjoy opening night and check a few items off their holiday gift list.
Hidde
"They appreciate that we are thinking outside the box a bit and trying to strengthen our relationships with them through events that are more female-focused," said Bingham partner Kandi Hidde. Clients who have been to the Holiday Mart event often call, she said, to find out if the firm is hosting it again and to get the date on their calendars. "It enhances relationships and creates more business."
And for some female clients, activities outside of office hold no appeal.
"You can tell that sometimes an invitation to do something is a burden – they just don't have time," Cox said. Building an effective marketing and networking strategy means having an approach for those clients, too.
Cox makes an effort to find out what her clients like and tailors use of her marketing dollars to their individual tastes.
"I'm a big book giver," Cox said. "I also have a client who likes the same musical artist that I do, and I always get them tickets when they (the artist) come to town. We don't necessarily go together – that is not the point."
Women-only marketing events are not an effort to exclude men, lawyers involved in hosting them explain; they are an effort to open doors for women who aren't interested in some of the more traditional events to promote business development. Male partners are often involved in creating guest lists and planning.
Change continues
There is no question that the women in the workplace have changed the corporate culture in America. The National Association of Women Business Owners reports that 10.1 million companies are owned by women, employing more than 13 million people and generating $1.9 trillion in sales. Female small-business owners will create nearly 5.5 million new jobs in the U.S. by 2018, according to NAWBO.
"Our firm traditionally does insurance defense work, and it is remarkable how many more senior claims people are female now," Cox said. "It used to be a man's world – we are now seeing many more women in president and VP positions in claims, as well as general counsel positions at corporations."
As more women are moving up the ranks, they are seeing the value of giving business to other women, she said, a trend that didn't exist 15 or 20 years ago.
Jennifer Browning Holmes, president of Integrating Woman Leaders, said data shows that businesses that help women develop their potential will see the payout.
"One reason retention is horrible at some law firms is because they can't figure out how to create an environment for women," Holmes said.
Within law firms, these types of events are valuable to female attorneys in the early years of their legal practices.
Internally, some law firms host women's forums or committees designed to provide mentoring and training for female associates and partners. And they often extend some of those opportunities to clients. Hidde said that Bingham's Women's Forum, which she co-chairs, partnered with Key4Women in 2010 and 2011 to host a speaker series titled "What Women Want," addressing topics including life balance, how to work a room, and communication between men and women. This year the firm created its Women's Business Forum which in August will co-sponsor Indiana University Maurer School of Law Career and Professional Development Director Caroline Dowd-Higgins for a session on personal branding.
A study released in June 2012 by Catalyst, a nonprofit research group focusing on women and work, found that today's female professionals are, in fact, actively helping each other succeed. Statistics provided in the report dispel the Queen Bee theory – a belief that women in business are reluctant to provide career support to other women.•
Please enable JavaScript to view this content.