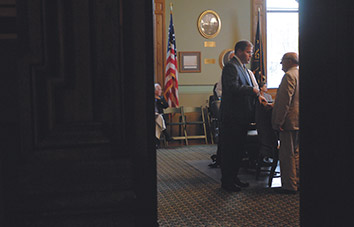 The Judicial Nominating Commission spent about 12 hours over two days in public interviews with 22 lawyers and judges, each of whom hopes to be Indiana's next Supreme Court justice.
But when the interviews were over, it was the three hours or so behind closed doors on July 18 that narrowed the field to 10 semifinalists. Emerging from executive session, the commission reconvened in public, and member Jean Northenor made a motion naming the 10 semifinalists. The motion seconded, the seven-member panel voted unanimous approval with no discussion. The meeting adjourned.
The six women and four men still in the running to replace retiring Justice Frank Sullivan Jr. will repeat the process of public interviews on Aug. 8-9. And the commission again will huddle in private afterward, this time to winnow the list to three candidates whose names will be forwarded to Gov. Mitch Daniels for his selection. (Click here to read about the 10 semifinalists.)
So what happens when those doors close?
"The first thing we do is sit down and say, 'How do we decide?" said Chief Justice Brent Dickson, who chairs the commission that also includes three attorney members and three non-attorney members. "There's no institutionalized process of voting."
Northenor and other commission members who spoke to Indiana Lawyer after the semifinalists were selected described a collegial process that at the same time required hours of give-and-take to reach consensus.
"The chief justice as chairman will call on somebody and say, 'What are your thoughts,'" said Northenor, a non-attorney member from Warsaw. "We talk about some who probably won't make the cut."
"It's just a lot of deliberating," to come to consensus on semifinalists, she said. "We start making a list. … If someone disagrees, we talk it through."
The commission includes a majority of members who've served for less than two years, including the three non-attorney members appointed by Daniels: Northenor, who came on the board this year; Molly Kitchell of Zionsville, who was appointed last year; and Ryan Streeter of Indianapolis, who just last month replaced member Fred McCashland, who resigned.
Among attorney members, John Ulmer of Goshen also arrived on the board this year. And Dickson took over as chair when former Chief Justice Randall Shepard retired this year.
Attorney Jim McDonald of Terre Haute, who is the longest-serving commission member, is in the final year of his second non-consecutive term. Attorney William Winingham of Indianapolis is the second-longest tenured member.
Except for the chief justice, members serve three-year terms that cannot be consecutive.
"We take turns. We go back and forth," Ulmer said of the deliberations. "Each member will say, 'I think so-and-so's a good prospect; we ought to invite him or her back.'"
Ulmer, a former Republican state representative, said it was noteworthy what members didn't talk about. "There's no politics discussed – none whatsoever." There also was no discussion in executive session about the topic that has dominated the public discourse: whether the next justice should be a woman.
"We are one of the three 'I's': Iowa, Idaho and Indiana, (that) don't have a female on the Supreme Court," Ulmer said. But he noted that Daniels had offered this advice when Ulmer came on the commission: "He said, 'John, pick the three best qualified.'"
That is what the JNC is statutorily required to do. But qualifications can be in the eye of the beholder.
Determining semifinalists for the state's high court was a challenge, Streeter said, because there's no "track" to determine qualifications to be a justice, and the panel had to weigh applicants with a broad range of legal and life experience. "It's a rich and diverse group of people."
Streeter said he was impressed by how well versed commission members were with each candidate's application and how the group worked together behind closed doors. "It's a very collegial group. Everybody was incredibly fair-minded."
Kitchell said deliberations were remarkably civil even as members made the case for applicants they deemed most qualified.
"You may not end up getting the result you want, but it's a group discussion," she said, adding that odds are long that all seven commission members would be in complete agreement on each candidate. "It's nice to see how open minded people are. I'm amazed at the amount of time the chief justice allows us to present our impressions," Kitchell said.
McDonald said non-attorney members' participation is of critical importance.
"In my opinion, there are no shrinking violets on that commission as far as non-attorneys," he said. "I have on more than one occasion changed my position on a candidate based on the position of the lay people."
Commission members said neither attorney members nor non-attorneys tend to dominate the executive session talks.
"I would concede they are better qualified at evaluating some of the legal experience" of candidates, Kitchell said of the attorneys on the panel. "But it's very important to all of us that the person we pick is a good person."
During his first term, McDonald participated in no judicial appointments. This term, Sullivan's replacement will mark the third justice he's helped appoint in less than three years, along with interviewing Indiana Tax Court and Court of Appeals applicants.
"I never thought I would possibly be this busy," he said, noting that his commission obligations have taken away from his private practice. But he said it's worth the rare experience to have a chance to evaluate someone who likely will serve on the high court for many years.
"To me, it is probably the most significant responsibility I feel I've ever been in a position to participate in," McDonald said.
In early August, the commission will restart the process, welcoming back 10 familiar faces.
"It'll be difficult getting down to the final three," Ulmer said.•
Please enable JavaScript to view this content.