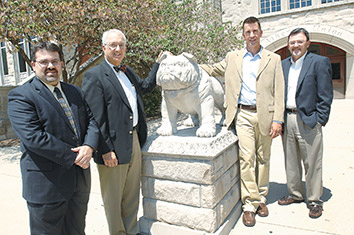 The business versus profession debate has been raging since Ted Waggoner became a lawyer in 1978 and probably had been going on long before then.
Waggoner, a partner at Peterson Waggoner & Perkins LLP in Rochester, remembered some small-firm attorneys at that time began describing themselves as business owners while the elders insisted the practice of law was a profession, not a business.
Having practiced in a small firm his entire career, Waggoner highlighted his pragmatic stance by asking, how will a law firm make payroll if it is not a business?
The Business Law Section of the Indiana State Bar Association is addressing the growing need among lawyers to know good business practices like payroll, inventory, accounting and advertising in order to keep their firms open. In conjunction with Butler University's College of Business Executive Education Office, the Business Law Section is offering a five-seminar Business School for Lawyers.
Waggoner was a member of the focus group that helped formulate the seminar. Jeffrey Nickloy, senior attorney at Campbell Kyle Proffitt LLP in Noblesville and former chair of the Business Law Section Council, had the original idea that resulted in the series.
"My hope is that they will both be better able to relate to and advise their business clients and that they will be more comfortable, efficient and effective in the management of law firm business," Nickloy said about those who choose to attend.
For the most part, lawyers have been expected to learn the principles of business on the job. However, the economic recession has dried up the number of positions open in law firms so more and more attorneys, especially those just graduating from law school, are hanging out a shingle and starting their own solo practice, Nickloy said.
Even at many firms, lawyers may be called upon to handle business matters and find themselves adrift because they have not been taught how to run the operation, Nickloy continued.
Problems arising from business struggles can have a boomerang effect on law firms. In addition to such matters distracting an attorney, both Nickloy and Waggoner see a link between attorney disciplinary cases before the Indiana Supreme Court and lawyers lacking business knowledge.
A disciplinary action could result from a simple accounting mistake or come from something much deeper such as an attorney misusing client funds to cover the firm's expenses.
Intensive and practical
The curriculum in the Business School for Lawyers is geared specifically for attorneys and the unique aspects of their practices. The topics and format developed as ideas and suggestions were batted back and forth among the Business Law Section, a special focus group and Butler University.
The classes in the Business School for Lawyers are:
Aug. 24 – Strategic Thinking for Lawyers: Attorneys will be introduced to strategic thinking and analysis that are crucial to setting a long-term direction of any organization.
Aug. 25 – Ethics & Business Development I: Attorneys will work on their own ethical business development plan that complies with the Indiana Rules of Professional Conduct.
Sept. 14 – Financial Accounting & Tax Reporting: Attorneys will be introduced to financial managerial and tax reporting concepts that are relevant to law firms.
Oct. 5 – Ethics & Business Development II: Attorneys will briefly review the material from the Aug. 25 session and then focus on professional responsibility, trust, personal selling, client loyalty, branding and advertising.
Nov. 9 – Developing a Law Firm's Human Capital: Attorneys will be introduced to leadership, human resources law and human capital development techniques that they can use to help manage the daily activities of their firms.
This is not the first time Butler has built a specialized curriculum to meet the needs of a specific group, according to Ron Thomas, executive director of Butler Corporate & Executive Education. It reflects the school's focus on application rather than the theoretical.
"(The seminar is) not sitting and reading the newspaper or checking your smartphone during class," said Jason Guthrie, current chair of the ISBA Business Law Section Council. "It's actually designed to teach you something you wouldn't otherwise learn outside of the classroom."
Participants will have to complete reading assignments ahead of class and should expect to do work and be active in class. The day-long sessions will be intensive and provide the tools to handle the day-to-day business operations of a legal practice.
"We didn't want something where you're going to walk away from it and say you really didn't learn anything," said Guthrie, a partner at Thomasson Thomasson Long & Guthrie P.C. in Columbus.
The seminar consists of five separate sessions. Attorneys can take all five or attend only one or two and still benefit. Those who attend all five sessions will earn a Certificate of Business Administration. Plus, a portion of the series is eligible for Non Legal Subject Matter CLE credit.•
 
Please enable JavaScript to view this content.