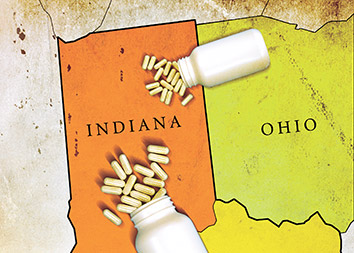 In national news reports about pain clinics and prescription drug abuse, Indiana is usually not mentioned.
Florida, Tennessee, Washington and Kentucky are often at the center of the conversation concerning a growing epidemic of doctors and so-called pill mills that prescribe narcotic pain medications in such high doses that patients are either addicts or soon will be. The stories emerging from these hotspots tell of patients standing in a line that curves around the pain management clinic, parking lots filled with cars sporting out-of-state license plates and a rate of prescription writing that indicates the physician spent five minutes or less evaluating the patient.
But the problem of over-prescribing of controlled substances and prescription drug abuse is escalating in Indiana. Awareness is growing, and calls for action are becoming louder.
The Indiana General Assembly has established the Health Finance Commission to study among other things, the regulation of pain management facilities and prescribers of controlled substances and may recommend legislation in 2013.
Members from the medical and legal professions are hesitant when asked if the Statehouse is the best place to find a solution to pill mills. Laws being enacted in other states are having unintended consequences and causing some physicians to quit prescribing pain medication altogether.
Sen. Ron Grooms, R-Jeffersonville, is a member of Health Finance Commission and, having spent his career as a pharmacist, has seen the problem up close. He emphasized he is not on a witch hunt and knows some people have debilitating pain that needs treated. However, he raised the question: Isn't it somebody's duty to make the medical community treat the patients rather than maintain their addiction?
Across state lines
The Clark County Wellness Clinic LLP, which recently started operating in Grooms' hometown of Jeffersonville, highlights his concern of what could happen. Indiana has so few regulations related to pain-management facilities that as neighboring states clamp down, Grooms expects these operations will migrate across state lines to the Hoosier heartland.
In the case of Clark County Wellness, the clinic relocated from Georgetown, Ky., shortly after the Kentucky General Assembly enacted new legislation targeting pill mills. Activity at the clinic has neighbors worried that it could be a pill mill.
"Everything they're doing is legal," he said. "I think it's a situation that provides medication to clientele whose medical issues need to be addressed rather than maintained."
While the specter of migrating pill mills looms, the Indiana attorney general's office and members of the medical community have noticed a growing problem of opioid prescribing among providers already in the state.
More and more physicians are being investigated by the Indiana attorney general and facing disciplinary action before the Indiana Medical Licensing Board for over-prescribing controlled substances.
From 1999 to 2009, unintentional poisoning, which would include prescription drug overdose, skyrocketed 502 percent in Indiana, according to a data presentation Dr. Joan Duwve of the Indiana State Health Department made to the commission. Over the decade, unintentional poisoning became the leading cause of injury death, outpacing unintentional motor vehicle accidents, suicide with a firearm, and homicide with a firearm.
Gabrielle Owens, director of the Licensing Enforcement Unit and Homeowner Protection Unit at the attorney general's office, is unsure why complaints regarding pain medications are increasing. Either more doctors are over-prescribing or more people are aware of the issue and recognize drug abuse in their families and colleagues.
The reasons why physicians abuse their prescription pads vary, Owens said.
"We feel in some cases they were greedy. They were in it for the money," Owens said. "Others, we
think, wow, they kind of got duped by drug addict patients who pulled the wool over their eyes."
Still, she noted, the duped physicians had a responsibility to connect the dots.
No welcome mat
Whether the Legislature passes a "pill mill" law next session is uncertain. Yet, Grooms is confident if any bill emerging from the study commision gets a hearing before a committee, it will receive a passing vote.
The senator envisions any potential law as regulating both the facility and the physician. He said legislation could require pain clinics to have a special license and be owned by a licensed physician. Also, the treating doctors would possibly have to follow specific protocols such as taking a medical history, performing a physical exam, offering alternative care options, and offering to coordinate additional care with physicians from other specialties.
Pill-mill bills passed in Ohio and Kentucky are raising concerns among doctors in those states who say the laws are confusing and having unintended consequences. Indiana may be experiencing a similar situation with its law that regulates the treatment for weight loss and obesity.
This law – like the bill Grooms outlined – regulates the steps physicians must take before prescribing a controlled substance to overweight and obese patients. However, the law has not been well publicized and some doctors are getting tripped up, Brian Betner said.
An attorney at Hall Render Killian Heath & Lyman P.C., Betner has represented doctors before the Indiana Medical Licensing Board. Sometimes, he said, physicians may make a technical mistake or an innocent oversight that did not impact patient care but was still a violation that puts them at a licensing board hearing. Moreover, the board has little option but to impose disciplinary action which, in turn, can have long-term negative consequences for the doctors.
Michael Whitworth, physician and chairman of the Indiana Pain Society, cautions Indiana against following the lead of other states and hastily crafting a massive, convoluted bill that induces physicians to quit prescribing pain medication and leaves patients who are in chronic pain with no relief.
"We don't have to rush in and craft a very detailed bill," he said.
The IPS is proposing the state establish a Controlled Substances Commission, consisting of a variety of medical professionals from physicians to veterinarians. This group would develop regulations and disciplinary rules for opioid prescribing. If after two or three years the death rate from overdoses has not declined, then the state can try another approach.
Based on her work, Owens does not think the solution will come from one source. Instead, it will likely take a collaborative approach with the medical community, law enforcement, health department, Legislature and other groups coming together to formulate policies for Indiana.
INSPECT
The state's database which tracks prescription narcotics, INSPECT, is universally praised and touted as something that, with wider use, could help combat over-prescribing. The system is the "gold standard" in drug monitoring in the United States, said Mike Rinebold, director of government relations for the Indiana State Medical Association.
Physicians, Whitworth said, should be required to check the database when prescribing narcotics to see if a patient has already been prescribed the drugs from another doctor. However, currently, only about 40 percent of Hoosier doctors with Controlled Substance Registry certification are enrolled in the database.
"That is a tragedy," Whitworth said. "That means a huge group of physicians are not doing their due diligence when they take out their pens and write a prescription."
Yet, INSPECT is headed for its own fiscal cliff. A federal grant that provides two-thirds of the funding for the program is set to expire this year.
Tens of thousands of Hoosier medical professionals in private practice, clinics and emergency rooms are impacted by INSPECT every day, Rinebold said. The ISMA has started talking to legislators who are involved in health care to raise awareness of the database and the importance of continuing funding.•


Please enable JavaScript to view this content.