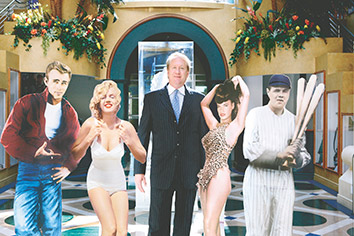 The legal landscape for Marilyn Monroe's heirs changed considerably when a federal court recently affirmed that the idol had no right of publicity that survived her.
The Aug. 30 decision of the 9th Circuit Court of Appeals in San Francisco involved a Fishers-based litigant, CMG Worldwide Inc., that represents various photo collections of the Hollywood legend, and formerly represented Marilyn Monroe LLC.
Fifty years after her death, Monroe's royalties are estimated at $27 million a year according to Forbes, which lists her No. 3 in earnings among late celebrities, behind only Michael Jackson and Elvis Presley.
 
The 9th Circuit affirmed that the state of Monroe's estate was inextricably connected to the state where the record shows she was domiciled.
"At issue is whether appellants inherited a right of publicity, which was created and deemed posthumous by the states of California and Indiana decades after her death, through a residual clause in her last will and testament," 9th Circuit Judge Kim McLane Wardlaw wrote. "The will was subject to probate in the state of New York, which does not recognize a posthumous right of publicity.
"We conclude that because Monroe's executors consistently represented during the probate proceedings and elsewhere that she was domiciled in New York at her death to avoid payment of California estate taxes, among other things, appellants are judicially estopped from asserting California's posthumous right of publicity. We therefore affirm the district court's order so holding."
The right of publicity allows a person – or entity in the case of Marilyn Monroe LLC – the ability to maintain control over his or her name, image, etc. for commercial purposes. Legal experts on the right of publicity debate the scope of the decision, but they say it highlights the uncertainty involving the rights of heirs of famous people.
"We obviously would prefer that there
be a more uniform approach on the way right of publicity is handled," said CMG President Mark Roesler. "Unfortunately, the way it's evolved on a state-by-state basis … it makes our job a little more difficult to protect and exploit these rights for the clients we represent."
CMG no longer represents Marilyn Monroe LLC or subsequent owners of her posthumous rights, but the company does represent photo collections that Roesler said are protected by copyright. He said Monroe licensing probably accounts for less than 5 percent of the company's business. CMG had sued photo studios in California and Oregon, claiming they violated copyrights by using Monroe's image.
Valparaiso University Law School associate professor Mike Murray has written extensively on right of publicity and said the Supreme Court has been loath to address an area of law that only came into existence around the time that Monroe's star was at its zenith.
"In a lot of ways, we tackle issues in this area of law as if it were a brand new developing area," Murray said.
It's unclear whether those who represent Monroe will appeal the decision to the Supreme Court, but Murray and others said there are tantalizing but challenging arguments to be made. Authentic Brands in New York now is the principle representative of Monroe's estate. General counsel for the company could not be reached for comment.
"It seems the commentators I've been reading are all assuming she belongs to the public domain now," Murray said. "That points me to, 'Is this true? Coast to coast? Even in places that fought tooth-and-nail to protect posthumous rights?'"
Murray said courts have allocated rights of publicity according to probate laws where the law of the domicile at death determines the inheritability of all rights of publicity. He said the issue may be better framed as a choice-of-law question: Why shouldn't rights of publicity in various states pass according to the public interest analysis of those states when choosing both the law of how those rights are acquired by the celebrity's estate and the extent of the publicity rights themselves? 
The courts in Monroe's case have held that at the time of probate no posthumous rights existed in California, Indiana or New York, so no rights could be acquired by the estate and her heirs.  Since then, California and Indiana have gone to great lengths to award retroactive posthumous rights to celebrity's estates and heirs which raise a potential choice of law issue. 
"This might be one where we're getting it wrong because we're saying, 'It has to be the law of her domicile,'" Murray said. "It would seem her Hollywood career alone would be a good opportunity for California to say, 'Hold on a minute,'" and vindicate its right of publicity statute, he said.
But the court's ruling could preclude such an argument, said CMG general counsel Jeong-Ho Lee.
"The court used the doctrine of judicial estoppel, and the court has strictly applied that, and I don't see any fault in the court's reasoning in that regard," Lee said. He explained that the District Court previously rejected CMG's argument that Indiana's right of publicity law should be extended to Monroe since the company held her representation.
Jonathan Faber teaches right of publicity courses at Indiana University Robert H. McKinney School of Law and is an attorney at McNeely Stephenson Thopy & Harrold in Shelbyville.
He also founded Luminary Group LLC that represents brands and personalities and runs the website rightofpublicity.com.
Faber believes that even if Monroe was domiciled in New York, a right of publicity argument exists. "In 1962," the year Monroe died, "New York law based on other cases interpreting New York statutes indicated there would be a postmortem right of publicity," he said. Faber believes courts have erroneously applied laws on the books that only date to the 1980s to find no right of publicity for Monroe.
"My feeling is the new owners (of Marilyn Monroe's posthumous rights) might want to appeal rather than letting this be where things lie," Faber said.
Meanwhile, the law is evolving in Indiana and elsewhere. New York and Wisconsin are the only states that do not recognize a posthumous right to privacy.
Faber helped draft and testified in favor of House Enrolled Act 1258, a revision to Indiana's law that took effect in July, confirming that the state's right of publicity applies to those who died before the 1994 passage of the statute, I.C. 32-36-1-1.
"It was a critical update to the law," he said. A real-life case in point: The use of John Dillinger as a video game character. "There was some ambiguity as to whether that would be how the law is interpreted," Faber said.
But Lee and others said the Monroe case points to challenges for the principle of right of publicity, which never had federal recognition. And getting that could come at a cost.
"If we did have a federal right to publicity, we wouldn't want to backtrack on what we think is good protection at the present time," Roesler said.
"Right of publicity is probably going through its toughest time right now," Lee said. "It's shrunk from the previous era."•
Please enable JavaScript to view this content.