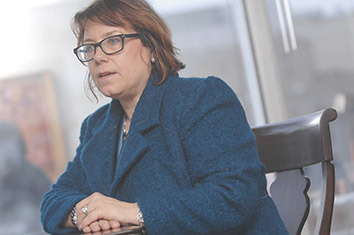 "I have the best job in Indianapolis. I love this job."
Monica Foster is talking about the position she's held since Sept. 1 – executive director of Indiana Federal Community Defenders Inc. Renown for her successful defense of capital cases and her outspoken animus toward the death penalty, she says her new role leading a team of defenders in the federal courts is a natural progression.
Foster is in charge of an office of about 15, including six attorneys, responsible for court-appointed defense work for people charged in the U.S. District Court for the Southern District of Indiana, based in Indianapolis.
"In some ways this is a continuation of a lifelong pursuit of indigent defense," she says. "Turns out I liked doing the administrative stuff, too."
That includes cajoling the federal court system to open its pocketbook – another skill she finds in common with her work as a public defender.
"I love playing the angles. The federal government has got formulas for everything," she says of her office's funding. So, she's angling to put more cases on the books to bulk up the bottom line.
Case in point: Foster successfully reopened every crack cocaine sentence in the district in light of the Fair Sentencing Act of 2010, which she says hadn't been done prior.
The law aims to correct disparities in sentencing that gave harsher prison terms for convictions of rock cocaine offenses versus convictions of crimes involving powder cocaine. The U.S. Supreme Court in June further ruled that the law also applied to those who were convicted before the law was passed but who were sentenced afterward.
Foster's lobbying succeeded, and as a result, she leveraged funds for a new attorney and realigned the responsibilities of another position in hopes of further widening the office's services.
"I want all of those cases out of here in six months," she says of the crack cocaine cases.
Foster inherited an agency that since its founding 17 years ago had been run exclusively by Bill Marsh, who retired this summer.
"I believe I've got the best staff in Indianapolis," Foster says. "I would put my staff of lawyers up against any firm in town." Staff attorneys are Gwen Beitz, Joe Cleary, Bill Dazey, Mark Donahoe, Juval Scott and Sara Varner.
IFCD attorneys will be working some high-profile cases soon, including the prosecution of 42 members of the Outlaws Motorcycle Club of Indianapolis on drug, extortion and other charges; and the prosecution of two Westville Correctional Facility inmates accused of running a prison methamphetamine and heroin smuggling ring.
IFCD board president Mark Inman has known Foster since they both were students at Indiana University Robert H. McKinney School of Law in the early 1980s, and he says she rose to the top of a qualified group of candidates.
"We were fortunate with what we had in front of us, but Monica stood out because of her experience, and she had some very good ideas about what to do with the office," Inman says.
Among those ideas: Doing habeas work for the 58 inmates on federal death row in Terre Haute, which lies within the Southern District's jurisdiction. It's another angle for Foster. "I think it's not right that our office has not had a presence in those cases," she says.
She argues those on federal death row received unequal defenses in various federal courts around the country, and there are strong arguments to be made – including economic ones – that appellate federal death row work should be handled, with the court's consent, in her office.
Inman says Foster has always shown an ability to make big things happen.
"Both of us were interested in doing criminal defense work from the get-go, and she's always been able to speak her mind and voice her opinion, and yet she's always been very collegial and able to get along with people," Inman says.
Killing the death penalty
"Oh, we killed the death penalty in Indiana."
Foster is talking about a concerted effort by defense attorneys that led to the adoption of Criminal Procedure Rule 24 in 1992 and subsequent changes that raised the requirements for death penalty defense as well as the cost of trying those cases.
She acknowledges her hyperbole – the death penalty is still on the books – but she says it will be rare when a prosecutor makes the call to try a capital case. "At the end of the day, we wanted to save people more than they wanted to kill them," she says.
"She has a stellar reputation as someone that not only knows what she's doing, but cares about what she's doing," says Indianapolis private practice criminal defense attorney Ross G. Thomas, who represented clients on a multi-defendant case with Foster in federal court years ago.
Lewis Wagner LLP founding partner Robert F. Wagner has known Foster since she was a student. "My wife and I kind of adopted her," he says.
"I recognized early on when working with Monica that she was just very, very bright, and I see a lot of lawyers," Wagner says. "She was just one of those individuals that stood out as having an unbelievably sharp talent in recognizing issues and having the courage to work on complex and oft-times problematical cases.
"Death-penalty cases – looking back at my legal career and knowing people who have worked in the criminal end – I think they are the toughest cases anyone can ever take on," he says. "It takes a lot of courage to look the lion in the eye, if you will, and stand up to public and private scrutiny, and hold your head up."
Foster's husband, defense attorney Robert Hammerle, says that because of the emotional difficulties of practicing criminal defense, the couple had an arrangement when they practiced together – they drove separate cars to the office.
"She's an acerbically funny woman and she can find something funny in the nastiest set of legal facts," Hammerle says. "But there's also the downside where you wind up in some difficult moment, and you drive home by yourself, and you get over it."
Wagner acknowledges a bit of surprise that Foster took her new position, despite what he calls a perfect fit. "She was just so damn good at what she did," he says.
"People don't know this, but she has a national reputation," Wagner continues. "She travels off to different states and is considered a great lecturer. I'm from New England, and I know lawyers up there who know Monica Foster."
U.S. Judge Jane Magnus-Stinson also was a McKinney classmate of the new IFCD executive director and says the kind of experience that Foster has leading and managing teams on death penalty cases will transfer well in her new capacity.
"I think Monica is way more than a one-trick pony," Magnus-Stinson says. "I think that she's really worked toward a position like this her whole career."•
Please enable JavaScript to view this content.