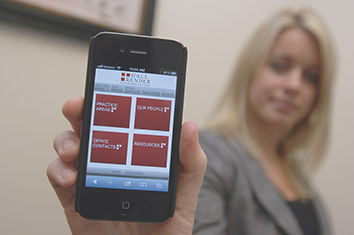 If your firm hasn't bought you a new smartphone, provided better remote access options, or replaced an aging monitor lately, you might nudge the purchasing department.
Among large law firms, 52 percent spent more on technology last year, compared with 50 percent in 2011, according to an annual survey released by the International Legal Technology Association in August.
The numbers represent a slow but steady recovery after a slump in tech spending that began after the economic downturn in 2008. Firms are investing most in hardware and desktop upgrades; laptops; notebooks; wireless devices; and network, server and storage upgrades.
At Hall Render Killian Heath & Lyman P.C., an Indianapolis firm that took part in the survey, the biggest recent technology investment went right into the hands of 185 attorneys.
"About a year ago we distributed iPhones to everyone," said Jeff Short, a Hall Render shareholder and chair of the firm's IT committee. "We were due for an upgrade."
Hall Render's big purchase replaced a former network of BlackBerry devices after Short said the firm reviewed wireless solutions, a process it does every couple of years.
The switch reflects a trend that's been expedited in recent years. The once-venerable BlackBerry is now virtually even in market share with the Apple iPhone among large-firm attorneys, according to the survey.
"People love them, and it's an almost weekly occurrence, someone calling me up and telling me about some new app they found that helps them," Short said.
At Benesch, the focus on tech spending has shifted toward mobile devices, said Jeff Kosc, partner in charge of the technology group for the Indianapolis office that employs 29 attorneys.
"We still have the standard-issue laptops, and we offer full support for mobile devices," Kosc said. The firm takes a different approach on smartphones, though. Attorneys get allowances to choose the kind of mobile device that meets their preference and to pay for data plans and maintenance. Most prefer iPhones, Kosc said.
Benesch also is considering providing an allowance for tablet support and has given its staff remote desktop access from any number of platforms, Kosc explained. "The force behind it is really making sure we can empower folks to get work done as easily and efficiently as possible. That's the goal."
Hall Render, which focuses its practice on health law, had explored iPhones previously and had the infrastructure in place to support them, Short said. There had been concerns about security that were resolved in subsequent Apple operating systems.
"It's been great as a firm to give everyone that freedom that you can still attend to what you need to do because you're away from your desk," Hall Render shareholder Regan Tankersley said.
"I don't so much use the iPhone for productivity," she said. "I and a lot of people in the firm are also using iPads, and everything works so well together." She's found apps useful for annotating digital documents, for instance.
"The iPhone for work has been great for purposes of keeping in touch and email," she said. "I think everybody's come to an understanding now that they're going to be reachable by email all the time."
That might be the prevailing view, but there still are places where such accessibility is patently rejected – the patent law firm Woodard Emhardt Moriarty McNett & Henry LLP among them.
Given the firm's practice niche, few time-sensitive matters come through the doors, said senior associate Bill McKenna. "Most of our work is handled on defined windows – 30 days, 60 days, 90 days – and it's a little more amenable to planning ahead. … We don't have urgent general rush business."
"We have quite a few attorneys who by choice don't receive email on their phones," McKenna said. "Certainly some of our more senior partners fit that category. Some literally believe email causes more harm than good. Some choose to have email accessible on the phone but not automatically forwarded."
Nevertheless, McKenna said the overwhelming majority of the firm's 30 or so attorneys carry iPhones they purchased for themselves. The firm supports any and all mobile devices its attorneys might use, he said, including tablets.
And while Woodard is a smaller firm compared with those surveyed, its tech support reflects trends among bigger firms. In 2012, 74 percent of firms in the ILTA survey reported their IT departments support their attorneys' tablet use regardless of who purchases the device.
While tech budgets increasingly embrace smartphones and tablets, firms last year also recommitted to hardware in the office. A whopping 75 percent of firms surveyed reported spending on desktop hardware in 2012, an increase from the 59 percent of firms that did so a year earlier.
Woodard also reflected that trend. "In the last three years, everyone at the firm has gotten at least a 24-inch monitor," McKenna said, including his own 30-inch monitor. It sits between two vertically oriented monitors he uses for work and for legal research.
McKenna said he strives for a paperless office, and files from his desktop computer are updated daily and synched to his iPad and iPhone.
Such a commitment to letting attorneys work anywhere is one that Harrison & Moberly LLP also takes seriously. Partner A. Barclay Wong chaired the firm's IT committee a couple of years back when the decision was made to install VMware, giving the full-service firm's 26 lawyers a virtual computing model.
The system allows attorneys to sign in from their home computer, laptop, iPad or smartphone, Wong said. Once logged in, an attorney has his office computer desktop at his fingertips.
Wong said such arrangements were more common for other businesses, but law firms were slower to adopt. Security was a chief concern. "We have access to internal document servers, so we can access internal documents everywhere.
"I think we were kind of on the forefront of this movement," he said. "It's really helped us have people be able to be more productive remotely."
The investment up front also has meant that Harrison & Moberly hasn't had to allocate as much for technology purchases in the years since, Wong said. It's meant less wear on office machines, for example.
"We used to be on a three- to four-year machine rotation where everyone would get a new computer," he said. "Now we basically use them till they break."
Among other findings, the ILTA survey also revealed:
• 63 percent of firms responding reported 2 to 4 percent of firm revenue is invested in technology.
• 32 percent of firms indicated they are using or implementing a cloud solution, but security, reliability, performance, cost and speed are concerns.
• 35 percent of firms have a tablet security policy.•
 
Please enable JavaScript to view this content.