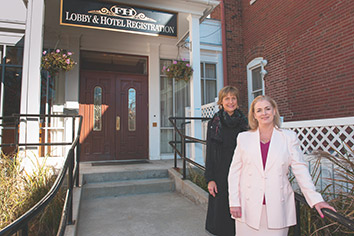 The Indiana Association of Mediators is thinking big and reaching beyond the state's borders.
The association will host a heavy hitter in alternative dispute resolution in a few weeks, staging the Midwest Mediation Conference that will draw professionals from around the region for two days of intensive, interactive training. It's the second annual conference by that name, but IAM has previously staged similar gatherings under different titles.
"We look nationally when we try to pick a speaker," said IAM President Kim Van Valer of Van Valer Dispute Resolution in Greenwood. This year, the keynoter is Los Angeles-based mediator Lee Jay Berman, a pioneer in ADR who has handled more than 1,700 disputes and is founder and president of the American Institute of Mediation. Berman also is a co-host of "Talk It Over," a radio program about dispute resolution.
Berman recently conducted mediation training in Australia, and he said the practice "can take on a local flavor, and can also find different hurdles in gaining acceptance." 
He said the mediation market has surged in the past 15 years, and that's presented its own challenges. "We have also had to get smarter about managing the mediation process in front of advocates, insurers and participants who have themselves been through hundreds of mediations." 
Bringing in varying perspectives has been a hallmark of the group's past sessions.
"The reason we call it the Midwest Mediation Conference is we send out (invitations) to mediators in surrounding areas," said Immediate Past President Mary Hoeller, an Indianapolis mediator and attorney in private practice. Hoeller said past conferences have drawn attendees from Chicago, Louisville and as far away as Tennessee. The event also has gained a broad appeal because of the quality of presenters and focus on technique.
"These speakers are generally really, really expen-
sive," Hoeller said. "For folks in the Midwest, the value for your money is incredible. People wouldn't be able to afford to fly out there and take a session" from someone of Berman's caliber. "As a group, we bring them here."
Van Valer said out-of-state mediators who come to the Indianapolis sessions broaden and enrich the discussions. "Mediation is done in different ways depending on the region and those who are involved and who's mediating it," she said. "We get a lot of pretty original ideas."
The conference typically brings together a few dozen ADR professionals for sessions that focus on technique. The format gives attendees opportunities to try out what they learn in role-playing scenarios. This year's event offers up to 6.8 hours of continuing legal education credit and up to 12.8 hours of continuing mediator education credit and a host of other educational credit opportunities for attorneys, mediators and social workers.
"It'll cover the gamut of mediation," said IAM Treasurer Rick Wacker of Wacker Mediation in Trafalgar, whose practice primarily handles family matters and redress mediation for the United States Postal Service. "It's designed for someone who's been mediating awhile. It is an advanced training, and for anyone who's had some negotiation and mediation experience, I think it will be beneficial."
Wacker said the conference has had success in past years attracting leaders in ADR including Robert Benjamin of Portland, Ore., and Forrest "Woody" Mosten of Los Angeles.
How-to tips are valuable since the art of mediation deals with disputes in which parties usually are at the table voluntarily. "Neutrals" must keep their skills sharp and techniques fresh to be effective, Wacker said. He recalled a session from a past conference in which Benjamin offered one approach that could be effective in his mediation work.
Wacker
"He used the illustration of a blank check," Wacker said, asking opposing parties to write the amounts they felt were justified in a particular instance. "When someone is willing to walk away from the table," Wacker said, "show them the check and ask them, 'Do you really want to walk away from this?'"
Hoeller said the hands-on nature of the conference is helpful. "You tend to learn more when you're actively involved in your learning process," she said.
Wacker and Hoeller agreed that training in past years has helped them focus on when they need to jump into the discussion between parties and when they should back off.
"I've learned not to be afraid to have persons face-to-face in the same room, and keep them there as long as you can," Hoeller said.
Van Valer said she's learned techniques and models that can do more than resolve problems in family law situations – tools that attempt to transform relationships. But knowing when to use them is important. It helps to have parties who are interested in learning ways they can resolve problems themselves. She said a trend in mediation has been involving mental health professionals in the process where needed.
Along with attorneys, caseworkers also may benefit from the upcoming conference.
Mark Fairchild is executive director of the Indiana Chapter of the National Association of Social Workers, which has had a partnership with IAM for years. "Lawyers and social workers are both prime groups to get training for the mediation process," he said.
Mediation is becoming a first option in family law situations for a host of reasons. "What we're seeing more commonly are families that are looking for something that doesn't go through some kind of formal process," Fairchild said. He said many families perceive mediation as a process that promotes unity, and they are apprehensive about participating in other legal processes, such as filing suit in court, that could be divisive.
He said the economy also has been a factor in the rise of mediation because many families can't afford matters that might otherwise take time and expense in a more formal process. For those who turn to ADR, Fairchild said, the mindset typically is, "If we can sit down and be civil with one another, maybe we can work this out."•
 
Please enable JavaScript to view this content.