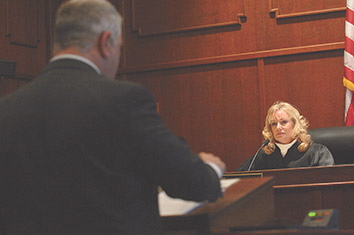 Indiana appellate judges are grappling with sensitive questions about whether the state's automatic and uniform parole conditions for sex offenders are constitutional.
At issue in David Bleeke v. State of Indiana, 02A05-1201-PL-25, is whether the state's Sex Offender Management and Monitoring program stipulations that restrict contact with children, including one's own, should be applied to David Bleeke, who has no history of crimes against children.
An Allen Superior Court jury in 2005 convicted Bleeke of Class B felony attempted criminal deviate conduct with a woman who was older than 21. Bleeke also was convicted of residential entry in the case dating to 2002.
 
Bleeke, who now lives in Ohio with his longtime wife and family, maintains his innocence. His attorney argued before the Court of Appeals on Nov. 13 that doing so in the SOMM program cost him his liberty, at least temporarily. A treatment requirement for Bleeke was that he "accept responsibility" for the acts for which he was convicted.
Bleeke "went to jail over a weekend," Fort Wayne attorney Patrick Proctor told the court, because he refused to accept responsibility and therefore was deemed in violation of stipulations of parole. "Compelling somebody to say something is a violation of the First Amendment," Proctor said. "He can't take responsibility for something that he says or believes that he did not do, and they don't like that answer."
Proctor argued that the SOMM program administered by Liberty Behavioral Health Corp. uniformly places parole conditions on offenders and fails to make individualized determinations of whether they pose a risk to children. Bleeke's appellate brief states, "This program amounts to thought control and compelled speech and it requires parolees to incriminate themselves in violation of the First and Fifth Amendments" to the U.S. Constitution.
Bleeke, in 2010, won a preliminary injunction in a federal lawsuit in the U.S. District Court for the Northern District of Indiana, Bleeke et al v. Buss, 1:09-CV-228. Chief Judge Philip Simon ruled that failing to make an individualized determination on Bleeke's risk to children violated due process.
Deputy Attorney General David Arthur argues that the state has an interest in preventing crimes by a class of offenders with a higher risk of recidivism.
 (IL Photo/ Perry Reichanadter)
Deputy Attorney General David Arthur asked the court to lift a similar injunction granted by an Allen Superior Court that prevented the state from enforcing the provisions of Bleeke's appeal that separated him from his wife, children and stepchildren. Arthur argued the state had an interest in preventing sex offenses, and that sex offenders as a class are likelier than others to reoffend and potentially "cross over" to crimes against children.
"The question is, what kind of percentage do we need before we can protect kids?"
Senior Judge Carr Darden and Judge Elaine Brown seemed skeptical. "We're all subject to go out and rob a bank someday – maybe," Darden said.
"Should not the (parole) conditions fit the person and his behavior?" Darden asked. Brown followed up by noting that Bleeke's conviction involved digital penetration of an adult female.
"Nobody is saying he is a child molester," Arthur said, at which point Brown interrupted. "Effectively you are, aren't you?" she said, "by imposing the exact same conditions upon his release from prison as you do upon a child molester?"
"Sex offenders violate when they have opportunity," Arthur replied.
Court of Appeals Judge Elaine Brown listens to Patrick Proctor's argument.
 (IL Photo/ Perry Reichanadter)
"I can see the state needing some protection for children and so forth," Darden said, "but I think it should be related to the individual" rather than "one size fits all."
Registry caselaw evolves
A separate panel of the Indiana Court of Appeals earlier this month decided a case that could clarify whether sex offenders, whose crimes occurred in other states before the Indiana Sex Offender Registry existed, are required to register.
The court on Nov. 8 reversed a trial court in Jermone Michael Burton v. State of Indiana, 45A03-1201-CR-6, finding that a charge against him of failing to register as a sex offender must be dismissed.
Burton had been convicted in 1987 of aggravated criminal sexual assault in Illinois, and the court held that requiring him to register in Indiana, where the sex offender registry didn't exist until years later, was an ex post facto violation.
 
Cara Schaefer Wieneke argues before the COA that her client should not be required to register as a sex offender for a Massachusetts conviction prior to creation of the registry. (IL Photo/ Perry Reichanadter)
"My case and another case regarding a defendant from Massachusetts both dealt with people who had moved to Indiana from other states and weren't required to register at the time of their offenses," said Crown Point attorney Kristin Mulholland, who represented Burton.
Plainfield attorney Cara Schaefer Wieneke represents the former Massachusetts offender in Thomas Andrews v. State of Indiana, 29A02-1112-MI-1166. Wieneke argued the case earlier this year before the Court of Appeals. While a decision was pending at IL deadline, Wieneke said she's encouraged by the outcome of the Burton case.
"I thought there were a lot of parallels," she said. In Andrews' case, he was convicted of sex crimes in Massachusetts in 1984 and moved to Indiana years later. He voluntarily registered when Hamilton County authorities contacted him in 2006.
Wieneke said the cases are in the line of Wallace v. State, 905 N.E.2d 371 (Ind. 2009), which held that requiring someone to register for a crime prior to the creation of the registry is an ex post facto violation. "They're all people who, if they had done this in Indiana, this would be a no-brainer," Wieneke said.
She said whether Burton or Andrews might still be required to register under the federal Sex Offender Registration and Notification Act of 2006 remains an open question.
Meanwhile, there are few developments in a separate case regarding Indiana's online sex offender database – www.icrimewatch.net/indiana.php.
In August, the 7th Circuit Court of Appeals reversed a ruling of the District Court for the Southern District of Indiana, finding that Indiana denied due process by failing to provide a means to correct listings on the registry that are in error.
The federal court in that case brought by the American Civil Liberties Union, David Schepers, et al., v. Commissioner, Indiana Department of Correction, 11-3834, urged the DOC to establish a review process in which erroneous listings could be corrected.
DOC spokesman Doug Garrison said the department is still in the process of reviewing the decision and has not yet determined what its response will be.•
Please enable JavaScript to view this content.