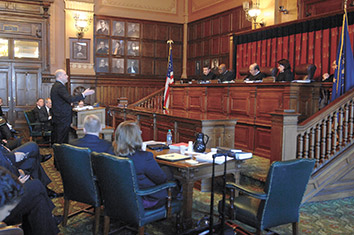 Indiana's test case for school vouchers could have implications for other states, legal observers said after the state Supreme Court heard oral arguments in a case that challenges the constitutionality of school vouchers.
While the state court deciphers whether vouchers that provide tax dollars to predominantly religious schools stand up to constitutional scrutiny, it won't be doing so in a vacuum. Three dozen states have in their constitutions language similar to that of Indiana – so-called Blaine Amendments – that restrict the use of public money for religious purposes, often to a greater degree than the federal Establishment Clause.
The Choice Scholarship Program was signed into law by Gov. Mitch Daniels on July 1, 2011; on that same day a lawsuit was filed in a bid to block it on constitutional grounds. A Marion Superior Court upheld the program in Teresa Meredith, et al. v. Mitch Daniels, et al., 49S00-1203-PL-172, and the Indiana Supreme Court granted direct transfer.
 
Vouchers have become wildly popular. According to the Indiana Department of Education, in excess of 9,300 students requested and received vouchers for the 2012-13 school year – more than twice the number of 3,919 in the first year vouchers were available.
"Indiana has become something of a leader with choice-based experiments," said Notre Dame Law School professor Rick Garnett, an expert in the area of education reform. "If the court were to pull the plug on this experiment, not only would a lot of kids be in a tricky spot, Indiana's leadership position would kind of be undermined."
But Sheila Suess Kennedy, professor of law and public policy at the IUPUI School of Public and Environmental Affairs, said whether schoolchildren or parents are inconvenienced misses the point.
"If you allow people to thumb their nose at a constitutional premise on the theory that when it comes to court you won't be able to unscramble the egg, that's an unfortunate precedent to set," said Kennedy, who is listed as a plaintiff in the case but said she's not actively participated.
Justice Robert Rucker and Chief Justice Brent Dickson focused on Indiana's version of the Blaine Amendment in Article 1, Section 6: "No money shall be drawn from the treasury, for the benefit of any religious or theological institution." They keyed on interpretation of "for the benefit of," and whether the program on its face violated that section.
Indiana Solicitor General Thomas Fisher defended the voucher program. (IL Photo/ Perry Reichanadter)
"Either it means something, or it doesn't," Kennedy said. "If the parent is the one being benefited and the schools are merely an incidental beneficiary of public dollars, those provisions are being rendered meaningless."
'Bright line distinction'
During oral arguments, Indiana Solicitor General Thomas Fisher defended the voucher program and urged justices to uphold it, arguing that it did not constitute an unconstitutional government support of religion.
Fisher pushed for the justices to make a "bright line distinction" because the program does not provide direct support to religious institutions. "The parents are still making the choice," he said.
Plaintiffs attorney John West argued that the program violated the General and Uniform System of Common Schools Clause of Article 8, Section 1 of the Indiana Constitution, as well as the prohibitions on taxpayer support of religion in Article 1, Sections 4 and 6 because students can use the vouchers paid for with tax dollars to attend religious schools.
West acknowledged that the lawsuit was a facial challenge, but he urged the court to look deeper, saying that 97 percent of the recipients of public money through the scholarships are religious institutions.
"You cannot stop at the fact that religion is not mentioned in the statute," West said. He noted that in some schools that receive voucher money, religion "permeates everything they do."
He responded to justices who questioned the distinction between state-funded scholarships that recipients use to attend private religious colleges and the Choice Scholarship Program by saying that most colleges don't "inculcate" students with religion.
"Here, the state is directly paying for the teaching of religion," he said.
But Fisher countered the program also is "a matter of religious accommodation" for parents who might not otherwise have the means to pay for the education they prefer for their child.
"As long as the choice of a boundary school is still there," Fisher argued, "it's not direct aid."
Attorney Robert W. Gall argued for intervenors, including parents Heather Coffy and Monica Poindexter, who use the vouchers to pay for part of their children's tuition at private schools.
Gall said the program was constitutional and its "only purpose is to provide a greater constellation of educational choice."
Under the Choice Scholarship Program, students whose families meet financial guidelines may apply for and receive vouchers for public or private schools in other districts that charge transfer tuition.
Currently, the number of scholarships that can be awarded is capped, but next year there will be no limit on the number that may be awarded. Once fully implemented, nearly 60 percent of all Indiana schoolchildren will be legally entitled to receive a scholarship upon application.
Marion Superior Judge Michael Keele in January granted summary judgment for defendants Gov. Mitch Daniels, Indiana Superintendent of Public Instruction Dr. Tony Bennett and defendant-intervenors Coffy and Poindexter.
Twelve Indiana residents including educators, clergy and parents of children in public and private schools filed the lawsuit. Their suit says Indiana's school choice statute is different from similar programs in other states because it "does not prohibit schools from requiring CSP students to participate in all aspects of the school's religious program, including religious training and instruction, worship, and prayer.
"Indeed, the CSP statute specifically prohibits the Department (of Education) and other state agencies from regulating the 'religious instructions or activities' of participating private schools," the suit says.
Among the plaintiffs in the suit was Glenda Ritz, who defeated Bennett in the November election for the office of Indiana superintendent of public instruction. Ritz, who will take office in January, has said she will remove herself from the suit.
After oral arguments, Bennett was outspoken in his support of the program for opening educational choice to students of all backgrounds and income.
 
Garnet
"I never once gave any consideration to who this benefited other than the children," he said. "This is about helping children."
Looking ahead, and back
Garnett said he believes the voucher program will be upheld.
"I think the majority view and the right view is to say, look, those provisions should be viewed as ruling out the sort of direct support of taxpayers' money to fund distinctly religious activities," the Notre Dame law professor explained.
"There's a secular public good," he said. "What the state is funding is the education of the child, and that doesn't run afoul of those amendments." He likened voucher dollars paying for education at a parochial school to Medicaid reimbursement to Catholic hospitals.
Kennedy
Kennedy said key voucher tests to date – such as the 5-4 affirmation by the U.S. Supreme Court in 2002 that Cleveland's school choice program was constitutional – still are constitutionally concerning.
"That required them to sort of turn a blind eye to the fact that almost every school participating was a parochial school," Kennedy said, and that tax dollars, directly or not, were benefiting religion.
"I'm one of those old-fashioned people who thinks because everybody's breaking the law, and the law is ill-considered, maybe you get rid of the law," she said.•
Please enable JavaScript to view this content.