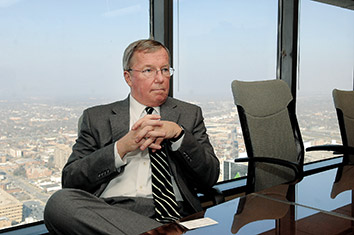 Kim Ebert can see about as far as anyone in Indiana from his perch on the 46th floor of the Chase Tower in Indianapolis, but the Ogletree Deakins P.C. managing shareholder's vision is on far more distant horizons.
Ogletree this month joined the short but influential list of firms doing business in Indianapolis that also have branded international offices. A Berlin office opened Dec. 1 with a staff of seven attorneys, and the London office of four barristers should open by year's end, pending regulatory approval.
 
The firm represents companies from Fortune 50 giants to small, privately held companies. In announcing its international strategy, Ogletree said it will be the only U.S.-based boutique labor and employment firm with offices in Europe.
"We have come to the conclusion in discussions with our clients generally that there was some dissatisfaction with the offerings out there," Ebert said in a recent interview. "We think the time is right to present an alternative."
"A lot of our clients were telling us they feel like they're paying a lot of money to international lawyers and they're not providing the level of service they expect," he said.
"We have all types of systems in place to make sure quality is consistent throughout."
As managing shareholder, Ebert directed the development of overseas operations for Atlanta-based Ogletree, which opened its Indianapolis office in 2000. "The role I played first of all was to support the strategy of the international expansion, and then to help with the recruitment of the right lawyers to support the strategy," he said.
 
Castille
"In labor and employment law, you find that when you have economic turmoil, there's a lot of work for lawyers," Ebert said.
The first offices opening across the Atlantic signal the beginning of a broader expansion that will continue next year. Ebert said Ogletree Deakins' international growth is proceeding at a disciplined pace, and the firm knows the local attorneys it is hiring.
"We've had an opportunity to see how they handled work we've partnered up on them with," he said.
As an example of the caliber of representation the firm hopes to extend, Ebert named Michael Webster, who will lead the London office. The founder and former joint managing partner of Webster Dixon LLP serves clients that include the second-largest bank in Nigeria, Ebert said.
An attorney in the Berlin office, for instance, represents Deutsche Bahn, the national railroad of Germany. The Berlin attorneys come from the firm of Salans LLP.
After the Berlin and London offices open, the firm anticipates establishing a branch in China. Ebert said that if approvals come as expected, that office could open within six months. Other offices likely will be opened in France and in Eastern Europe. The expansion strategy looks for possible locations in nations with stable economies, Ebert said, noting that Ogletree handled matters in more than 100 countries last year.
"There is no question that today we all operate in a global marketplace," he said. "Our strategy is to provide international representation that is focused on value and first-class client service."
From Indiana to Beijing
Among the handful of firms that have Indiana offices and branded offices in other nations is Faegre Baker Daniels LLP, which has the distinction of being the lone homegrown firm to have accomplished the feat. Predecessor Baker & Daniels opened its Beijing office shortly after China opened its market to foreign investment in the 1990s.
Angella Castille is partner and co-chair of Faegre Baker Daniels' international practice group in the U.S.
"Most of our clients have long been global and had to be global," she said. Representative clients include Bridgestone/Firestone, Jasper-based furniture and electronics manufacturer Kimball International, and Indianapolis-based software and machining developer Hurco Companies Inc. Faegre has helped with matters such as international material sourcing, production and distribution issues, and more.
Representing clients with international interests, Castille said, "It's hard for me to understand how you could practice law without doing business in international work."
When Faegre Baker Daniels formed, the firm could offer clients access to attorneys in Beijing, Shanghai and London.
"Our original reason for being in international locations could very well have to do with having a client who needed a source for parts and components," Castille said. "As they become more familiar with doing business overseas, they start to see their own products may do very well overseas. … It evolves."
Attorneys say London offices provide common language and access to European markets, because most U.K. attorneys have an understanding of common European Union law as well as the codes of other nations within the European community.
In China, the legal terrain is far different. Firm representatives said that American and international lawyers may open offices in Beijing or Shanghai, but in order to practice in court, an attorney must work for a Chinese-based firm.
Even when a firm doesn't have a branded office overseas, its connections with international attorneys can open doors. Linda Dawson is an Anderson-based economic development consultant who's working with Barnes & Thornburg LLP as director of Asian projects for Grant County.
"It is crucial to deal with firms that have overseas offices or relationships plus experience in related areas," Dawson said. "This is especially true in China, where there is great apprehension of our legal system and regulations. The ability to communicate in their native language and understand the unique business culture that exists in Asia will help alleviate their unreasonable concerns."
Benesch is another law firm with Indianapolis offices that has a presence in China.
"We had clients in the U.S. interested in doing business in China, and while we could have probably found Chinese lawyers to assist them … nobody was in a better position to serve them than us," said Jeff Abrams, partner in charge of the Indianapolis office of Benesch.
"If we have enough clients that have an interest to be somewhere, we feel like we can service them with our attorneys," he said.
From the Indianapolis office, for instance, attorneys from Cleveland-based Benesch are helping to facilitate potential Chinese economic development in Indiana.
"We have made connections with the city of Marion," Abrams noted as an example. "They're looking to bring Chinese investment to the area."
Those connections could be significant, he said, because international clients looking to locate in the Midwest, and particularly Indiana, might be instinctively inclined to choose Indianapolis.
California-based Littler Mendelson P.C., the nation's largest labor and employment firm exclusively representing management, is the other firm with offices in Indianapolis and overseas. After establishing offices in Indianapolis in 2006, Littler expanded to offices in Mexico and Venezuela.•
Please enable JavaScript to view this content.