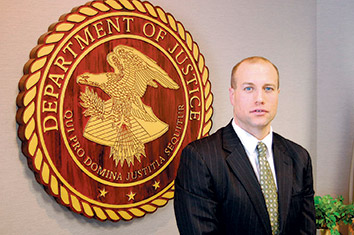 Inside an unmarked building in a nondescript office park in Castleton is a burgeoning, multi-million-dollar legal enterprise. Its mission: cracking down on Medicaid fraud.
"This work is really a niche area; there are not a lot of people involved in it," said Deputy Attorney General Allen Pope, who heads the 53-member Indiana Medicaid Fraud Control Unit's 10 offices around the state that operate under the direction of the attorney general's office. "Just the acronyms you have to learn is daunting."
Complex investigations that involve an array of agencies and local, state and federal law enforcement also must delicately balance patient care. Nevertheless, sums recovered from providers in Medicaid and Medicare fraud investigations have soared in recent years. For instance:
For 2012, through early December, the Indiana MFCU recovered more than $52 million, Pope said. That's a record that compares to about $4 million when Pope came to the agency a decade ago.
According to the U.S. Department of Health and Human Services, the government has recovered a record $10.7 billion from Medicare and Medicaid fraud in the last three years.
Health care fraud cases can come from anywhere. Bradley Shepard, assistant U.S. attorney for the Southern District of Indiana, recalls a case that originated with a quality-control representative's follow-up call to a Medicaid patient in a routine survey about care.
When the patient was unfamiliar with prescription medications for which Medicaid had been billed in the patient's name, it raised suspicions that ultimately led to federal prison for Terre Haute pharmacist John D. Love. He was sentenced in October 2011 to 51 months for billing Medicaid more than $3.5 million for prescriptions that were never given to patients.
Love had billed for prescriptions that far exceeded the quantities his pharmacy received, investigators learned.
"I just find it very offensive," Shepard said, discussing why he is so motivated to fight health care fraud. "For people to have their greed prey upon a system that's based on purely good intentions, those individuals are due all the punishment they have coming to them.
"And I like the puzzle aspect of it," he said.
For Medicaid program administrators at the state Family and Social Services Administration, the puzzle pieces come from analysis of billings using nearly three dozen algorithms designed to ferret out red flags in the multitude of individual claims filed for payment, explained audit manager Kim Forrest. A simple algorithm, for example, identifies claims for services provided after a patient's date of death.
"We try to prevent money from going out the door, because it's much harder to get it back once it's gone out the door," Forrest said.
Impact on patient care is a consideration, though. "We do that evaluation every time we make a payment decision," she said.
FSSA takes charge of cases in which waste is found, and that can be for instances such as billing twice on the same day for payment of services allowed just once, program officials said. "Most of what we find is not fraud, it's waste and abuse," said Kristina Moorhead, deputy manager for program integrity for Medicaid planning at FSSA.
But the new health care law puts an emphasis on enforcement and puts the onus on the agency.
"The Affordable Care Act has done a few things – one is that we are required to submit credible allegations of fraud to the Medicaid Fraud Control Unit," said Moorhead. Those can be from patient tips, those developed internally, or from whistleblowers.
What constitutes a "credible allegation" isn't defined. "It's a pretty light standard our office has to meet," said Brandon Shirley, an attorney with the FSSA Office of General Counsel.
The Affordable Care Act also increased provider enrollment standards, requiring site visits for new providers and in other situations. "Between 20 and 30 providers were not enrolled in the past calendar year due to onsite visits," Moorhead said.
A couple of times a month, FSSA officials who oversee Medicaid meet with MFCU representatives and other law enforcement to talk about possible cases and share information, including those credible allegations of fraud the agency is compelled to disclose.
U.S. Attorney for the Northern District of Indiana David Capp said the information sharing is invaluable. In his office, Medicaid and Medicare fraud cases are assigned to some of the most experienced attorneys.
Capp said health care fraud cases "have received substantial attention from us for quite some time. They're high-priority prosecutions, and we work hand-in-hand with Attorney General (Greg) Zoeller on many of them, and I can't say enough about the attorney general's office. They've been instrumental in a number of prosecutions."
The Northern District in 2012 won Medicare and Medicaid fraud judgments of $8.1 million, compared with less than $1.5 million a year earlier, according to spokeswoman Mary Hatton. Major convictions came in U.S.A. v. Human Services Transport Provider Inc., 3:11-CR-5. The Gary-based ambulance service defrauded Medicaid of $1.9 million, according to two guilty pleas in the case, and restitution of close to $2.5 million was ordered.
In that case, the ambulance company billed for services that weren't provided, inflated mileage claims, and conspired to kick back some of the fraudulent revenue to another provider.
Pope
Often, people identify fraud with the anticipation that they might share in the reward for doing so. "Ninety percent of the people are whistleblowers," Pope said of those who initiate MFCU investigations.
Such cases have been enabled by Indiana's False Claims Act, I.C. 5-11-5.5. Passed in 2005, the act allows qui tam claims in which whistleblowers may be eligible to collect 10 to 30 percent of tax money recovered by the government. "The truth is at this time we have multiple whistleblowers in the cases that get settled," Pope said.
The dollars coming in this year are the result of investigations that began years earlier, he said. Whistleblower cases can take as long as eight years to conclude because of the amount of discovery required and the complexity of the cases.
Several multi-million-dollar settlements of late involve "off-label" marketing of pharmaceuticals – medications sold for treatments other than those the drugs have been approved for by the Food and Drug Administration, Pope said. Whistleblowers were key to those cases.
One of the most prevalent fraud schemes Shepard described is "upcoding" – vendors billing for procedures, products or services costlier than those provided. But he said it's not easy to get jury convictions based on billing-code patterns found in reams of documents in Bankers Boxes worth of evidence.
"Sometimes the investigation is a lot easier than coming up with a compelling way to take it to the jury and make it make sense," Shepard said. Nonetheless, he's personally overseen cases in 2012 that resulted in recovery of more than $3 million in tax dollars. The total of recovery in Medicaid and Medicare fraud cases for all of the Southern District was not available.
For all the information sharing that's led to a spike in recoveries and criminal penalties, Pope said there's more that he and others in the field would like to be able to do. Currently, Medicaid Fraud Control Units are prohibited from independent claims analysis without referrals from the administrative agency – in Indiana's case, FSSA.
"For 10 years it's been a matter of discussion (nationally among MFCU officials) because it does make sense" to have greater independent investigative authority, Pope said. "When we have a particular suspected pattern of fraud, we'd like to have the ability to do that."•
Please enable JavaScript to view this content.