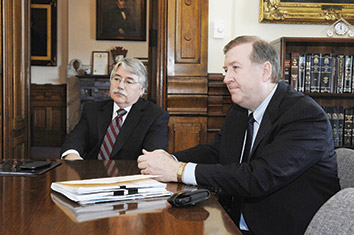 Indiana Attorney General Greg Zoeller said two politically connected Lake County attorneys should be held in contempt for failing to disclose what happened to $16 million in revenue funneled to their private corporation from an East Chicago casino.
"It's rare that this office has ever sought that," Zoeller said in a recent interview joined by his predecessor, Steve Carter. "We've already been to the Supreme Court and back, and we're still seeking discovery."
A hearing Feb. 15 before Marion Superior Judge David Shaheed could determine whether more will be known about what happened with the money, or whether the litigation Carter initiated in 2006 will begin another tour of the appellate courts.
Defendants East Chicago Second Century and its principals, Michael A. Pannos, a former Indiana Democratic Party chairman, and Thomas S. Cappas, a Lake County Democratic Party activist, were longtime allies of former Mayor Robert Pastrick, whose administration crumbled in a separate corruption scandal from which the current case arises.
Carter said as a native of Lake County he is accustomed to being jibed for the region's reputation as a haven for crooked politicians and machine-style cronyism – "unfortunately it was well-deserved," he said. His administration took aim at what he called the culture of corruption.
The anti-corruption efforts culminated in the fall of Pastrick's 33-year administration against which Carter and Zoeller successfully pressed civil prosecution under state and federal Racketeer Influenced and Corrupt Organizations laws that led to a judgment of $108 million against Pastrick and members of his administration for the city of East Chicago.
During Pastrick's tenure in the early 1990s, an East Chicago group was awarded a gaming permit for a riverboat casino. The permit included a provision unique among the state's gaming licenses: 0.75 percent of casino revenue would go to a private corporation called East Chicago Second Century Inc.
Each Indiana casino permit includes percentages typically steered to localities or nonprofit foundations that use the money for economic development purposes. In the case of Second Century, Zoeller said there's been no sight of that in East Chicago.
The unique nature of the East Chicago arrangement led Carter to bring a lawsuit against Second Century. Dismissed by the trial court and Court of Appeals, the Indiana Supreme Court in 2009 reversed, holding that it was within the attorney general's powers to bring the case and pursue claims for constructive trust and unjust enrichment of Second Century and its principals.
On remand, Shaheed denied Second Century's motion to dismiss, and Second Century has asked for interlocutory appeal on the motion. Zoeller answered with a motion to compel discovery and for sanctions at the judge's discretion that could include a contempt finding. The state alleges that the Second Century players "continuously delayed discovery in this process without just cause. … They continue to throw up roadblocks and intentionally flout the discovery rules."
Zoeller believes the conduct rises to a level that contempt is warranted. "Seeking sanctions is not part of our strategy," he said. "It was uniquely appropriate under this circumstance."
Carter said the resistance to discovery is telling. He said the parties should answer with an accounting of where the money went, "If this has been such a great deal for the public."
Attorney Brady Rife, an associate with McNeely Stephenson Thopy & Harrold in Shelbyville, represents the Second Century defendants. He said he could not comment on pending litigation.
Second Century argues in its request for interlocutory appeal that Zoeller is overreaching, a claim he said was settled in favor of the AG's powers by the Supreme Court.
"The Attorney General is pursuing claims which, under the current case law, have never been pursued previously against a private entity," Second Century's motion reads. "Indiana law provides no precedent allowing the Attorney General to pursue claims for unjust enrichment and disgorgement against a private company such as Second Century. Likewise, Indiana law provides no precedent allowing the Attorney General to seek discovery of highly private and confidential business and personal records from a private company such as Second Century under these circumstances."
Carter said he's cognizant of protests that the Republican AGs are pursuing a political beef in a traditional Democratic stronghold.
"That's what everyone in Lake County argues when we try to bring in transparency," he quipped.
But there appears to be a measure of cooperation with the administration of Mayor Anthony Copeland. "I have a new respect and relationship with the current mayor," Zoeller said.
Copeland said he's let the AG's office lead, and the episode has illustrated the importance of accountability of public funds. "If it's not overseen by someone, you wake up one day … chasing the trail of what happened to millions," he said.
"No matter what the residual amount that's remaining, in the end it could be returned to the rightful owners," Copeland added.
Carter and Zoeller said that even though the city of East Chicago has settled with Second Century, the public statewide has a right to know what happened with funds collected for distribution as proscribed under gaming statutes.
"Part of the role of our office is to seek some public trust," Zoeller said. "I think $16 million is still worth pursuing."•
Please enable JavaScript to view this content.