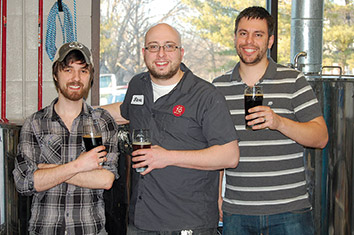 At some point toward the end of a summer cookout, as they tasted and considered the beer they had home brewed and relaxed one last time before their third year of law school got under way, three young men realized what they really wanted to do when they left the protective bubble of the classroom.
Two semesters away from graduating and joining the legal profession, they concluded they did not want to practice law. They wanted to pursue the activity that had been consuming much of their leisure time away from studying and had been the topic of numerous conversations at law school. They wanted to make and market their own beer.  
Jordan Gleason, Justin Miller and Steve Ruby all continued their studies and graduated from the Indiana University Robert H. McKinney School of Law in May 2011. However, instead of joining countless law graduates in the search for an associate's position, the trio, along with Miller's wife Holly and Gleason's childhood friend Matt Johnson, opened Black Acre Brewing Co., a brewery and pub in Indianapolis.
As he recounted the beginnings of the business, Gleason removed his fingerless knit gloves and cap and sat at the bar. The brew pub was dark and quiet and the brass taps, lined in a row on the wall, were plugged with blue rubber stoppers.
Ruby leaned behind the bar, listening patiently to Gleason and providing color commentary.
Gleason, Miller and Ruby met at McKinney Law School. In between classes and study sessions, they brewed. They supplied themselves, their friends and their law school colleagues with their beers.
By the time they opened their pub, they had a wealth of experience making beer. Still, turning their hobby into a business was daunting, but the decision was made easier by seeing so many lawyers and former classmates struggle to find work.
Now, instead of contracts and courtrooms, they serve pints and help their customers follow the advice Ruby received from his dad: "If you're going to drink, drink good beer. Don't waste your time."
Fermentation
Black Acre, which will celebrate its one-year anniversary this month, is a neighborhood hangout that reflects the owners' desire to be a cross between an English Pub and a coffee house. The lighting is subdued, the music is muted, and a television is no where to be found. Conversation is meant to be the centerpiece.
The name, Black Acre, is a play on the legal term Blackacre, used to distinguish one parcel of land from another, and is a nod to their lawyer pedigree.
On a recent Monday, all the stools at the bar were filled and a few tables were occupied with groups of friends. The tall glasses of amber-colored beer were ubiquitous.
In the back room, Gleason, Ruby and Miller were brewing.
Steve Ruby cleans after making a batch of beer. (IL Photo/Marilyn Odendahl)
The list of drafts on the menu illustrates their imagination. One of their signature beers, Street Lamp Blonde, is brewed with lemon peel. They have made a Chai Guy Chai Tea Milk Stout infused with black tea, ginger, clove and cinnamon; a Late Christmas Gingerbread Porter spiced with molasses, ginger and cinnamon; and a Green Tea Pale Ale that starts with citrusy hops then adds green tea, honey and ginger.
"Lot of ideas," Gleason said. "Not a lot of time to try them all."
Brewing consumes eight hours with stirring and waiting before the beer is transferred to the fermentation tanks where it will remain for about a month. It is a three-barrel brewing process which yields 93 gallons of beer or roughly 700 pints.
Along the way, they will continually sample the product, tasting to determine how the flavor will stand once the beer is finished and adding more spices and fruits accordingly. During an attempt at making basil beer, they threw in triple the amount of the herb, which taught them to use a lighter hand when tweaking the flavor.
"Unlike baking, you can keep working on it," Gleason said.
Miller and his wife got into brewing when they discovered her dad's beer-making kit. Gleason and Johnson started brewing as undergraduates. Miller and Gleason connected in legal writing class when, as an ice-breaking exercise, the students had to tell something interesting about themselves.
Gleason admitted he hates that kind of thing, but when his turn came, he told his classmates he was a home brewer. The introductions continued until it came around to Miller who said he was a home brewer, too.
After class, the two sought each other out and talked about brewing. The conversation between them did not stop. Ruby joined the group later and eventually all five were making beer at the Millers' home several times a week.
At any one time, the barrister brewers had four to 10 beers ready for pouring and another two to eight fermenting. Four refrigerators were full of beer and the kitchen was overwhelmed with the beverage.
"It got a little ridiculous," Ruby acknowledged.
Ironically, Gleason and the others might be practicing law if the economy had been better. Gleason likely would have followed his father into government work, Ruby might have moved to Washington, D.C., to be a legislative aid, and Miller possibly would have returned to graphic design.
Yet, while the recession wiped out opportunities in the legal profession, it heightened their sense of accomplishment with opening a brew pub. They note they are helping the economic recovery by buying products and creating jobs.
Co-owner Holly Miller pours a beer for a customer. (IL Photo/Marilyn Odendahl)
"In the city we love, we're helping," Gleason said. "You're doing your little part to help people get back on their feet."
Intoxicating results
After the late-summer barbecue, the friends became serious about opening their brew house. They put together a comprehensive 55-page business plan. They lined up investors. They brewed.
Gleason, Miller and Ruby were able to use their knowledge of the law to obtain a federal brewing permit, maneuver through health department regulations, and get the needed variances. Pulling back his sleeve, Gleason showed a colorful tattoo on his forearm but he said, once he put on a suit and flashed his law degree, he was taken seriously.
Following graduation, the trio squeezed preparing for the bar exam into the days of heavy labor they were doing to launch their business. Watching their classmates become extremely nervous about the approaching test, they could only shake their heads. To learn what nervous is, they quipped, open a business.
Running the daily operations has turned out much different than they imagined. Namely, they spend a lot more time cleaning, so much so that Gleason added the job description of janitor to his business card.
Ruby's parents have switched from admonishing him to work harder and apply himself more to asking him when he is going to take a day off.
Since its opening in February 2012, the business has grown beyond their expectations. They have already reached the third year of the business plan, and they need a bigger brewing facility and warehouse. Soon, they intend to start bottling.
Gleason admitted some of the beauty and glamour of brewing has been lost because they are not doing it for pure fun anymore but rather as a way to pay rent. Still, the passion and joy are there and remembering that late summer day, he said they are doing what they wanted.
"Ultimately, at the end of the day," he said, "we get to make beer."•
 
Please enable JavaScript to view this content.