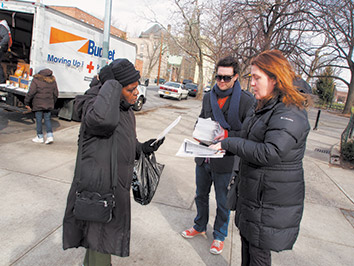 Shortly after an EF-4 tornado plowed across southern Indiana in March 2012 and left most of Henryville a pile of rubble, volunteers arrived with their chainsaws and trucks offering to help clear the destruction.
Residents of the tiny town had to rely on neighbors and strangers, but their needs that came from rebuilding quickly grew beyond removing debris and repairing homes. They had questions about insurance, aid applications and construction contracts.
Help with these and other legal matters came from local attorneys who volunteered to guide and advocate for the residents as they maneuvered through the overwhelming, sometimes frustrating, paperwork of claims, family disputes and missing documents.
Whether experiencing tornadoes in places like Henryville and Joplin, Mo., or hurricanes the magnitude of those that swept through the Gulf Coast and Eastern seaboard, survivors will eventually need a lawyer. Through a collaboration of neighboring attorneys like in southern Indiana or organized by the American Bar Association's Young Lawyer Division Disaster Legal Services, lawyers offer their knowledge and problem-solving skills to people trying to return to normal.
Hoosier attorneys wanted to use their knowledge of the administrative process, the judicial process and legal issues to do what they could to help Henryville and the tiny surrounding communities, explained J. Mark Robinson, attorney with Indiana Legal Services Inc. in New Albany.
"We really do have a noble profession that seeks common good and wants to be available to our citizens," he said.
Come rain or shine
Since the 1970s, the ABA has been coordinating disaster legal assistance by working with local affiliates, bar associations and legal aid organizations in devastated areas. Since September 2007, the DLS has responded to 103 disasters in 37 states.
Currently the director of the ABA's Disaster Legal Services Program is Indianapolis attorney David Nguyen. He volunteers his time because he wants to serve and do something meaningful.
Legal problems that disaster survivors face basically cover the curriculum from the first year of law school. Property law, family law and help navigating the bureaucracy are all part of the mix. Landlord–tenant issues, denied insurance claims, and recovering missing documents like Social Security cards, driver's licenses and deeds to homes are common problems as well.
Also, Nguyen noted, "funny things you wouldn't think about" crop up after a storm. These include family disagreements arising from custody arrangements and even bankruptcy declarations.
Legal problems resulting from historic storms like hurricanes Katrina, Isaac and Sandy are so widespread and so huge, Nguyen said, they will take years to solve.
In the calm that comes after the storm, the ABA organizes a hotline that connects survivors to attorneys and legal assistance. Volunteering lawyers are also given space in disaster recovery centers established by the Federal Emergency Management Agency.
"The ABA provides a needed service," Nguyen said. "Absolutely, I think it provides a real needed service."
Echoing Robinson, Nguyen pointed out volunteering for disaster legal services enables lawyers to bolster their image. It is an opportunity, he said, to show lawyers are not solely concerned with the billable hour but rather want to help people in need.
Stormy weather
On March 2, the town of Henryville and surrounding communities will mark the first anniversary of the tornadoes. The high school has been rebuilt, St. Frances Xavier Catholic Church has been repaired, and the residents have been putting their lives back together.
 The tornado hit the town on a Friday afternoon. On Monday, Clark Circuit Judge Daniel Moore convened a handful of attorneys at an O'Charley's restaurant to discuss the help the legal community could offer.
Within a day, the Indiana State Bar Association held a conference call about the installation of a hotline that survivors could call for assistance. John Woodard, partner at Wyatt Tarrant & Combs LLP in New Albany, offered that he and his firm would handle the referrals from the hotline.
A short time later, Rodney Scott, attorney at Waters Tyler Hofmann & Scott LLC in New Albany, contacted Moore. Scott spent the first weekend after the storm in Henryville, cleaning accommodations and preparing meals for volunteers from the Salvation Army. What he saw of the destruction disturbed his sleep and spurred him to confer with Moore.
Scott then helped organize a legal clinic for residents to go for answers and advice. On a Saturday about two weeks after the tornado, the viewing room of Adams Funeral Home in Henryville was divided into a consultation area and a waiting room. Numerous attorneys volunteered in two sessions to meet and help the survivors with their legal problems.
"It was a good day," Scott said. "I was very impressed by the willingness of the attorneys to jump in and do whatever was needed."
Indiana Legal Services Inc. and the Indiana Bar Foundation also contributed to the rehabilitation effort. Robinson of ILS joined the Saturday clinic where he offered guidance in two family law cases.
The attorneys were not soliciting business or searching for clients. They provided help sorting through insurance coverage disputes and handling estate matters, misappropriated donations and contractor agreements as well as gave advice on how to protect an individual identity when birth certificates and other personal documents had been blown to unknown destinations. Sometimes they just did a little handholding and talked to the people.
Woodard advocated for one survivor who was handed an exorbitant bill for air ambulance service. The individual, who had suffered broken bones in the tornado and was airlifted to medical care, was charged $20,000 by the service provider. That was well in excess of Medicaid rates so Woodard negotiated, even threatened litigation, and was able to get the bill significantly reduced.
The Indiana Bar Foundation recognized what Robinson called the "Herculean effort" by Woodard and Wyatt Tarrant & Combs with a President's Award.
Blue skies
Materials and packets of information that were put together and handed out after the southern Indiana tornado have been filed away so if ever such a disaster happens again, the legal community will be prepared.
The ABA is also getting ready for the next disaster by forecasting through different scenarios. Nguyen traveled to Southern California in December to brainstorm with other attorneys and organizations about what type of legal relief will be needed after the next major earthquake.
Going forward, Nguyen wants to establish a single unified hotline. Currently, the 800 number changes with each location, but he is working to create one number that will be available after disasters so survivors will know immediately who to call for legal help.
Also, he wants to create a database of attorneys with foreign language skills. In a disaster, these lawyers could be called upon to help with translating for survivors.
What and when the next disaster will be are unknowns. But it is certain that following the storm, legal problems will unfold and lawyers will be there to help.•
Please enable JavaScript to view this content.