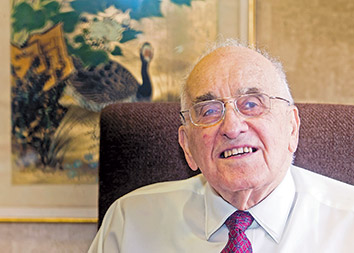 Alexis "Alex" Thomas Cholis is winding down his law practice. More than 70 years after admission to the bar, he's decided it's time.
Cholis has stayed active until the end, coming to the office daily, taking his lunch at work and watching over the last of his estate and tax cases. For more than 60 years, he's come to the office his older brother Nicholas founded in South Bend in 1936.
According to the Indiana Roll of Attorneys, Cholis, 96, has been an active lawyer six years longer than anyone in the state.
But now it is his eyesight, which kept him off the front lines in World War II, that is forcing the issue. "Now my eyesight is so bad, I gotta give it up," he said.
"I sort of specialize in tax and also estate work, and now the figures run together. I can't read them anymore," Cholis said.
 
Cholis' nephew and firm partner, Paul Cholis, checks over his uncle's work just to make certain it adds up and stops by his home each morning to give him a lift to work. "He has a couple of estates pending, but I'm doing the filing," Paul Cholis said.
Paul Cholis and other longtime colleagues say Alex Cholis still has the quick wit and sharp legal mind that made him a respected figure in the local legal
 community for seven decades.
"If it weren't for the eyesight, he'd be in the game," his nephew said.
Those eyes that saw the South Bend lawyer through the longest legal career in Indiana also witnessed moments in history equally rare.
'Working for my Uncle Sam'
Before joining the family practice, another duty called Alex Cholis.
"I was admitted to practice July 20, 1942, and I got a new job on Sept. 9 of '42, working for my Uncle Sam," he said. At the height of World War II, Cholis hoped to get a direct officer's commission from the Army or Navy, but the brass didn't see it for the Notre Dame Law grad.
"When they found out about my eyesight, they told me to get the hell out," he said with a laugh. "I was drafted as a buck private," the lowest rank for an enlisted person in the Army. Cholis went through officer candidate school, though, made second lieutenant and joined the Allied Military Government that occupied North Africa. The mission was securing Algeria and Tunisia and, together with British forces, providing a bulkhead against the Axis powers.
By mid-1943, Cholis' unit was following Gen. George Patton's forces that had liberated Sicily. "Patton was leaving troops behind to garrison the towns, and he didn't need them (to secure liberated areas) when he had us."
That's how Cholis found himself a local kingmaker in a foreign land in his 20s. "I'd move into a town and appoint the new mayor, the new chief of police," he said. "My first job was running five towns in Sicily."
Cholis remembers the respect shown by Sicilians toward the American soldiers who drove out the fascist government. "They came under our rule, and our rule kept all the Italian rules except those that were repugnant to the Americans' or the Allies' ideal," he said.
But Cholis also had to counter the propaganda of Italian dictator Benito Mussolini, who sought to turn Sicilians against the Allied occupation. Cholis remembers turning to a higher power.
"I figured if I could get the church behind me it would help," he said. He told a priest of his days at Notre Dame, where he'd heard Cardinal Eugenio Pacelli speak before Pacelli became Pope Pius XII in 1939. The priest immediately invited Cholis to Mass, where he seated him prominently in uniform.
Cholis chuckles when he recalls the priest telling parishioners not to believe lies about the occupiers, then pointing out the American among them and saying, "He knows the pope."
Memo to Patton
From Sicily, Cholis followed occupation forces into the mainland of southern Italy, then to England to help train new officers going to secure continental Europe. He landed in France and moved through Belgium, Holland and into Germany, where he was on the staff of U.S. 9th Army until the end of the fighting.
When the war was won, Cholis was a captain assigned to Gen. Dwight Eisenhower's command in Germany as an assistant chief of staff for civil affairs. Cholis didn't get to know the future president personally, but he spoke for him at least once, writing correspondence for Eisenhower to the notoriously obstinate Patton.
Patton, Cholis said, wanted an exception to the Allied commanders' prohibition on hiring former members of Adolf Hitler's Nazi party. Patton argued that German soldiers could be useful in the military occupation, and that many had no choice in becoming party members.
"I wrote back to him and told him he will follow the rules of the military government," Cholis recalled. "The rule was set down by FDR and Churchill. … Ike had no authority to change that, and (Patton) had no authority to change that."
After his service, Cholis returned home and hung a shingle, ultimately joining his brother's law firm. Earning a living as a young attorney in post-war South Bend meant knowing how to handle any case that came up. But there wasn't enough legal work to start from scratch, so he put his accounting background to work moonlighting on production control at the Studebaker truck plant.
"I had to scrap on my own," Cholis said of those early days of practice. He later got a federal job as a rent control attorney, and he served as a public defender. Much of his work, he said, was building up future good will.
"As a sole practitioner, you had to depend on word-of-mouth and friends, and your friends were too damn young to give you much good legal work," he said.
In time, though, the Michiana legal community came to know Cholis' name. He served as secretary/treasurer of the St. Joseph County Bar Association for more than 23 years, then served a single term as president in 1977-78, according to bar executive director Amy McGuire.
During much of his time as a bar officer, Cholis was in charge of discipline, and the buck stopped with him whenever there was a complaint about an attorney.
"I knew every lawyer by name in those days," he said. "Now, it's impossible."
'You don't need it in writing'
James P. Knepp, a partner with Hahn Knepp & Slagh in South Bend, became acquainted with Cholis when he came to the city in 1978, three years after he began practicing.
"When I came to town, one of those people who was my mentor told me that you don't need it in writing from Alex," said Knepp, now co-chair of the St. Joseph bar's Probate and Estate Planning Section. "If he said that's the way it was, that's the way it was.
"He's a gentleman and a unique character all rolled into one," Knepp said. "You can't really describe Alex, you have to experience him."
Wyatt Mick, 84, senior partner at Bingham & Loughlin P.C. in Mishawaka, has known Cholis since 1959. "He was always a lot of fun," Mick said, noting Cholis handled one of the bar's most demanding positions with aplomb.
"He was hilarious when he had to make a report of any kind; he was always a real gentleman," Mick said. "He was a real gem and we were very lucky to have him."
Cholis said changes in the profession have been profound in his years. His firm never advertised; never even used bold letters in the phone book. Attorneys at the start of his career didn't specialize, and there were few big firms.
"It's changed entirely," he said. "You must specialize now. … I knew all the laws, but what do I know about environmental law now? What do I know about contamination unless I specialize in it?"
The community of attorneys is different, too. "There was more of a camaraderie and a friendly relationship between lawyers then, and more courtesy instead of fighting like cats and dogs," he said.
Handling taxes and estates in the '50s and '60s often meant addressing concerns of families aside from their legal needs, Cholis said. More than once, he said clients begged him to help straighten out a wayward child, for instance.
"You acted as sort of an adviser to your clients in the old days," he said. "It's impossible to be a family lawyer anymore."
At 47, Cholis married his "child bride" of 39, Catherine Nance. He remembers their first date was the day after Valentine's Day in 1965; they married on his nephew Paul Cholis' 15th birthday. They had been married 23 years when she died in 1988 at age 63.
"The only reason I'm here at the office is my nephew is here. I'm a widower with no children, and I can stay here and talk family and so on."
Paul Cholis is grateful. "Alex was much more of a mentor and a teacher to me than dad was," he said, noting his uncle's guidance on tax and estate law and advice on serving as a public defender. "He and I worked very closely over the years on his cases and my cases.
"He's very exact about things … he'll read a case, read a statute in great detail. He's very detail oriented and very good at analyzing the law," Paul Cholis said, laughing a little like his uncle. "I chuckle with great affection."•
Please enable JavaScript to view this content.