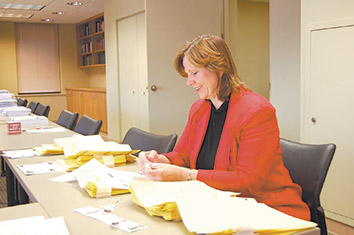 After a day of practicing law, attorney Susan Roberts often returned home, sat down at her computer and created a legal world where the witnesses say exactly what she wants them to say.
Her characters are fascinating and often humorous individuals with names that match, such as Gail Storm, captain of a charter boat, and Dee D. Tee, a pest control expert. She puts them in the middle of courtroom battles that include expert witnesses, exhibits and legal precedent.
For nearly 20 years, Roberts has sat in the glow of her computer not to create bestsellers but to write the cases that students argue in the Indiana Mock Trial competition. Her goal is to craft interesting works that let the students enjoy themselves while they learn about the American judicial system.
"It's rewarding to me when I see what the students do with the words I write," Roberts, of counsel at Stuart & Branigin in Lafayette, said. "They bring the characters to life and bring out the different angles."
Her writing has been so successful that other states have used her cases in their mock trial competitions. And this year, her skills are in the national spotlight. She wrote the case that will be tried during the National High School Mock Trial Championship coming to Indianapolis in May.
Roberts never dreamed of becoming a writer. She studied accounting as an undergraduate and as an attorney her practice has focused on finance, bankruptcy and creditors rights.
However, when she became involved in mock trial, she realized she could write a better case than the ones typically offered. Over the years she has written cases that have drawn upon history – the trial of Dr. Samuel Mudd, a suspected conspirator in the assassination of President Abraham Lincoln – as well as modern day happenings like sniper shootings and bed bug bites.
Students, parents, mock team coaches, attorneys and judges have all praised Roberts' cases. But she is most thrilled watching the students display their knowledge of the law as well as their skills at public speaking and critical thinking.
"You know you're making a difference," Roberts said. "That's what it's all about."
A case they can argue
Mock trial gives high school and middle school students the opportunity to learn by preparing and presenting a court case. Students read through caselaw, learn legal procedure and practice endlessly all in preparation to present their side of the facts before a judge just as any lawyer would do in a real litigation.
"The case is the competition," said Scott Keller, attorney at Anderson Agostino & Keller P.C. in South Bend and member of the Indiana Mock Trial board of directors.
And balance is the key factor. Each side has to have equal amounts of strengths and weaknesses so the students have something to argue, because the competition is not about getting a favorable jury verdict but about the arguments they make.
"Her cases are always very well done," Keller said. "We get very few complaints from lawyers reading the cases."
Roberts pays particular attention to giving her cases depth and multiple angles which give the students plenty to work on as they prepare for competition. She does this not only so students will not get bored, but also so the more they study and the more they pay attention, the more they will find.
She is adept at hiding a contradiction or slipping in a twist that won't be found until the students have thoroughly gotten to know the incident, the facts, the caselaw and the characters.
Every year, Roberts begins with research. Lots and lots of reading, studying and investigating every aspect of her case, every detail, every diversion because she wants everything in her case to be plausible and true to life.
When the writing starts, she will write multiple documents including six witness statements, three for each side; the complaint or indictment; and an answer to the complaint or counterclaim. In addition, she establishes the stipulations and she cites applicable law with references to precedent cases as well as Indiana and U.S. code.
Roberts does not shy away from complex legal concepts in her cases. For example, the 2012-2013 case, Dog Bite at a Dog Show, did not treat the matter as a typical television courtroom drama would with the issue being simplified to the question of whether the dog actually bit. But rather, Roberts had the students focusing on the true legal matter of whether the defendants knew or should have known their dog had violent propensities.
Negligence, murder versus manslaughter, First Amendment rights, wrongful death and product liability have all been spotlighted in her cases.
Studying and then arguing Roberts' cases in mock trial competition helped Andrew Jones ace his trial practice class in law school. As a student at Adams High School in South Bend, he participated on the mock trial team for three years and is now at team coach at his alma mater.
Like Keller, Jones, an attorney at Sweeney Julian P.C. in South Bend, said mock trial cases must be balanced with no side having an unfair advantage. Another key element to a good case is fun characters. Interesting, multifaceted witnesses and experts allow the students to be creative.
"Having good characters written into the case is very important," Jones said. "Susan nails it. She nails it every time."
Jones remembered one of Roberts' cases he tried as a student competitor involving a house fire and the insurance company accusing the homeowner of arson. The insurance inspector was the persnickety and obsessive Terry Part, who had wanted to be a police officer but failed the drug test.
"Now that I am a personal injury attorney, I really appreciate that character," Jones said, chuckling.
Tragedy and a car race
For Indiana's turn on the national mock trial stage, Roberts wanted a case that drew upon the history and culture of the state. She crafted a piece that combined Indiana's worst tragedy, the 1963 Coliseum Explosion in Indianapolis, and its most famous event, the Indianapolis 500.
Roberts' case revolves around an explosion of a propane tank on a popcorn warmer, similar to what happened 50 years ago. However, hers takes place before the crowds arrive in a theater where a play about the 500's inaugural race is being staged. The play is called "The Wasp," in reference to the winner Ray Harroun and his race car, the "Marmon Wasp."
Following the blast which destroyed the building, the theater company files a lawsuit against the propane vendor, claiming the vendor was negligent in maintaining and inspecting the tanks and in failing to instruct the theater in the proper operation and of the safety risks of the tanks.
Still, this is Roberts' case so there are plenty of suspicions. Maybe the theater employee, Joe Kerr, played a prank that got out of hand, or possibly the disgruntled former theater co-owner, Dee Part, engaged in sabotage. What about the theater owner, Mel Low? Did he ignore safety precautions in order to arrange the theater according to the principles of feng shui?
After the national competition, Roberts plans to return to writing cases for the state competition. She laughed and said her husband has been encouraging her to turn her skills into a novel, but that project may have to wait. She is already thinking about possibilities for next year's case.•
——————————————————————————————————————————
Volunteers needed for national competition
 
For the first time in high school mock trial history, Indiana is hosting the national competition. High school students, along with attorneys, teachers and judges from across the country, will come to Indianapolis to test their litigation skills.
The National High School Mock Trial Championship is May 9 through May 11. Marion County is providing 25 of its courtrooms for two rounds of the competition. The championship round will be held in Judge Sarah Evans Barker's courtroom in the Birch Bayh Federal Building and U.S. Courthouse.
About 46 mock trial state championship teams are expected to travel to Indiana for the nationals. In addition to arguing and examining witnesses, the students will be treated to some Hoosier fun while they are here. Receptions are planned at the Indiana State Museum and the Eugene and Marilyn Glick Indiana History Center. Students will also be treated to a baseball game at Victory Field watching the Indianapolis Indians take on the Toledo Mud Hens.
Volunteers are still needed for the national competition. Competition organizers want to have 100 volunteers for each of the three rounds to preside over the mock trials, to score the students, and to act as the bailiff. Attorneys, paralegals, judges, and law students interested in donating their time are asked to visit the Indiana Mock Trial homepage at www.inmocktrial.org. Click on the 2013 National button and select the link for "Sign-up for Judging Panel Volunteers and Other Volunteers."•
 
Please enable JavaScript to view this content.