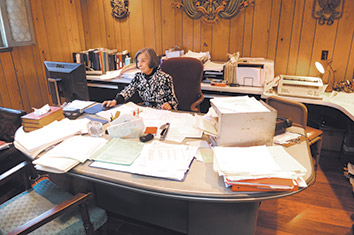 Phyllis Gratz Poff built a law practice by doing the little things that clients never forget.
She would give her home phone number to clients going through a particularly agonizing time and tell them to call her if they just needed to talk.
She stayed late and came into the office on Saturdays to accommodate clients who couldn't meet her during regular business hours. And when clients called with a question or popped into her office, she did not count the time spent with them as billable hours.
Reflecting on her legal career, Poff said she probably would not have been successful working at a big law firm. Yet she has done well as a solo practitioner in Auburn, not only building and sustaining a law office but also being a quiet influence on the other attorneys in DeKalb County.
She has enjoyed being a lawyer so much so that at 82 years old, she is still working. In fact, having been admitted to the Indiana Bar in 1953, she has been practicing law longer than any other woman in Indiana, according to the Roll of Attorneys.
Upon learning that she is the longest-practicing female attorney in the state, she first exclaimed, "I am!" before insisting that she has done nothing noteworthy.
"I haven't done anything outstanding," Poff said. "I have not done anything remarkable."
Her significance comes not from being in practice for nearly 60 years but from her diligence to the law and her compassion for clients.
Building a career
Poff has an office in Auburn, about two blocks north of the county courthouse. She puts her name in the phone book and has a small website but, otherwise, she does not advertise.
That stance mirrors her upbringing in DeKalb County where everyone knows their neighbors and word-of-mouth is better than a commercial.
Her father owned a feed and mill business, and she and her sister spent many hours bagging the flour. Her brother also worked there, introducing a lot of innovation by designing different types of bags and milling various kinds of flour.
She might have stayed a miller's daughter if not for that terrible day at the close of World War II. The same June day her parents received a telegram from her brother, who had enlisted in the military, saying he would be returning from overseas, a government car pulled up in front of their house. Military officers told the family their son and brother had been killed in Germany.
Poff enrolled at Indiana University to study pre-law, then she headed to the John Marshall Law School in Chicago. Even though she was living with relatives, being in the Windy City brought a spell of homesickness that caused her to return to DeKalb County for an entire week.
She did go back to law school (she was the only female in her class) and completed her studies before settling in her hometown. Poff was admitted to the Indiana bar Dec. 2, 1953, and opened her office on her mother's birthday, Feb. 1, 1954.
DeKalb Circuit Judge Monte Brown joined Poff as a young lawyer fresh from law school in 1978. He remembers her as being a popular divorce attorney. Women going through a divorce hired Poff because they saw her as someone who would understand them. Men also enlisted Poff to handle their divorces because they believed she would be very effective in countering their wives' demands.
At all times, Brown said, Poff was compassionate. She supported her clients, she listened to them, and she was always very kind.
The way Poff has treated other people has rippled through the DeKalb County bar. The attorneys in that community work well together and do not cause a lot of problems for each other, which Brown attributes to the example of professional and personal demeanor set by attorneys such as his former boss.
Hanging out a shingle
Phyllis Poff (front row, center) was the only female in her law school class. Upon opening her practice in Auburn, she said she was never discriminated against or treated badly because of her gender.(IL Photo/Steve Linsenmayer)
Poff's choice to practice law was not totally surprising. Sitting around the kitchen table as a youngster, she and her family talked about politics and world events. Her parents, immigrants from Austria-Hungary, often got locked in arguments over who was worse: Adolf Hitler or Joseph Stalin.
"We were encouraged to be interested in the government," Poff said, adding she and her siblings learned a great deal from those conversations, including being proud of their country.
Deciding to study law was not difficult, but establishing a practice took a lot of hard work. When she started, Poff made $1,500 a year and lived at home, depending on her parents for room and board, meals, a car and gasoline.
Also, as was typical, while she knew a great deal about legal theory, she had few practical skills when she graduated from law school. She turned to the other attorneys in town, who had been in practice several years, to ask for their help and advice.
Never did these male attorneys discriminate or mistreat her, she said. Being a female in the male-dominated bar did not bring a lot of problems.
"I can honestly say, I didn't find a lot of prejudice," Poff said. "If I lost a case it was because I wasn't prepared or I didn't have the facts straight or the client wasn't cooperative."
In addition to her private practice, Poff served as the Auburn City Court judge from 1967 to 1979. Also, she served as the attorney for both the city of Waterloo and DeKalb County, and held a seat on the Auburn City Council for one term.
She carries a reputation of being a very skilled lawyer as well as being a very generous person. Poff served on the boards of the Habitat for Humanity of DeKalb County and for Youth for Christ in Auburn. Also, when her father's mill business was bulldozed, she donated half of the land to Habitat for new homes.
Marriage in 1962 opened another career for Poff. She and her husband owned five Hickory Farms stores throughout northern Indiana. When she was not at her law office, Poff was running the warehouse operations and occasionally making deliveries until 2 or 3 a.m.
Together, she and her husband shared child care duties. If she had to be in court early or meet with a client late, her husband made sure their son and daughter were fed, got their homework done, got ready for school or whatever else they needed to do.
Because she wanted to be with her family as much as she could, Poff never participated in a jury trial. Such trials would have kept her away from home too much.
She also found ways to be with her children even when working. Her son Randy remembered going to her office each day after elementary school and being allowed to sit in her office, pretending to take dictation, just so she could be near him.
Still practicing
Today, Poff concentrates her practice on family law and some estate work. She does all the legal work and, since her secretary died, she runs her office: answering phones, greeting clients and doing the cleaning.
In the courtroom, the time she spends with each case is still evident. Brown noted Poff really gets to know the details, and sometimes her thoroughness frustrates opposing counsel.
Even after 60 years, Poff still loves the law. She cares for her clients and she enjoys being an attorney. That devotion is on display as she regularly power walks in high heels with an armload of files to the county courthouse.
"God willing," she said, "I can continue."•
Please enable JavaScript to view this content.