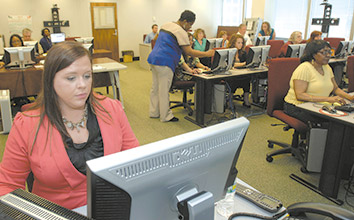 The clerk's office in Indianapolis' City-County Building is in the middle of a throwback week, revisiting a simpler time when a hand stamp on paper was all you needed to file court documents. Blame technology.
"We'll be taking a step back in time to step forward," said Scott Hohl, chief deputy for the Marion County Clerk's Office, about the ongoing conversion of civil courts to the state-supported Odyssey case management system.
 
Hohl and Angie Nussmeyer, press secretary for the clerk's office, discussed the conversion before it was to begin at the close of business May 3. Because of the complexities of moving to the new system, the long-used JUSTIS system had to be shut down ahead of Odyssey's go-live date of May 13.
"What folks will find if they come to file a new civil case is our office can accept them, but it will be a manual process," Nussmeyer said. Court users will be able to make payments, too, but handwritten receipts may be issued, and there could be some delays in disbursements. Child support, probation and bond payments shouldn't be affected, Nussmeyer said, nor would protective order operations.
Despite the inconvenience, Marion Superior Judge James Osborn said that when Odyssey is fully implemented, the county courts will get a system connected to courts and court users around the state, and taxpayers will get a break. The conversion will save the county courts $1.6 million annually spent to maintain the retiring JUSTIS case management system, he said.
"I suspect the legal community won't be thrilled next week," Osborn said on the eve of the conversion May 2. "It'll work itself out."
Osborn predicted court users "will be thrilled with the access to information" not available through JUSTIS.
 
EXTRA
The Marion County Clerk's Office has posted on its website details about operational impacts this week of conversion to the Odyssey case management system. Details are available
here.
Osborn has worked with Marion Superior judges Kimberly Brown, Sheila Carlisle and Heather Welch on a committee overseeing the conversion. The courts hope to convert the criminal division to Odyssey by July 2014, he said. That's when the state's revised criminal code reclassifying offenses into six levels from the current four is scheduled to take effect.
Updating JUSTIS to comply with the changing criminal code won't be an option. "The cost of that is completely prohibitive. We would be better off to go with a paper system than to convert it," Osborn said.
A paper system is in essence what Marion Superior's civil division has during the current transition week.
Beforehand, the clerk's office informed attorneys through bar associations and other avenues that wherever possible, they should file before or after the week beginning May 6. But the office braced for inevitable slowdowns, advising on its website, "Expect a delay as any updating will be done manually and not entered into Odyssey until after Monday, May 13."
 
Osborn
Hohl said any filings accepted the week of May 6 may create a backlog and result in delays during the following weeks, too. Clerks may have to work overtime to catch up.
During the transition, the office will be without access to electronic civil case file records, though records through May 3 will continue to be available online through the paid public site, www.indygov.biz.
In the transition, only active and open civil case files will migrate to Odyssey, the clerk's office said. That's about 160,000 case files of the approximately 2 million in the JUSTIS system. The remainder of the files will be available through an archived data warehouse accessible through the indygov.biz portal. Should those cases become active in the future, they'll be imported into Odyssey, Osborn said.
As with all Odyssey courts, searchable public court records for current Marion County civil cases will be available free online after May 13 at mycase.in.gov.
No more civil JUSTIS
Marion County's conversion won't be the largest by record volume that's been undertaken by the Judicial Technology and Automation Committee of the Division of State Court Administration, because most courts have transferred past and current case records. But Donna Edgar, a consultant and project manager for JTAC, said Marion County's switch is the most complex to date.
"JUSTIS is older technology. Generally, when we convert a county we do it over a weekend," Edgar said. "For Marion County, they simply cannot pull the data from JUSTIS and get it prepared and passed over to us in a timeframe that allows us to do it over a weekend."
Part of the difficulty is JTAC never has experienced a beast such as JUSTIS, a DOS-based system that dates to 1988 and relies on F-key functions for data entry. The system was designed particularly for Marion County and is the only one of its kind in the state.
"Our data conversion team had to rewrite the entire JUSTIS system for the conversion process," Edgar said. "JUSTIS just isn't used anywhere else, so we started from square one."
Mary DePrez, director and counsel for trial court technology at JTAC, said the conversion to JUSTIS is the largest in terms of number of staff members receiving training. Hohl said 30 to 40 people will be using Odyssey in Marion County's civil division. They received training throughout the week of April 29.
"That's why this project takes so long and costs so much," DePrez said of the rollout of Odyssey, so far deployed to 151 courts in 45 of the state's 92 counties over the course of more than five years. "When we started there were 23 different case management systems" that Odyssey would replace. "JUSTIS is one of the oldest."
Nevertheless, Hohl said the system has been a workhorse. "JUSTIS, for as old as it is, had robust functionalities," he said, including components for financial accounting that many other systems lack.
"At the end of the day, you're talking about changing the case management system for the 12th largest city in the nation. We're doing a good job to limit the delays as much as humanly possible."
Odyssey wins funding
Indiana Chief Justice Brent Dickson's appeal to the Legislature for a boost in JTAC funding this year paid off, though not quite as much as he sought. Dickson asked lawmakers to increase a civil filing fee from $5 to $10, but lawmakers settled on an increase to $7, which restores funding to the pre-2011 level.
House Enrolled Act 1393 also creates an oversight committee that will report to the Legislature on matters including whether funding for Odyssey should be extended, DePrez said. At IL deadline, HEA 1393 had not been signed by Gov. Mike Pence.
"It sunsets in two years, so that's pretty limiting for us," she said of the filing fee increase, which would be collected for JTAC only in courts that currently use Odyssey. In counties using another CMS, the county clerk's office will retain the fee for operation and maintenance of their systems.
Along with trying to meet Marion County's hopes to have all courts using Odyssey in about 14 months, DePrez said several other larger counties – Allen, Porter and St. Joseph – also have Odyssey partially installed. JTAC wants to prioritize completion of the installation in those counties and start the conversion in Vanderburgh County.
DePrez said JTAC hasn't yet considered how to address the future reclassification of the criminal code. "The nice thing about Odyssey is we'll make those changes at the top level and they will filter down to all the courts using Odyssey," she said.•
 
Please enable JavaScript to view this content.