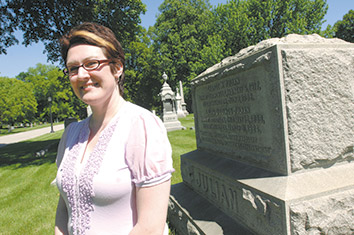 Libby Cierzniak loves to rummage through dusty boxes to see what she might find.
So much hunting has reaped treasures that now compete for space in her house, office, garage and basement. Although the shelves are filled, the Faegre Baker Daniels LLP attorney did not want to stop collecting. So she turned to writing about the things she stumbled across.
She is most interested in "trying to find ways to make old objects and history relevant to people so they will care about it," she explained. The items become relevant when people understand how they connect the past to the present.
Highlighting eras and ways of living long gone is a passion shared by many attorneys. Some take their fascination with the past beyond reading history books.
After a day of serving clients, they scroll through microfilm at the local library or go online researching people and places. They then become storytellers who weave together the nuggets of information and tidbits of clues about an individual or incident.
Their tireless sleuthing usually ends with a blog post and sometimes even a book, but they always learn something that adds new insight into present day life.
Cierzniak's fascination with objects can be traced to her grandmother's antique shop. The array of items was constantly changing, and her grandmother loved to talk about the things, never admonishing Cierzniak to not touch.
Through her research, she was able to learn the house next door to her current home was purchased in 1877 by Calvin Fletcher Jr., son of Calvin Fletcher, the first lawyer to practice in Indianapolis. She also learned about the heartbreak that visited the house when she happened to find an 1889 Valentine's Day card addressed to Fletcher Wagner, the great-grandson of the senior Calvin Fletcher.
She dug into Wagner's life and concluded he likely would have become as prominent a leader as his great-grandfather. He founded the daily newspaper, the "Echo," at Shortridge High School and attended Harvard Law School. He was also a candidate for a Rhodes Scholarship, but the young man disappeared when he was not selected.
These days she typically does her research at night, searching online sources. She devotes Saturday mornings to writing about what she has learned for the website "Historic Indianapolis." Sometimes she ventures to the public library to scroll through microfilm or to the Indiana Historical Society to look at the "amazing things" stored there.
She has also been able to make connections and find resources via social media.
"I would not equate me with a true historian," Cierzniak said. "I am trying to make this fun and relevant for people while being factual and accurate."
Ken Turchi, assistant dean of communications and marketing at Indiana University Maurer School of Law, worked in the Lafayette L.S. Ayres & Co. department store (pictured above in 1958) as a college student.  (Photo courtesy Indiana Historical Society)
Behind the cash register
Ken Turchi grew up in an era when going shopping was a special event and sales clerks were expected to uphold high customer service standards.
So much has changed in retail that he admits he can barely stand to buy clothes in a store today. However, Turchi has preserved days past in his book, "L.S. Ayres and Company: The Store at the Crossroads of America," published in December 2012 by the Indiana Historical Society Press.
As a college student in the 1970s, he spent a couple of summers working at the Indiana-born store's Lafayette location. There, his supervisor, Mary Alice Fogarty, instilled in him the principles of customer service. The clerks were not to stand around idly chatting with each other, but rather they were to show
and sell the merchandise to the consumers. "It was fun," Turchi said. "We were taught to believe it was something special to work there."
Turchi liked retail and even considered a career in the field but decided instead to go to law school. Today, Turchi is the assistant dean at Indiana University Maurer School of Law.
Turchi
His book chronicles the history of the iconic Indiana department store from 1872 to 2006. Turchi researched and wrote for five years, spending most of his Saturdays at the Indiana Historical Society going through company documents and photos. He also tracked down former employees and executives, recording their memories of working at Ayres.
His effort recently won first place in the Midwest Regional Interest: Text category of the 23rd annual Midwest Books Awards.
Turchi credits his legal training with helping him write nonfiction. He was meticulous in his research, working to understand the facts so he could give an accurate recounting of the store's history. Proof of his attention to detail is apparent in the final manuscript's roughly 1,000 footnotes.
Undoubtedly, Mrs. Fogarty would be proud.
Among the tombstones
Jessica Tucker Ballard loves to know where the bodies are buried.
Jessica Tucker Ballard, clerk in the Indiana Court of Appeals, indulges her love of history by visiting cemeteries with her family. (IL Photo/ Perry Reichanadter)
As a youngster growing up on the eastside of Indianapolis, the clerk in the Indiana Court of Appeals spent time sleuthing in cemeteries with her mother. She still explores gravesites with her mother, visits family tombstones with her grandmother and is introducing her 4-year-old daughter to the family tradition.
Ballard wants to know who lies beneath the fancy headstones, where they came from and what they did.
She has turned that wonderment into a full-time hobby. Ballard describes herself as an attorney by day and amateur historian by night. She writes blog posts for "Historic Indianapolis." Currently, she has turned her attention to old advertisements.
Recently, she wrote about an entry from 1823 that advertised the legal services of attorney Obed Foote. The ad specifically states he would not handle any business "under the denomination of pettifogging," a term used in the past for unethical, dishonest or petty legal business.
"I think that ad for me is absolutely hilarious," Ballard said. "That's the law nerd in me coming out."
Growing up, her family spent time touring the Abraham Lincoln memorial sites around the state and wandering through museums. Researching history gives her the opportunity to learn something new, oftentimes about the places and businesses she became familiar with as a child.
She spends a couple of hours at night researching her subjects online. The discovery sometimes becomes so intriguing she stays up long past her bedtime.
"To me, it doesn't seem like work or anything," Ballard said. "That is having fun."
Under the marquee
Listening to Fort Wayne attorney Stan Hood talk about the history of movies is more enthralling than many of the motion pictures that are shown on the silver screen.
Forget the dazzling starlets and rugged leading men. Hood knows movie theaters.
He can talk about how the 1903 film, "The Great Train Robbery," was the first successful movie because it told a story where previous motion pictures were clips of moving locomotives or newsreels. Then he will delve into the rise of the nickelodeons, the introduction of popcorn and candy into the theaters, double features and air conditioning.
More than bricks, mortar and celluloid, Hood detailed how important movies were in the decades before television. By studying what happened under the marquee, he said, we can learn about American life in general.
He started researching the history of movie theaters in Fort Wayne in 1997, the 100-year anniversary of the first showing of a motion picture in the city. Initially, Hood would spend a couple of hours at the public library each night after work, but with retirement in 2007, he has accelerated his pace.
Movies and history were staples of Hood's childhood. Saturday afternoons in the 1940s and 1950s were spent inside the darkened theater. History books were first opened during his slow, boring recovery from chicken pox.
Ever since, history has remained intriguing. Indeed, before he went to law school, Hood taught history at a junior high school for six years. Now with ending credits on his legal career having rolled, he is returning to his roots.
"History has become a very, very nice hobby," he said.•
Please enable JavaScript to view this content.