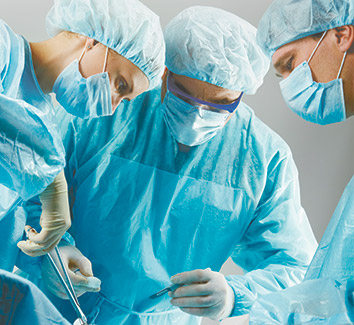 Health care providers who've been rejected by private malpractice writers turn to a state-run insurer that typically charges two to three times more for coverage. A class-action lawsuit claims the high-risk pool owes its policyholders a $31 million surplus.
More than 1,000 providers from family doctors to specialty practice groups have been covered since the year 2000 by the Indiana Residual Malpractice Insurance Authority, plaintiffs attorneys say. Marion Superior Civil Division 7 Judge Michael Keele in April certified the class-action suit in which plaintiffs argue IRMIA's own auditors say the fund has more cash on hand than it could possibly spend to pay claims or cover expenses.
"If IRMIA were a private company, that money would be distributed to shareholders. It's a profit, but IRMIA wasn't set up to make a profit," said James K. Wheeler, a partner with Coots Henke & Wheeler P.C., in Carmel. Wheeler's firm, with Cohen & Malad LLP of Indianapolis, was appointed as class counsel.
Notices to class members began after Keele approved an order May 23 giving potential members 30 days to opt
out of the proposed class. The suit is Larry J. Ley, et al. v. Stephen W. Robertson, in his capacity as Commissioner of the Indiana Department of Insurance, and the Indiana Residual Malpractice Insurance Authority, 49D07-1203-PL-9386.
IRMIA was created by statute in 1998 and under I.C. 34-18-17 covers practitioners who have been rejected by two or more private carriers, commonly because of prior malpractice suits. The state argues in its response that IRMIA has done no wrong and that its policyholders aren't entitled to refunds.
Tina Korty, general counsel for the Department of Insurance, referred requests for comment to the Office of the Indiana Attorney General. The office responded to questions about the IRMIA surplus with a statement from spokesman Bryan Corbin.
"We are not able to comment on financial details of the IRMIA fund but will respond in court to the plaintiffs' legal assertions at the appropriate time. As the lawyer for state government, the Attorney General's Office will vigorously defend its state clients: the Department of Insurance, Commissioner Robertson and IRMIA itself," Corbin said.
"Our office opposed the plaintiffs' motion for class certification arguing that the plaintiffs did not meet their burden on the elements necessary for class certification. Having represented state government previously in various other unrelated class actions, our office now will move forward into this new phase of the case, and we respect the ruling of the court," he said.
 
Cohen & Malad managing partner Irwin Levin said the money IRMIA lists on its balance sheets as "undistributed funds" represents "tens of millions of dollars more than they will ever, ever need to pay claims, according to two separate actuaries hired by IRMIA.
"I have no idea why IRMIA insists on holding on to the money," he said. "It should go back to the people who paid it. … All they're doing right now is hoarding money, and it should be put back into the economy."
Levin said the suit doesn't challenge IRMIA's premiums or the methodology the authority uses to set them. "They can charge whatever rates they deem reasonable," he said, but IRMIA doesn't have a right to hold a "big pot of cash sitting in a cave they keep adding dollars to."
The suit also alleges that IRMIA has failed to segregate surpluses for investment as required by statute under I.C. 34-18-17-8, and it asks the court to mandate compliance.
Barring a ruling of summary judgment, resolution through court-ordered mediation or other settlement, the matter is set to proceed to trial on Feb. 3, 2014.
Terre Haute lawyer Michael Sacopulos, of the firm Sacopulos Johnson & Sacopulos, has defended IRMIA claims for the state in southwest Indiana. He believes the authority could face a challenge in justifying its balance sheet.
"It seems to me that this is a knowable type of equation that's used in the amount of money that you hold in reserves," he said, noting IRMIA's coverage limits and the often years-long maturity horizon for malpractice claims in process give the authority a good level of claims predictability. "You cannot hold excessive amounts."
At the same time, Sacopulos said IRMIA may be able to prevail on its posture as a carrier of last resort. "Is it a reasonable amount given their exposure? … Pools of the physicians (IRMIA compared to those privately insured) are not apples-to-apples," he said. "Higher-risk pools, not just in Indiana, but nationally, if you've been sued, statistically you're more liable to be sued again."
That's in line with some of the 22 affirmative defenses proffered by the state in response to the suit. "But for IRMIA, Plaintiffs would have been significantly limited in their ability to practice medicine in Indiana, and, accordingly, Plaintiffs have received significant benefits including, without limitation, all income remuneration that they have earned during the periods of time that they were covered by IRMIA," the response says.
But Levin and Wheeler said IRMIA has accounted for all known risks and costs of coverage and has built a surplus that climbed from nothing around 2000 to $7 million in 2007 and $16 million in 2009. IRMIA's most recent balance sheet from Dec. 31, 2011, shows a total of $31,790,424 in undistributed funds. The authority's total of reserves, liabilities and undistributed funds for 2011 was $64.3 million.
"Indiana is different from almost every other state," Wheeler said of its malpractice pool. Because IRMIA covers only the first $250,000 of a practitioner's liability per claim with an annual aggregate limit of $750,000, its worst-case scenarios are known.
"That makes it easier for the actuaries because of the limits of liability in the state of Indiana," Wheeler said.
Meantime, attorneys are still unraveling the exact number of practitioners covered by IRMIA policies. In 2012, there were 135 policies, the fewest since 2001, but there have been as many as 664 in prior years. Wheeler said because many of the insured were in the pool for five years or more, compiling a complete list of those insured by the fund since 2000 has been difficult.
Wheeler believes that IRMIA may have over collected premiums in the early 2000s during what he described as a national malpractice scare. Fewer claims than expected may have resulted, producing the surplus. "As claims matured into the later 2000s a
nd went away, that's what caused this number to grow," he said.
The richness of the fund also might say something about practitioners who've found themselves with no place else to go for coverage, Wheeler hypothesizes. "I think doctors who got put into the fund ended up being a better risk," he said.
"I think they got the bejeezus scared out of them and probably were more careful."•
Please enable JavaScript to view this content.