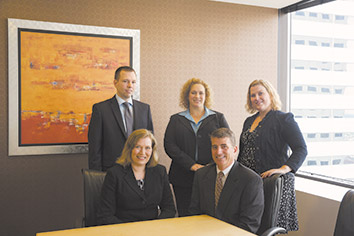 Connie Lindman and her team of intellectual property attorneys at former Stewart & Irwin P.C. in Indianapolis found a new home with room to grow. So did several other lawyers who've made smooth transitions with their practices.
In the case of Lindman and fellow IP lawyers Eric Lamb and Dennis Schell, it truly is a new home. The three are now partners in the Indianapolis office of Chicago-based SmithAmundsen LLC that launched in May. Lindman is managing partner of the Indy office with five attorneys, all Stewart & Irwin alums. She also chairs SmithAmundsen's firm-wide IP practice.
"We did have other options and we deliberately chose SmithAmundsen," Lindman said of the IP team after the lawyers met with staff in Chicago and a satellite office that opened in the last couple of years in St. Louis. "We thought this would be a great opportunity to get in on the ground floor of the Indianapolis office of a great Chicago firm, and so far, everything has proven out to be that way."
Keeping the IP practice together "made all the difference to us," she said. "It was always understood that we would be going together as a team."
As with SmithAmundsen's St. Louis office, the company projects growth here and expects to quickly bring aboard additional attorneys. The St. Louis office previously had a focus on labor law, but that branch has evolved into a general practice.
Likewise, SmithAmundsen is concentrating its IP practice in Indianapolis, but Lindman believes the
local office will follow the lead of the St. Louis branch and diversify in short order.
Indianapolis seems suited to IP work, she said, and SmithAmundsen, ranked No. 248 in the National Law Journal's 2013 survey of the largest U.S. firms, is well positioned to grow its Indy affiliate. "We do have a very robust IP community here in Indianapolis," said Lindman, who has prior Chicago big-law experience with Kirkland & Ellis LLP, No. 11 in the survey.
"I think IP work is a growing area regardless of where you are, and we provide more excellent service at more reasonable prices than you are going to get on either of the coasts," she said. "What's nice about IP work is for the most part it is federal, so we can comfortably represent clients all over the country."
In addition to the IP practice, corporate law attorney Alyssa Rogers and labor attorney Suzanne Newcomb moved from Stewart & Irwin to help SmithAmundsen plant its flag in Indianapolis. The firm is leasing temporary space in the Fifth Third Bank Tower until it identifies a permanent location.
Meantime, another group of former Smith & Irwin partners – Jeffrey Halbert, Ron Smith and Steve Sutherlin – moved to Bose McKinney & Evans LLP, where managing partner Jeff Gaither said they fit right in with Bose's practice groups.
"We are always interested in discussing laterals, and conflict is one of the biggest barriers," Gaither said. "There were very few conflicts with the three lawyers we ended up asking to join us."
The partners at Stewart & Irwin entered Bose as partners, too. Halbert joined the labor and employment law practice; Sutherlin, a former head of the Indiana Securities Division, is a partner in the mergers and acquisitions practice; and Smith, who Gaither said "probably has represented more auto dealers than anyone in the Midwest in the last 30 years or so," is chair of the automotive group.
"Their backgrounds and experience will be great assets to the firm and our clients," Gaither said. He said other former Stewart & Irwin attorneys had joined Bose in recent years, making the transition natural.
Former Stewart & Irwin P.C. attorneys Connie Lindman and Dennis Schell (seated), and Eric Lamb, Suzanne Newcomb (center) and Alyssa Rogers are now practicing from SmithAmundsen LLC 's temporary Indianapolis office. (IL Photo/ Aaron P. Bernstein)
Katz & Korin P.C. added six former Stewart & Irwin attorneys to the firm, including new partners Donn Wray and Glenn Bowman. "It so happens the six of us here, almost to a person, have many, many longstanding friendships and professional associations here," Wray said. "This has been a happy marriage from the get-go."
Wray focuses on automotive and environmental representation, and Bowman is an experienced environmental litigator. Others who joined Katz & Korin – Jim Brauer, Michele Henderson, Nick Gahl and Marc Menkveld – bring environmental experience as well as medical malpractice and professional liability defense backgrounds.
"What I'm willing to do and wanted to do was work with a moderate-sized firm where we could become the environmental group," Bowman said. "We can combine with what Katz & Korin already had and continue with the vision and goals that we as the environmental group (at Stewart & Irwin) had, and candidly, got sidetracked."
Bowman said the move has been "wonderful," noting that Katz & Korin recognized the value of Stewart & Irwin staffers and brought them aboard, too. Bowman and Wray also said their new firm has a far-superior marketing program.
In another move, Cantrell Strenski & Mehringer LLP confirmed it added former Stewart & Irwin attorneys Cynthia Locke and Richard H. Riegner, but no additional information was available at IL deadline.
Katz & Korin partner Sally Zweig said the firm's new additions will bolster its roster of litigators who will pair with existing transactional groups.
"Our firm has always been one where we have no aspirations to be the biggest firm in town," she said. "When we bought the building, we did so with the idea of maintaining flexibility for opportunities as they might present themselves. This was an opportunity that presented itself, and (the former Stewart & Irwin attorneys) did offer some depth in practice areas that we didn't have.
"This was a little bit of kismet, I guess I'd say."
Zweig knows a bit about that, too, and what the former Stewart & Irwin attorneys may be experiencing. She was a partner at Johnson Smith, and when that firm dissolved in 2002, she joined some colleagues who moved to Katz & Korin.
"For a number of us here, obviously, it resonates," Zweig said. "I always said about Johnson Smith, it was a great bunch of lawyers and everybody ended up in great places. Everybody was successful before and after, and it's nice when that does work out."
It was tough to leave a firm that dissolved "abruptly," Zweig said, but for her and those who moved from Johnson Smith to Katz & Korin, "it was a good fit all the way around," and she feels she gained from the experience.
"Personally speaking, I think it helps you think about from a career point of view and a personal point of view the kind of practice that would be most beneficial," she said.
"It's also the case that if you need to change, to know that you can is a good thing. And if you are just sort of thinking about changing, there's not any stigma to it, and what would be a rewarding place to ply my profession?
"It was always my sense you should do what you like at a place you like doing it," Zweig said.•
Please enable JavaScript to view this content.