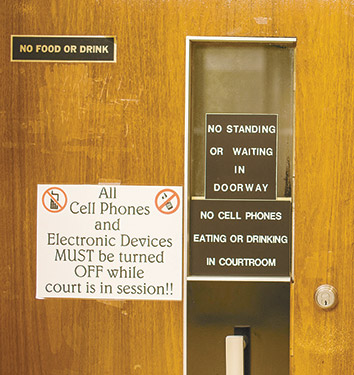 Judges in Marion County were rightly troubled recently by multiple instances of cellphone video taken in court winding up online, which included secretly recorded video of a criminal informant's testimony.
Now, an outright ban on cellphones in Marion County courts is among the restrictions judges are considering.
 
"We're looking at what colleagues in other counties are doing to protect the process," Marion Superior Court administrator Andrea Newsom said.
"I do think it is a challenge for the court and court staff to sort of keep an eye on what's going on," with cellphones in courts, she said. "More than anything, the judges are concerned that the safety of the litigants is protected," as well as the safety of attorneys and court staff.
Such concerns prompted Indiana's other largest counties to conclude years ago that the courtroom is no place for devices capable of recording testimony through photos or video. Lake, Allen and St. Joseph counties – the state's second-, third- and forth-most populous counties – have zero-tolerance policies on cellphones, tablets or other devices in courtrooms. Even some smaller counties, such as Steuben, have banned cellphones in court.
Allen County appears to have the most restrictive policy: Devices aren't even allowed in the courthouse unless you are an attorney or other authorized person with ID.
Jerry Noble, administrator for Allen Superior Court, said the experience of gang trials and serious felonies in the past 10 years led to the prohibition.
"When we had jurors being photographed in the hallways and other places in the courthouse, and criminal informants and prosecuting attorneys and that kind of thing, we felt it was important enough to do that," Noble said referring to the cellphone ban.
"We're a metropolitan court, and our criminal division judges consistently rank in the top five in sheer volume of jury trial activity," he said. "In certain types of cases, maybe you've got gang members involved. It's not that infrequent to have that kind of trial, and that was a conversation that drove us to this point."
Security personnel encountered some bumps enacting the policy initially.
"The first year or two, members of the public would express frustration and be upset," Noble said. There still are occasional grumbles, but "our frequent fliers, so to speak, are pretty well accustomed to it."
Allen County on July 19 lifted its ban on cameras for one day to allow media to take photos of evidence in the forthcoming trial of Indianapolis Metropolitan Police Department officer David Bisard. A change of venue moved Bisard's trial on reckless homicide and multiple operating while intoxicated charges from Indianapolis to Fort Wayne. Bisard is accused of killing motorcyclist Eric Wells and injuring two others, Kurt Weekly and Mary Mills, who were stopped at an Indianapolis intersection when Bisard crashed his police cruiser into the cyclists in 2010. Test results from a blood draw after the accident showed Bisard had a blood-alcohol concentration of 0.19.
Marion County would likely run into some difficulty following Allen County's lead. Screeners currently run people through security at the door of the City-County Building in Indianapolis, but separating court visitors from those going to other government offices would be a challenge. The location of courtrooms on multiple floors increases the challenge.
Like Marion County, larger neighboring counties including Hamilton and Johnson post signs and admonish those in court to turn off their phones or devices, but it's common for ringtones to punctuate proceedings. Johnson Circuit Judge Mark Loyd said he doesn't find the occasional noise too much of a nuisance, "though I'm sure some of my brothers and sisters on the bench range in irritation all the way up to bombastic."
But Loyd did once catch a litigant recording witness testimony while a separation of witnesses order was in effect. Loyd confiscated the litigant's phone, but he acknowledges judges are in no position to try to spot surreptitious cellphone use while presiding.
"It's extra difficult unless you put together a procedure ahead of time to accomplish the end goal," he said. In his court, that includes beginning each session by telling people that cellphones should not be on in the courtroom, and any that are will be confiscated. Most people comply with that, he said.
Massiel Krall, deputy administrator for Hamilton County courts, said a local rule prohibits use of cellphones in court, and anyone caught using a cellphone risks being found in contempt.
Regulation of cellphones is left to local courts. The state makes no recommendation on best practices and doesn't track various policies around Indiana, according to Indiana Supreme Court spokeswoman Kathryn Dolan.
In Indiana's second-largest county, cellphones are detected when people walk through a magnetometer on the way inside the courthouse, said Sgt. Mike Modrak, who works court security for the Lake County Sheriff's Department. For the public entering, no phones pass.
Modrak said the policy in Lake County has been in effect for about five years. Exceptions are made for attorneys, court staff and sometimes media in high-profile cases.
"Cellphones are not allowed in court, not even in the hallway or the waiting areas," he said. Same goes for recording devices. The devices also are forbidden in the probation department.
Lake and St. Joseph county courts followed Allen County's lead in crafting their own restrictive policies, but both ultimately made it clear that any benefits of allowing cellphones in court were outweighed by the risks.
"You have to draw the line," Modrak said. "You can't be iffy."•
Please enable JavaScript to view this content.