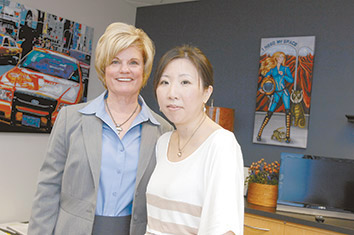 A resolution that spared Bei Bei Shuai more jail time and dropped murder and attempted feticide charges filed after the death of her newborn daughter did little to clarify the state of the law under which she was prosecuted.
Shuai was charged after her newborn daughter died days after her delivery by emergency caesarian section at Indiana University Health Methodist Hospital in Indianapolis. Shuai had told friends that she consumed rat poison days earlier in an attempted suicide after the baby's father jilted her. Her friends persuaded her to seek medical attention.
More than 30 months later, the Chinese immigrant walked free after the prosecution and defense teams reached a resolution. At a late-afternoon hearing Aug. 2, Shuai pleaded guilty to Class B misdemeanor criminal recklessness, and the state dropped the murder and attempted feticide charges.
Marion Superior Judge Sheila Carlisle accepted the plea agreement just hours after she and state court staff had briefed reporters and distributed decorum orders in anticipation of a high-profile, weeks-long trial for Shuai that had been set to start Sept. 3.
After the Aug. 2 hearing, defense attorney Linda Pence said the outcome was about the best her client could have hoped for short of dismissal. Shuai was sentenced to 178 days, but time served exceeded that amount. "She has served her time in this case," Carlisle said in approving the plea agreement.
 "It feels great," Shuai told reporters after the hastily called final hearing in her case, which lasted less than 30 minutes. "I can tell you I feel great relief."
Shuai, 36, signed a plea that admitted she "recklessly performed an act, specifically: ingested Brodifacoum, that created a substantial risk of bodily injury to a person, that is: Angel Shuai."
But Pence says the case never should have been filed, and has called the prosecution cruel. "This woman was in the throes of depression," she said as she stood next to Shuai after her plea. Pence said Shuai was prosecuted for actions she took that weren't crimes.
Despite a resolution that allowed Shuai to walk free from murder charges that had been pending more than two years, Marion County Prosecutor Terry Curry said he disagrees with Pence and said the law is on his side.
"We prevailed on the legal issue as it pertains to the interpretation of the statute," Curry said in an interview, pointing to the Indiana Court of Appeals ruling in Bei Bei Shuai v. State of Indiana, 49A02-1106-CR-486. The majority in that opinion concluded "the murder statute is unambiguous and its plain language encompasses (Shaui's) alleged actions, and she does not have immunity from prosecution."
Curry said his office received more than 200,000 emails from around the world objecting to the Shuai prosecution, but he said public pressure didn't motivate his decision to offer the deal. Rather, Curry said the deal represented a recognition of adverse rulings from Carlisle that limited or might limit state's evidence, as well as a desire to preserve Shuai's immigration status.
Rulings that limited testimony of pathologists in particular led to the question, "Are we really going to go (to trial) with half our case?" he said.
Presented the same set of circumstances, Curry said he was "not 100 percent sure" he would proceed again as he did in Shuai's case. "I feel we have approached this in good faith from the first day. Our responsibility is to take the law as it's given to us by the Legislature. We can't pick and choose and say the Legislature is misguided in enacting this."
But Pence said she had been prepared to proceed to trial and call as many as 80 witnesses, including lawmakers, legal scholars, health experts and others who would have testified that a law enacted as a policy response to much-publicized violent attacks against pregnant women was being twisted.
Pence said the Court of Appeals dissenting judge who would have dismissed the charges against Shuai properly ruled, and that she's exploring whether there might be a vehicle to present the Indiana Supreme Court with the question of whether I.C. 35-42-1-1(4) applies to the actions of pregnant women.
Curry
Curry and Pence agree that there appears to be a need for lawmakers to clarify the statute. Until then, Pence said pregnant women risk being charged for anything they do that a prosecutor may believe contributed to the death of a child.
"The dismissal of the case does not alleviate concerns of other women throughout Indiana who are or may become pregnant – they are in danger," Pence said. "We now know that some prosecutors do not understand the law, legislative history, or the needs and pain suffered by pregnant women."
Curry dismissed such concerns, but said he couldn't speak for how prosecutors around the state may interpret the prevailing Court of Appeals opinion.
"There has been such fundamental misinformation" on Shuai's case, he said, rejecting arguments that the law as interpreted raises the prospect that women could face criminal charges, for instance, for substance abuse during pregnancy.
On Aug. 2, Carlisle also approved a waiver of fines and court fees for Shuai, who Pence said had limited resources. After the hearing, Pence said Shuai was one of the kindest and most gracious young women she had ever met, working seven days a week at an Indianapolis Chinese restaurant.
Shuai thanked supporters, who she said boosted her spirits while she was jailed. "I was really, really depressed until one day I read a letter a supporter sent to me," she said. "I remember every one of them."
Pence said she's worked seven-day weeks for more than two-and-a-half years, with Shuai's case dominating her time. She estimated Shuai has received pro bono billable hours exceeding $2 million. "For a small firm like this, that's monumental," Pence said.
"This case has tested my beliefs in the justice system. Why did (Shuai) have to be incarcerated in the Marion County Jail for 14 months when she should have been presumed innocent and was absolutely no threat to society," Pence said.
The same Court of Appeals ruling that said Shuai wasn't immune from prosecution also said she was entitled to bail, after which she was fitted with a monitoring device pending trial. Shuai spent 435 days in the Marion County Jail before the Court of Appeals ruling, after which she was released on $50,000 bond.
"I've lived with it for so long, it's basically just sinking in that I don't have to sit with that poor woman in court while the state tried to attack her," Pence said.•
 
Please enable JavaScript to view this content.