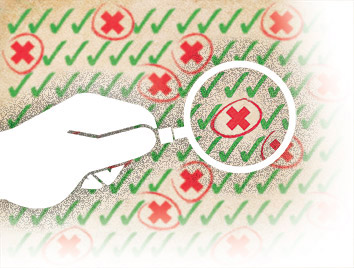 The red hot economy of the 1990s demanded a steady supply of unskilled and semi-skilled labor, a demand that was often filled with undocumented workers. Cities across the Midwest openly welcomed these individuals. Companies, trying to feed an insatiable appetite for workers, were placing help-wanted ads in newspapers in other states.
What a difference a decade can make.
The September 2001 terrorist attacks and the stumbling economy, capped by the Great Recession, have dramatically changed the country's attitude toward illegal immigrants. Calls for tightening the borders, denying government benefits and increasing deportations have replaced the conciliatory feelings.
The Border Security, Economic Opportunity, and Immigration Modernization Act that passed the U.S. Senate in June responded to the public outcry to stop undocumented workers from getting jobs by including the mandate that all employers use the Employment Eligibility Verification system, commonly referred to as E-Verify.
E-Verify taps into the government database and gives immediate feedback on whether or not the name of the new hire matches the Social Security number he or she provided.
In political arenas, the Internet-based system is touted as a foolproof mechanism to bar illegal immigrants from working. Elected officials from Capitol Hill to city councils have been requiring businesses that land government contracts or receive tax incentives to use E-Verify.
Employment and immigration attorneys call the mechanism the best system currently available but, they noted, it is not infallible and problems for employers could grow if its use becomes mandatory.
Moreover, E-Verify does not address the larger problem: The U.S. is home to an estimated 10- to 15-million illegal immigrants and the current immigration system provides no pathway for these workers to be hired, especially for positions in the service sector.
"Until the government gets its act together to draft legislation that addresses the significant number of undocumented people, I think (employers) are stuck in the middle," Jenifer Brown, partner at Ice Miller LLP, said. "The companies and industries that employ, albeit unknowingly, undocumented workers are doing so because they can't find sufficient American workers to fill the unskilled and semi-skilled jobs."
Unintended consequences
Gresk
At present, E-Verify is receiving mixed reviews from employers. Inaccurate outcomes, like not recording a name change, can result in the system questioning the employee's immigration status.
A "tentative nonconfirmation" can then lead to an appeal which places the company in limbo, not knowing if the worker will be able to get authorization or if the hiring process will have to be started again.
If the employers find E-Verify to be a difficult system to navigate, or if the appeals process increases costs and adds time, employers might try to avoid the headaches by not hiring people who look foreign.
Jeffery Mallamad, partner at Barnes & Thornburg LLP, called this potential rise in discrimination an "unintended consequence."
Pointing to the Immigration Reform and Control Act of 1986, attorney Paul Gresk doubted employers will turn to hiring all-white workforces. The previous immigration bill contained penalties for discrimination, and it is likely that any bill emerging from this Congress will also include methods to deter such actions.
More influential on employers' hiring practices may be the quality of the immigrant workers, said Gresk, founding partner of Gresk & Singleton. In particular, Hispanic young men tend to be physically strong and highly motivated, he explained, and they are also very loyal to their employers, not hopping from job to job.
"Employers come to us all the time and say, 'God, these are the best workers I've ever had," Gresk said.
Extra help needed
In Elwood, Ind., Red Gold, Inc. adds roughly 600 seasonal workers to its 1,400 full-time workforce every summer when the tomatoes start to ripen. The company has relied on E-Verify for several years and, according to Tim Ingle, vice president of human resources, has found the system easy to use. It has not been costly and it has not made hiring difficult.
He attributed Red Gold's positive experience to the company's recruiting practices and ability to attract the same migrant workers year after year. People who are not legal are not going to go to a business that uses E-Verify, he said.
However, Ingle drew a distinction between Red Gold, which hires migrant labor to help with processing the tomatoes, and farms, which use a transient workforce to harvest fruits and vegetables.
Food safety and food security could become concerns if any immigration reform does not include a way for foreign workers to come and help pick crops. Similar to when Alabama and Georgia passed some of the toughest anti-immigration laws in the U.S., farmers in those states had trouble finding workers and crops rotted in the fields.
Ingle's point echoed Brown's reminder about the need for unskilled and semi-skilled workers.
Mallamad
Jackson Lewis LLP partner Amy Peck also called for reasonable laws that will allow employers to hire foreign workers. The government needs to enact a comprehensive strategy with reasonable legislation that businesses can follow.
"If the government strengthens E-Verify and clears up some of the concerns, I think that legislation could help, but we know that if you push a balloon in one part, it pops out in another," Peck, who works in the firm's Omaha office, said. "You can't enforce your way out of an immigration problem."
Shifting the burden
The Senate's immigration reform bill gives the responsibility for securing the borders to the federal government, but interior enforcement is shifted to employers. Companies and businesses will bare the brunt of enforcing immigration laws and have more of the burden of ensuring their workforces are legal, Peck said.
Mandating the use of E-Verify is a key part of shifting the burden, she said. Also, the government will likely up the number of audits of I-9 forms and increase the monetary fines for violations.
On top of this, the government can use E-Verify to find aberrations in a company's workforce that may indicate discrimination against foreign-born workers or willingness to hire undocumented workers.
E-Verify is a goldmine of information, Peck said. The government can look at the characteristics of a business's employees in terms of citizenship status, social security numbers and names, and then run statistical analysis to find potential problems. This information could then be shared with other government agencies.
"Compliance is going to be the top objective for every savvy and intelligent company," she said. "Before, it got pushed to the bottom of the pile. Now companies are forced to have strong policy and procedure that ensures they have a legal workforce."
Overriding all of this is the fallacy that E-Verify will net illegal workers.
Peck pointed to one employer as an example. For more than 10 years, the company used E-Verify. But when the government did an I-9 audit, 60 percent of the workforce – more than 300 workers – was found to be undocumented.
Such a situation where a large swath of the employees is suddenly identified as illegal could be devastating to employers. Some might have to cut an entire shift or shut down operations altogether.
E-Verify is easy to evade through stealing or borrowing another person's identity, Peck cautioned. It is not a fail-safe system.•
Please enable JavaScript to view this content.