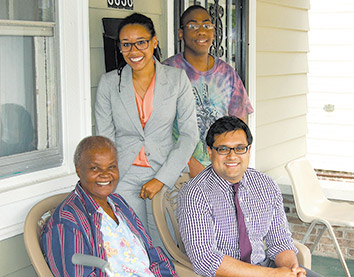 When Anthony Gordon finds himself in a situation he does not understand, his eyes will search for his great-grandmother, Rose Gordon.
The look he then gives her is one she knows well. It is his way of asking for help, asking her to step in and make things better. For 19 years, Rose Gordon has loved her great-grandson, gotten him to his medical appointments, made sure he completed high school, and taken care of the situation when she got "the look."
Now, that look is causing her to worry. At 73-years-old and in declining health, Rose Gordon knows a time will come when Anthony searches for her but she will not be there to answer.
"One day I got to leave him and that's my major, major concern is someone being there for him," Rose Gordon said.
 
That concern was compounded when Anthony, suffering from developmental and physical disabilities, was denied Social Security disability benefits. Rose Gordon first showed the denial letter to Anthony's therapist Kristen Williams who quickly filed an appeal then turned to Abhishek "Jay" Chaudhary.
An attorney, Chaudhary is the executive director of the Midtown/Indiana Legal Services Medical Legal Partnership. Started about a year ago, the partnership provides the clients at Eskenazi Health Midtown Community Mental Health with the help they need to solve legal problems that, left unresolved, could ruin their credit ratings, leave them homeless and exacerbate their mental illnesses.
Chaudhary turned the file over to his intern Aminta Moses, a 3L at Indiana University Maurer School of Law. Together, working with Williams as well as Rose and Anthony Gordon, they were able to get the denial reversed.
"They worked," Rose Gordon said. "When I say worked, they worked."
"The outcome of Anthony's case really shows the power and value of (Midtown and ILS) coming together to serve people who need it and could not access the system otherwise," said Williams, lead clinician and social worker at Eskenazi Health Midtown Community Mental Health.
Running to appointments
Anthony's great-grandmother has cared for him ever since he was a 2-pound, 2-ounce premature baby. His mother died little more than a month after his birth from what Rose Gordon called, "trusting the wrong people."
At first, Rose Gordon did not accept the doctor's diagnosis of Anthony, but eventually she saw and was forced to accept her great-grandson had a special set of challenges. He has been diagnosed with Asperger's syndrome, cerebral palsy and mental illness.
His care, Rose Gordon said, required "running, running, running, running" to this hospital, that hospital, this doctor, that doctor, and a constant flow of medications. A parade of social workers and therapists marched through their lives, changing so often Anthony has said he is used to losing people.
In the midst of it all, Rose and Anthony Gordon made a typical home life. Anthony developed his talent for drawing. And on special weekends, the pair packed some food and clothes and headed to the country to fish for blue gill and catfish.
Rose Gordon knows Anthony's disabilities will make it difficult, if not impossible, for him to hold a job and care for his own basic needs. Still, like any great-grandmother, she never discouraged him. She let him discover what he could do and shared his dreams.
"I hope he'll be able to, since he likes art, that someway he'll be able to do it well enough that he can be independent, he'll know and feel independent," Rose Gordon said. "I want that so bad for him."
She realized with no Social Security benefits, Anthony was very much in danger of falling through the cracks. The Social Security benefits were the key to making sure he has services and the support he needs after his great-grandmother passes on.
But the denial highlighted a unique caveat to Anthony's appeal. Namely, he presents himself very well, especially on paper. He comes across just like any competent, polite, ambiguous high school graduate who has the ability to provide for himself.
Consequently, the Social Security Administration's denial of his application for Social Security was understandable.
Moses dug through an estimated 1,000 pages of Anthony's medical records, drawing out the details that would enable the hearing officer to understand the back story.
She and Chaudhary met several times with Williams. The legal duo also had several conversations with the Gordons, always remembering that Rose knew Anthony the best.
Like Rose Gordon, Williams was impressed with the level of dedication Chaudhary and Moses brought to the case. Even though they were not confident they would win, they applied themselves and put together the best case they could, she said.
In fact, if the denial had been upheld, Williams believed the case would be over for good because Chaudhary and Moses had worked so hard that nothing was left undone.
Their work also impressed Anthony and gave him optimism on the day of the hearing.
"I didn't have hope we would win, but once I got there, sat down and saw how large the files were, that gave me high hopes," Anthony said.
Those high hopes were warranted. After the legal team, Williams and the Gordons presented their side, the hearing officer made the unusual move of deciding right then to authorize Anthony's benefits.
Weeks later, Rose Gordon was enjoying the afternoon on her front porch and still smiling about the outcome. She compared her happiness to being a little child nestled in the loving care of parents.
"That's the best way I know how to describe it," she said.
Funding boost
Like the Gordons, the Midtown/ILS Partnership is getting some new support.
The partnership was launched fulltime in 2012 with a $120,000 grant from the Nina Mason Pulliam Charitable Trust. Just as the grant is coming to an end in 2013, Midtown is preparing to start offering funding for the partnership.
The influx of new funding will not only help keep the program going but also enable the partnership to hire a part-time attorney and expand Chaudhary's role to handling more complex legal matters and doing public outreach.
"This is good news; this is a very important project," said Norman Metzger, executive director of ILS. "This project has proven its value to the community. It's a rewarding thing to be involved with."
In 28 years at Midtown, Margie Payne, CEO of Eskenazi Health Midtown Community Mental Health and vice president of mental health operations at Wishard-Eskenazi Health, has always seen the need clients have for legal help but rarely was the assistance available. The success of the partnership in helping clients enabled Midtown to provide funding.
The money was freed because Midtown no longer had to cover the costs of all its services and medications. Since the partnership has been able to secure Social Security payments and Medicaid for Midtown clients, these individuals are now able to pay the mental health center for the treatment they receive.
"It's a small contribution compared to the benefit we're getting from it," Payne said.•
Please enable JavaScript to view this content.