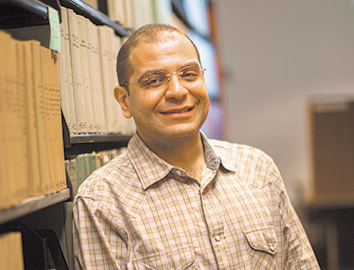 Mohamed Arafa recalls the day last month when he left Cairo, Egypt, to return to his adjunct professor post at the Indiana University Robert H. McKinney School of Law in Indianapolis.
The streets in the capitol of his native land were full of people demonstrating, and it took four hours in a taxi to navigate to the airport. "Today we have two presidents on trial," Arafa said of the day he departed Cairo.
 
The rule of Egypt largely has been dictated by people in the street, having had two revolutions in a little more than two years, and Arafa has been in the thick of the crowds both times.
First was the Arab Spring of 2011 – massive protests that toppled the three-decade, iron-fisted rule of Hosni Mubarak. Then this summer, Egyptians dissatisfied with the democratically elected but increasingly dictatorial government of Muslim Brotherhood President Mohamed Morsi took to the streets again, forcing him out with the aid of the nation's military. Some westerners called it a coup in the nation of 85 million, but Arafa said that's an oversimplification.
"June 30 was a counter-revolution, not a military coup," Arafa explained. "It was the biggest mass protest in the history of the revolution. … The military assisted the people in achieving their dream after the failure of the Islamist government" of Morsi, Arafa said. That's a narrative that's played out repeatedly in Egypt.
But Arafa said the military also was responding to acts of terrorism instigated by supporters of Morsi, such as burning churches and police stations.
"I had not been in Egypt since the 2011 revolution," he said. "This time was great, but it was a different feeling. Everyone was talking (about) politics – everyone from every different strata of society."
Nurturing rule of law
As an adjunct professor at IU McKinney School of Law, Arafa teaches classes of 25 or so, focusing on the study of Islamic law. But Arafa also is a professor of criminal law and criminal justice at Alexandria University in Egypt, where class sizes can run into the thousands.
"Last summer I was really proud to see students in my class participating in constructing a road map for the nation's future," Arafa said. "They are really wanting to see the rule of law equally applied to all citizens without discrimination."
In his own studies, Arafa's doctoral dissertation at IU McKinney was influenced by the events in his home nation. His writing focused on the corruption of the Mubarak regime, which has been accused of plundering the national treasury for decades.
Arafa's dissertation, "Towards a New Anti-Corruption Law in Egypt After Mubarak," has been published and earned him an invitation to help draft new planks of an Egyptian Constitution dealing with official corruption and freedom of information.
Arafa also has presented his scholarship on Egypt at Harvard University's Institute for Global Law and other notable forums for international law. Next month, Arafa will speak at two forums at universities in Texas.
Professor Frank Emmert, director of the Center for International Law and Comparative Law at IU McKinney, recalled Arafa adjusting the nature of his dissertation to coincide with the changes he was seeing as the Arab Spring bloomed in his home country.
When Arafa began at IU McKinney, Emmert said, Egypt "had 34 years of static, Mubarak police state. … During the time (Arafa) was here, there were two really dramatic changes in government, in society.
"In a way, the people have woken up to the fact that if they're in the street in sufficient number, they have power," Emmert said.
James Nehf, associate dean of graduate studies at IU McKinney, was an adviser to Arafa as he was working on his dissertation.
"He instantly came to be pretty well known around the world as a corruption expert," Nehf said. Arafa's dissertation is a comparative study of the U.S. Foreign Corrupt Practices Act, anti-bribery law in Egypt and Islamic law. "He's done a lot of speaking on the subject and he's very much in demand as an expert," Nehf said.
"We're very proud of the work that Mohamed has done. It just goes to show you, every now and then, research that people think of as a purely academic exercise can have some real-world applications," Nehf added.
"I think Mohamed is going to be a terrific scholar. He's an excellent teacher already, and he's going to be a force in the field of international criminal law for many years to come."
'Ungovernable' nation?
Arafa in a recent analysis pointed to a commenter who suggested Egypt "might just be ungovernable." He's not so pessimistic.
Rather, he sees Egyptians demanding more than they've had in the past. Mubarak, he said, drove educated people from the nation and was widely seen as a destructive force for education.
Morsi, meanwhile, promised educational, social, health and other reforms that he didn't deliver. When it became clear that Morsi was attempting to instill a less flexible form of Islamic law, through constitutional reforms, Arafa said the nation collectively said "no" to being led down a path similar to that of Iran.
"Egypt is not that way. They are not going to accept religious rule," he said.
But the nation is divided, and even appointments to committees considering changes affecting the constitution and how the rule of law will be carried out are scrutinized. "We have great laws, the problem is how to implement them," he said.
Egypt has a rich, secular tradition with a hybrid legal system based on Napoleonic and very flexible Islamic law for certain Koranic crimes, Arafa said, but there is widespread lack of respect for the rule of law. That comes from such things as a common fear of being detained by the military, for instance.
"The debate on enhancing the rule of law is going to continue and going to take a while," said Arafa, whose father also is a lawyer in Egypt.
Arafa said it's unlikely that military ruler Gen. Abdel Fattah al-Sisi will emerge as a long-term leader and noted that al-Sisi already has vested temporary power in an interim president, Adly Mansour. Al-Sisi remains a deputy prime minister. Egyptians see the military leader as a hero of the moment, Arafa said, but they have no appetite for a military government.
He believes the transition will be long and perhaps fitful in the eyes of the international community. The military at times may appear to be running things just in order to ensure security, stability and order. But Arafa said the nation is on the right path and has an ambitious road map that relies on the rule of law.
"Egyptians insisted and will still insist on being a democratic state and will regain a leadership role in the region and in the world," Arafa said. "Egyptians usually make history and change the world.
"I'm optimistic about the future, and I'm confident in my people."•
 
Insights on Egypt
Click here to read Professor Mohamed Arafa's recent observations on the situation in Egypt.
Please enable JavaScript to view this content.