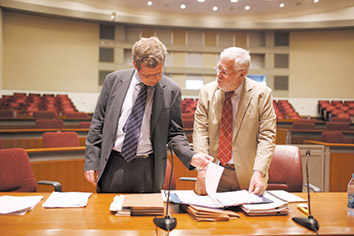 Daniel Brewington is either a poster child for the wrongful prosecution of free speech or a man whose online rants about a judge constituted criminal threats. It all depends on your point of view.
After almost two years in the Department of Correction, Brewington was freed Sept. 5, just days before the Indiana Supreme Court heard oral arguments on whether to formally grant transfer in his case. Brewington had done his time for a Dearborn County jury's conviction of intimidation, perjury and obstruction of justice stemming from blog posts he made criticizing a judge who stripped him of joint custody of his children.
"Tell any person on the street what happened to me," Brewington said outside court chambers after oral arguments Sept. 12, "and the first thing they say is, 'that's a violation of free speech.'"
At the center of the case are posts on family court blogs in which Brewington took aim at Dearborn Circuit Judge James Humphrey, who presided in his custody case. The posts for which Brewington was prosecuted included comments that Humphrey was a child abuser for stripping Brewington of custody and that Humphrey was playing with fire and Brewington was "an accomplished pyromaniac."
Inside the courtroom, Brewington's case drew First Amendment scholar Eugene Volokh to argue on behalf of a dozen amici who feared that if the Brewington verdict affirmed by the Court of Appeals stands, it would represent a chilling effect on speech, opinions expressed in the media and political speech.
"I think the whole country wants this court to accept transfer," Brewington's attorney Michael Sutherlin told the court, noting a spectrum of amici in the court from the ACLU of Indiana to Phyllis Schlafly's Eagle Forum, along with numerous media, speech and academic interests.
The state argued, though, that Brewington had failed to preserve the constitutional arguments, and that in its consideration of granting transfer, the justices should narrow the inquiry. At any rate, the state says Brewington made true threats against a judge and his conviction and sentence should stand.
"Not only is it invited error, he also has waived his claims," Indiana Attorney General Chief Counsel Stephen Creason said of Brewington's appeal raising constitutional issues.
"This court should not take cases merely to resolve issues when they're not properly presented and properly developed. It should not take cases to decide broad issues of constitutional law outside the context and the facts of a particular case. That's the situation presented here."
Creason said Brewington had been convicted for the totality of a torrent of real threats and veiled threats that caused Humphrey to be placed in fear of retaliation for a prior lawful act, but he acknowledged the Court of Appeals decision was overbroad. "It reached questions it should not have reached," he said, conceding that a selective reading of the opinion could be used to justify criminal prosecutions of protected speech.
Justices quizzed both sides about the proper scope of their inquiry. Chief Justice Brent Dickson and Justice Robert Rucker appeared to wrestle with whether the constitutional questions could be reached procedurally and whether such arguments were properly preserved in the trial court.
Dickson also said the jury's general verdict, which did not specify what parts of Brewington's speech constituted intimidation, "was essentially invited by Mr. Brewington or his counsel."
Sutherlin said legal counsel's ineffectiveness during Brewington's jury trial amounted to fundamental error. "This court and every court, its intent, its focus, is to do justice," he said. He noted Brewington's public defender essentially put on no case and "spent all of 45 minutes talking to him before this trial."
The intimidation statute in question, I.C. 35-45-2-1, includes not just threats of violence or harm to a person, but also threats that "expose the person threatened to hatred, contempt, disgrace or ridicule."
"The state, the defendant and amici all agree," Volokh argued, "the Court of Appeals erred in its First Amendment analysis." He suggested that the COA had left open the possibility that political criticism or commentary could be treated as a criminal act at the discretion of a prosecutor.
"There are hundreds of blogs out there of dissatisfied fathers and they're saying the same thing," criticizing the family law system, Sutherlin argued. "Dan Brewington never had a face-to-face discussion or conversation or threat to Judge Humphrey."
"This has been an inflammatory attack on Dan Brewington," Sutherlin said in regard to the blog comment in which Brewington called Humphrey a child abuser. "Here's the context: Anybody who takes away my right to visit my children is abusing my children. That's the context of the statement."
Sutherlin noted Mitt Romney's son made a remark during the 2012 presidential election in which he said he'd like to punch President Obama, and a member of Congress shouted "liar" at the president during the State of the Union address. Sutherlin said those instances were properly regarded as hyperbole, but they might not have been under the COA analysis.
The fundamental error argument seemed to gain traction with Justice Mark Massa, who pressed Creason on why the doctrine shouldn't apply.
"It's reserved for issues that make the fair trial impossible," Creason said of fundamental error.
Creason also said Brewington's threats didn't have to be a threat to injure, and that even veiled threats that place someone in fear of being injured are criminal.
"You're talking about a very, very big door," Justice Steven David responded. But Creason said unlike an off-the-cuff remark, Brewington's remarks were "well-considered and made over time."
Massa and David focused their inquiries toward Creason on the "fear of retaliation" language.
"It's an expression that subjects you to fear for having done a prior lawful act. … It's the fear that you're being retaliated against for something you have the right to do," Creason said, explaining what constitutes a threat considered criminal in nature under the statute.
David had a quick reply: "Isn't that the objective, indirectly if not directly, of every blogger, every commentator? I'm struggling with where your line is."
Indiana Attorney General Greg Zoeller issued a statement the day of the Brewington arguments urging the justices to affirm the trial court. "The state contends the defendant's right of self-expression does not include the right to threaten violence or harm against a judge or any other person," the statement said.
Brewington, meanwhile, won't be blogging for some time. Now a resident of Ohio, he said terms of his probation prohibit him from posting on blogs or social media.•
 
Please enable JavaScript to view this content.