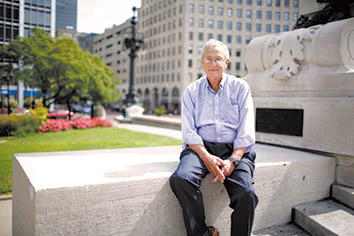 After years deciding disputes in the state's highest court, two former justices now devote at least part of their practices to helping feuding parties find their own resolutions.
Former Indiana Supreme Court Justices Ted Boehm and Myra Selby each count corporate clients in their mediation and alternative dispute resolution portfolios, Boehm with Van Winkle Baten Dispute Resolution and Selby with Ice Miller LLP.
Boehm said his practice is primarily ADR; Selby said ADR makes up only about 10 to 15 percent of her practice, but it's growing. Other current and former justices are certified in alternative dispute resolution if only to understand the process, but few have much, if any, practical experience as mediators.
For Boehm, handling his own schedule of mediation and arbitration cases allows flexibility.
"The common thread of all of them is I can do whatever I want when I want," he said. "I can act like a retired person if I want to."
It's not like having a real job, Boehm said, because he sets and keeps appointments on a sort of freelance basis, allowing time for golf and travel, freeing time to spend "the dark days of February in Florida.
Besides, Boehm's expertise comes at a price that limits the number of disputes in which his services would be sought. He charges $400 an hour for mediation, more for arbitration, and more again for legal advice, though he declined to quote those fees.
"I don't get asked to mediate more than I can handle," he said. Most of the conflicts presented to him involve multiple parties, usually involving finance, business litigation and/or transactional law.
While most mediation and a fair amount of arbitration is confidential, Boehm recalled one high-profile case he arbitrated: A 2012 dispute involving Chevrolet and Honda over an IndyCar ruling concerning the specifications the racing governing body would allow for turbochargers.
Boehm recalls having to learn on the fly about the technology involved in open-wheel racing, and he ultimately affirmed IndyCar's ruling allowing a Honda turbocharger design that Chevy objected to. "It was basically a conclusion that IndyCar had properly issued the regulations and could enforce them," he said.
Boehm's ADR practice typically involves business disputes or unsolved legal issues whose results are unpredictable, he explained. Selby said a good volume of her mediation work has involved health care or insurance or corporate contract issues.
Neither Boehm nor Selby were sure if their tenures as justices would have a persuasive impact on parties that come to them for mediation services.
"That's hard to know," Selby said. "I believe that it equips me with a certain perspective and set of experiences that's valuable to the process. I think the appellate court experience really necessitates a perspective of objectivity, and that's one of the most important things to bring to mediation."
John Krauss runs an intensive, week-long, 40-hour public policy mediation course at the Indiana University Robert H. McKinney School of Law that fulfills the basic requirement to become a civil mediator in Indiana. He has trained 45 trial court judges and two appellate judges along with third-year law students who typically take the course.
Krauss said he believes experienced judges may be at a disadvantage in some ways when they later become mediators. He tells judges who take the course, "One of the things you have to do is make your role very clear to the parties, because you're not a judge, and they have to know you're not a judge. You're not going to decide.
"A lot of deference is going to be given to you because of the role you've had, and you've got to diminish that," Krauss said.
Unlike their roles as fact-finders, Krauss said, judges who take on a later career as a mediator have to acquire a new skill set – namely, navigating parties toward a solution in which both sides can feel they have made their positions clear. And the solution might not be one found in the law.
Selby
"A judge could never order someone to say they're sorry," Krauss said. "Sometimes in mediation, it's not the money, but being heard, and being validated, and having someone say they're sorry, that solves it."
It's unknown whether anyone said "sorry" in the recent dispute among Lake Superior judges in which the Supreme Court dispatched former Justice Frank Sullivan to mediate – his first and only foray into ADR. The matter involved multiple claims on a single judgeship, and Sullivan said the effort wasn't successful. Ultimately, the Indiana Supreme Court decided the matter.
"It was a long shot," Chief Justice Brent Dickson acknowledged of Sullivan's mediation effort. "He had a unique command of the political history and was well aware of how things happen in Lake County. He was respected by all the parties, and they knew he had that knowledge and that historical perspective."
Selby is unconvinced that former judges and justices may have a disadvantage as mediators. Rather, she thinks their experience makes them better able to focus on the possible solutions.
"I think we have an understanding of both the purpose of the process and the alternatives along the continuum of alternative resolution services," she said.
While former Chief Justice Randall Shepard said he's had no experience as a mediator, he believes judges and justices may be ideally suited to the task.
"I think who mediates does add something, and there are people who are able to sustain the attention of the combatants, if you will," Shepard said. "That's something a former judge or former justice can do."
Krauss said he believes judges do have an advantage in evaluative mediation, in which they can share with parties based on their experience the likely outcomes of cases or what they believe juries think about in particular conflicts.
Boehm concedes that in some cases parties to mediation may be influenced by his past life as a justice. "I do get some cases where I think the parties actually want me to give them an answer," he said.
In instances where both parties ask him for his opinion, Boehm said, "I try to point out to each side what it seems to me are the weaknesses of their positions on both sides" so they can recognize the risks they may experience going forward.
Studies show an increase in the use of ADR, Selby said, a trend she believes bodes well for the legal profession and parties that otherwise might resort to litigation. "It's a more efficient and economical way to resolve disputes," she surmised.
Dickson is required by mandatory retirement to depart the bench no later than July 2016, and he said working as a mediator in retirement is a possibility. "It might well happen one day, if lawyers will have me," he quipped.•
Please enable JavaScript to view this content.