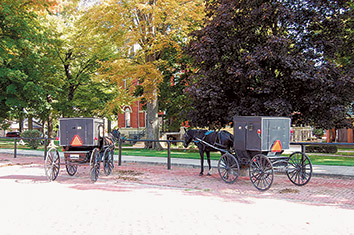 It is rare that members of northern Indiana's Amish communities have a need for legal representation. When they do, they turn to a neighbor they know and trust.
"I've got a lot of Amish clients," said Richard Muntz, whose office on U.S. 20 outside LaGrange sees its share of passing horse-drawn buggies. Muntz also lives on a farm with Amish neighbors where he raises Highland beef cattle.
 
"They go by the farm and they see me out working with livestock and such," Muntz said. "Like anybody else, you speak somebody's language, that makes everyone comfortable."
Muntz estimated about 20 to 30 percent of his clients are Amish, and he and other attorneys said a small group of lawyers represent clients among the approximately 20,000 people who live in the Elkhart-LaGrange settlement, the world's third-largest.
Indiana Sen. Sue Glick, R-LaGrange, is among those who count a significant number of Amish clients in her hometown law practice. She went to elementary school in Shipshewana with Amish classmates, and her grandparents belonged to an Amish order before becoming Mennonites.
"What happens is when (Amish) know they have an attorney they can trust and they're comfortable with, they will go back to that attorney," Glick said. "Word of mouth is tremendous in an area this size."
Glick said patience is important when counseling Amish clients whose inclination is to follow biblical teachings of turning the other cheek.
"If you're not attuned to the Amish, you tend to become frustrated with trying to give them advice, because you say to an 'English' client, 'You can file suit,'" Glick said, using the term Amish typically use to refer to outsiders. "With an Amish person, the first thing you're going to rule out is legal action. You approach it differently."
For the most part, Amish people do what they must in the legal system, attorneys say. Matters brought to lawyers primarily involve estates and wills, real estate matters and tax assistance. But there also is the occasional Amish divorce.
Leon Yoder of Shipshewana grew up in an Amish household but now is Mennonite. Yoder runs a sign shop and promotes an event center that markets locally made goods. He said most Amish would never initiate a lawsuit but will protect their interests.
Yoder remembered an incident from his childhood in which a horse pulling a carriage he was driving broke loose and ran into a car causing damage.
"I remember dad did go to a local attorney to have him represent him," Yoder said. "His intended goal was, he wanted to make things right."
Family matters
Growing up among Amish neighbors and working on Amish farms as a boy gave Richard W. Rogers of Middlebury credibility when he became an attorney. "I kind of felt like I understood their lifestyle," he said, the center of which is family.
Rogers said about 20 percent of his clients are Amish, and they participate with reluctance in legal matters. "I do think there's an element of mistrust, and they do have to feel comfortable with you," he said.
Amish life is organized around church districts, and each is governed by "Ordnung." Those rules establish, among other things, the kinds of modern amenities permitted in each district, according to David Friedman, a professor of law at Santa Clara University.
"The Amish have serious reservations with regard to the legal system, I think largely because their pacifism extends to not wanting to impose criminal punishments," according to Friedman, who included a chapter about Amish law in his forthcoming book, "Legal Systems Very Different from Ours."
A nod to tradition can be seen in the land contracts Muntz prepares for Amish clients. He noted a provision in those agreements reflecting the family ties that bind generations.
"My land contract forms have paragraphs in them that say the sale includes a life estate," Muntz said. Properties usually have two or more houses on them, and when a retiring generation sells to a subsequent generation, care of the elders is part of the deal, Muntz explained.
Glick said most Amish properties have what's called a "Dawdy House" where the older generation lives after the sale of a property. She said Amish clients are likelier than most to have made decisions about such things before they consult an attorney.
 
Attorney Richard Muntz of LaGrange says Amish clients are frequently targeted by scammers who threaten to report them to their community's religious leaders if they fail to pay some claim. "It happens all the time," Muntz said. (IL Photo/ Dave Stafford)
"I think they try and stay within where they are, within their church, within their relationships," Glick said. "They pretty much know where they want to be."
Amish clients also take pains to make sure that estates are divided evenly among heirs, so that if one child is buying the farm, for instance, other children get an equitable share of the estate, Glick added.
In his practice, Rogers also occasionally serves as a public defender, and he said Amish sometimes have an involuntary introduction to the legal system. "You see a lot of these Amish kids in LaGrange court on drug and alcohol charges," he said. Even then, he sees a system that appears to recognize the unusually close ties.
"My assessment is the court somehow deals with disposing of those cases a little differently," Rogers said. "They take that Amish background and close-knit nature of the families into account."
On the defensive
Because Amish avoid legal confrontation, attorneys say that's left them vulnerable to scams, and there are operators who specifically prey on the community.
 
Rogers
Attorneys offered as an example traveling salesmen who pitch high-priced trust and estate documents, often accompanied by free gifts whose value is highly overstated. These pitches frequently use scare tactics including the specter that the state may take their land if they don't act.
Rogers said of his Amish clients, "They're not as reluctant (to go to court) as you think they are when it comes to being swindled."
Amish clients have entrusted Rogers to protect their interests, for instance, when a client came to him and complained about a salesman who'd come to the area selling hearing aids for several thousand dollars that turned out to be substandard.
Rogers said he's also been able to go after unscrupulous "living will" peddlers who charge several thousand dollars for work any attorney could have done for a few hundred. "I've encountered a number of clients who've been involved in those," he said. "It's completely absurd."
A common misconception, attorneys said, is that Amish won't pursue damages in court. While the order typically shuns insurance, members are not opposed to pressing claims when they've been injured, for instance.
Dorothy Yoder is Amish and said she was hurt in an accident many years ago and retained Scott VanDerbeck when the insurance company didn't compensate her. Yoder said the process took longer than it should have, but she was satisfied with the outcome.
VanDerbeck
VanDerbeck, who now has been LaGrange Circuit Judge for 17 years, said while about 40 percent of the county's population is Amish, "they don't constitute 40 percent of the cases by any stretch of the imagination."
Muntz said he's been contacted in the past by worried Amish clients who relay that someone has threatened to report them to their bishop if they fail to pay some claim.
"It happens all the time," Muntz said. "I tell them, this is, or this is not, a legitimate demand, and if it's not a legitimate demand, I suggest to them, OK, if the bishop gives you a hard time, tell them to call me."•
Please enable JavaScript to view this content.