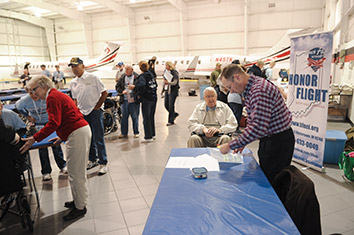 Imagine Indiana without the city of Fort Wayne – a city of more than 200,000 people – gone.
Now image that every person in both Evansville and Gary is a wounded survivor of war. Another 200,000 people, this time injured in some way due to combat.
The total population of these cities is equivalent to the number of U.S. casualties in World War II. No Americans before or since have a real understanding of the impact that war had on our country.
Lloyd Urbine understands. At 96, Urbine remembers quite a bit about his service during that war, good, bad and sad. On his recent trip to Washington, D.C., to visit the World War II Memorial, the wall of more than 4,000 gold stars impressed him; each star represents 100 Americans who were killed or wounded in that war.
"It was important to me, being in the war and my experiences," he said. "It was a terrible tragedy we had because it brought about so much death and destruction. I got to associate with lots of people during the war, and I know what death and destruction look like."
Urbine's trip was courtesy of Honor Flight, a national organization whose mission is to transport America's veterans to Washington, D.C., to visit the monument that commemorates their service, thus honoring and thanking them for that service. Founded in 2005 by a veteran pilot who realized many elderly vets, especially those from World War II, were dying without seeing their national monument, Honor Flight now has hubs across the country, including three in Indiana. Priority is given to World War II, Korean War and terminally ill veterans.
"This year is the first year we'll have done three flights," said Bob Myer, volunteer president of Honor Flight Northeast Indiana in Fort Wayne. "The main reason we added a flight is because we have an application file that keeps growing. We hoped that we were finished with our World War II vets and that we could move on to the Korean War, but right now we've got over 200 applications between World War II and Korean War. We're trying to work those down because most of the World War II vets are in their 90s now."
Right place, right time
Navy veteran Ben Gibson of Fort Wayne (IL Photo/Steve Linsenmayer)
Law brings people together but not often for positive reasons. Fortunately for Bob Kistler, an associate at Faegre Baker Daniels LLP in Fort Wayne, the law and a fellow lawyer forged his connection to Honor Flight.
"A partner in my group knew I had experience filing with the IRS for tax-exempt organizations," Kistler explained. "[They] needed assistance with getting Honor Flight Northeast Indiana hub recognized by the IRS under 501(c)3. Initially it was a pro bono project to assist with them registering with the IRS as a not-for-profit. Once the project was over [the founder] was very persuasive in asking me to join the board. I was on the board for two years. Since I left the board I continued to be involved pro bono as they need or just as a volunteer."
Kistler attributes his involvement in Honor Flight to being in the right place at the right time, yet much of his involvement stems from his own military experience and others' knowledge of it. His position as chair of the Indiana State Bar Association's Military & Veterans Affairs Committee as well as his involvement in Indiana's Lawyers for Soldiers program advertised his interest in and service to vets.
"I was in the Army over 10 years – long before I became a lawyer," he said. "One of the things I enjoyed most about military service was the soldiers. It is a very different experience than most people have about where they work and who they work with. It makes me particularly aware of veterans' issues."
Preparing for take off
Urbine recalls the send-off he and other vets received Oct. 23, the day of their Honor Flight. He was surprised so many people got up so early – the group gathered at 6 a.m. – to bid them bon voyage.
"I was embarrassed by how much attention we got," he said. "We didn't have to do anything except go along on this wonderful trip. These kids had sent all these letters, and some of them were pretty well written, a whole lot of notes and pictures saying thank you for your service. Then they had something, and it was a blanket from the high school. A couple of girls worked on the thing so I'll have to send them a personal thank you."
As an Honor Flight honoree, Urbine is unaware of the time and orchestration necessary to plan and present such a trip. With last month's government shutdown, the trip was tentative, but the group received permission to visit the World War II and Korean memorials from the U.S. National Park Service. The day's itinerary generally includes the war memorials, including the Vietnam Wall, Iwo Jima, Arlington Cemetery, the Tomb of the Unknown Soldier and the Women's Memorial, because the trip generally has women vets as well as men.
Kistler has participated as both guardian and trip leader on a few occasions and can attest to the "marathon" of planning, training and oversight required to transport 150 people more than 1,000 miles roundtrip and guide them through a city-wide tour in a day's time. When half of those people are elderly and require wheelchairs, walkers or other specialized health equipment to get around, careful planning becomes even more important.
The trick, according to Kistler, is to plan so well that the day goes off without a hitch and the vets need do nothing but enjoy themselves. From the 6 a.m. welcome wagon to the hot breakfast prepared and served by the Indiana Air National Guard to the bands playing as the group disembarks at Reagan National Airport to the disposable cameras and other perks the vets receive through the course of the day, this marathon is all about them.
"They spend a day with someone who is dedicated to thanking them for their service and will go out of their way to provide them with unique experiences and takeaways from the trip," he said. "You get a chance to meet someone who really is a hero."
Salute them one and all
There is a certain appeal to the Honor Flight concept that resonates with many who seek volunteer opportunities at the organization. The Northeast Indiana hub has hundreds of volunteer applications, but can't offer service positions to everyone.
"It is one example of one of the good things going on," Kistler said. "I appreciate not just veterans but all the people who are doing things to help and honor them."
The American Legion, VFW, AMVETS and Disabled American Veterans are larger organizations that assist vets on many levels in many ways, while smaller local organizations also seek volunteer assistance.
"Veterans that have served are experiencing a lot of issues unique to every one of them," he said. "You can't really see what's happened to them but it's incredibly important to make them aware of how much we value their service."•
Please enable JavaScript to view this content.