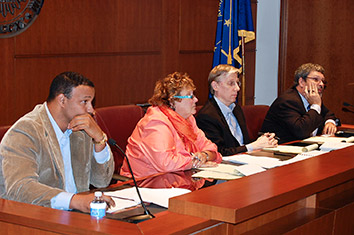 A lawyer recently prepared for an Indiana Supreme Court oral argument before a panel of attorneys who peppered him with frenetic lines of questioning.
At the end, the lawyer sighed, then laughed and said, "Anyone want to hear the argument?"
"No! We're the judges," a panelist quipped.
So concluded a recent moot court session of the Indiana Appellate Institute. A novel program offered by the Indianapolis Bar Association and the Indiana University Robert H. McKinney School of Law in Indianapolis, the institute gives lawyers a trial run in which they can practice their arguments before a panel of volunteer lawyers and sometimes former judges and justices.
"It's in the interests of all of us to improve the quality of appellate arguments," Taft Stettinius & Hollister LLP partner Geoffrey Slaughter said after recently sitting as a panelist hearing a moot argument.
Deputy Attorney General Dino Pollock also sat on a recent panel and said that for lawyers who may have limited or no appellate experience, scheduling a moot session through the institute just makes sense. "If you're going to fall on your face, fall on your face when it doesn't count," he said.
IU McKinney Law professor Joel Schumm approached the IndyBar a few years back with the notion of creating a program modeled after the Georgetown University Law Center's Supreme Court Institute that stages moot sessions for arguments that will be before the justices in Washington, D.C.
Since 2010, 14 cases have been argued at the Indiana Appellate Institute, and Schumm believes the program to be the only one of its kind on the state appellate level. He's received inquiries from attorneys in other states interested in replicating the program.
"This is the best way to prepare for an oral argument," Schumm said. "This is a wonderful opportunity to get different perspectives."
Frost Brown Todd LLC partner Lucy Dollens chairs the IndyBar Appellate Practice Section and credited Schumm's leadership as the reason the program is gaining wider notice and is poised to see an increase in use.
"From our perspective, it certainly is a resource the Appellate Practice Section of the IndyBar thought would benefit the bar and bench," Dollens said. "It gives an attorney a chance to actually present oral argument as they would before an Indiana appellate court … and to learn from that experience and refine their own oral advocacy skills."
Cases that have been pleaded before the institute have ranged from family law disputes to complex contract cases to matters with First Amendment implications. Schumm said a wide majority of attorneys who presented their arguments in the moot forum at the law school prevailed in the appellate courts in decisions issued so far.
Attorney Amy Carson of Mitchell Law Group in Indianapolis credits the benefit of a moot argument with helping her craft a winning argument before the Indiana Supreme Court in a parenting-time case. In June, the high court ruled in her favor in Michael D. Perkinson Jr. v. Kay Char Perkinson, 36S05-1206-DR-371.
"It provided me with a different perspective that helped me think of different ways to argue," Carson said. Her moot session was about a week before she argued the case in December 2012.
"That allowed me enough time to think about some of the comments made by the panelists and to incorporate those comments or suggestions in the way I presented my argument," she said.
Carson was invited to sit on a panel and did, and she said that experience also helped her advocacy skills. Schumm also sits on some panels and has a roster of about 45 volunteers who, on their own time, read up on the cases and serve on panels. Former Indiana Justice Frank Sullivan, now a McKinney Law professor, is one of them.
"That's one of the things that I particularly appreciate about being able to be a member of this faculty," Sullivan said. "It's very tightly connected with the real world of law in this community."
The institute has provided the service free of charge in the past, and it is continuing to do so for attorneys with little or no experience, in keeping with its mission. A $500 fee is now collected from larger-firm or more-experienced attorneys to schedule moot court hearings through the institute.
Dollens said Frost, like many larger firms, considers in every case whether to put on internal moot arguments. But that can be costly. Larger firms can still turn to the institute, which in some cases might provide the service more economically than the firms could arrange them.
"We didn't want to close that avenue" to larger firms or more experienced attorneys, Dollens said, noting the fees collected will help the appellate section fulfill its mission and objectives.
Bryan Babb chairs the appellate services group at Bose McKinney & Evans LLP and is a volunteer panelist at the institute. He said because he invests time in learning cases when sitting as a moot judge, he takes a personal interest in seeing how the lawyers fare in the appellate arena.
"I've always been very proud and very satisfied to see the end product before the actual court," Babb said. "It doesn't help the court or the parties to have an ineffective oral argument, and the best result we could ask for is a focused, effective oral argument."
The volunteer judges don't take it easy on the advocates who make their moot cases. "We try to keep it as real as possible," Babb said.
"I have seen lawyers that come to the initial moots and they know their cases very well but don't appreciate necessarily how important it is to identify the key issues upfront," he said.
Attorney Tom Vander Luitgaren scheduled a moot session that he said helped him argue successfully before the Indiana Supreme Court in an estate case, Harold A. Fulp Jr. v. Nancy A. Gilliland, 972 N.E. 2d 955 (Ind. 2012). "I don't know if I can put into words how valuable it was," he said.
For Vander Luitgaren of the Van Valer Law Firm LLP in Greenwood, the case was his first appearance before the Supreme Court in a long career, and he said having the moot experience refined his presentation.
"They read the appellate court case, they read the brief that had been submitted, and they were very on-point," he said of the moot panel. "They were prepared, and prepared to give good, constructive criticism when the argument was over."
The chat session after the moot argument can be among the most beneficial elements, according to Carson, Vander Luitgaren and other attorneys who've used the program. Panelists frequently suggest arguments they see as most persuasive, help lawyers frame the law in the strongest way, and stress key points the attorney might not have considered.
"Regardless of the outcome, I was prepared," Vander Luitgaren said. "I made an effective presentation to the Indiana Supreme Court, and I am indebted to the attorneys who made that possible."•
Please enable JavaScript to view this content.