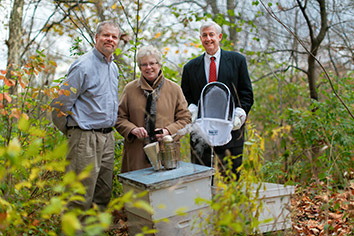 People are often unashamedly partial to their pets, even if many outsiders find those pets less than lovable. At Indianapolis law firm Plews Shadley Racher & Braun LLP, a small knot of attorneys share a common affection for a creature generally unwelcome in most circles – the honeybee.
John Ketcham, managing partner at PSRB, professes to have had a lifelong love of the honeybee and has been beekeeping for years.
"I've always been fascinated by insects," he said, "and they seem to be one of the most fascinating of all."
Ketcham cites the bees' tightly structured communities, in which each bee has a specific job; their hexagonal wax cells, designed for maximum efficiency; and their ability to communicate via dance. "Plus," he added, "You get this great stuff they make for free."
When circumstances required Ketcham to suddenly rehome his honeybees, he turned to George "Corky" Plews, a partner and co-founder of PSRB, and Christine Plews, of counsel with the firm. "He came to our house," Chris recalled, "and said, 'My bees would be happy here.'"
It's few people's dream to be the adoptive parents of a colony of bees, but the Plewses didn't take much convincing. For them, beekeeping was just one more step in trying to preserve the land. Situated on the White River, their yard is populated by native Indiana plants and is both a certified Monarch waystation and a certified national wildlife habitat.
The couple was well aware that bees across the globe are dying mysteriously and that this could have very serious consequences for humans, plants and animals. Bees, Chris explained, are essential to the whole ecosystem. There are a number of food crops – almonds, for example – that depend on bees for pollination, and if the bees die out, those fruits and vegetables will be lost. In fact, many beekeepers actually have a business in which they bring hives to farmers during pollination because the number of wild bees has declined so dramatically.
"Bees are a dying commodity, and if you can give them a place to flourish, you're helping protect life on Earth," she said.
Neither Ketcham nor the Plewses wear beekeeper suits when they're around the bees, insisting that they're really relatively passive. They've each been stung a handful of times, they remark casually, but none of them seem concerned. "They're not like wasps or hornets," Chris said. "They're not very aggressive at all."
Though Corky and Chris loved the idea of adding a bee colony to their homestead, not every member of their family shared their enthusiasm. Corky recalled, "When Chris came home and said, 'We're going to put 6,000 bees right off the end of the basketball court,' our third son looked at us with big eyes and said, 'That's the stupidest thing you guys have ever done.'"
Fortunately, there were other, more willing, beneficiaries of the Plewses' enthusiasm for bees – specifically, the employees of the National Public Radio Foundation. Corky, who serves on NPR's board of trustees, and Chris had been looking for a way to contribute to the organization's brand new headquarters in Washington, D.C. When it occurred to them that they could endow two beehives, the gift seemed like a natural fit. Not only is NPR's new headquarters the ultimate in environmental friendliness, complete with a sprawling green roof, but bees also felt like a uniquely appropriate symbol for the organization.
"I like the metaphor of bees for public radio, sort of industrious, and going around and gathering information and making something sweet out of it, if you will," Corky said.
NPR couldn't agree more. The bees have been warmly embraced (not literally) by everyone. "One of the most fascinating things about it," he continued, "is how popular the bees are and how interested people are in the bees. They're actually selling binocular sets in the gift shop so that the kids can go in and get their binoculars and they can watch the bees." The NPR bees even have their own Twitter account, @NPRBees, with 1,648 followers and counting.
But the Plewses aren't done yet. Looking for a way to connect the local to the national, Corky and Chris have also planned a gift of beehives to their local radio station WFYI, an NPR member station. WFYI's building also includes a green roof, which will provide the perfect setting in which the bees can thrive. The Plewses couldn't say whether Indy's bees will have a Twitter presence. One can only hope.
Happily, back at the house, everyone eventually adjusted to life with the bees – even their formerly skeptical son. One time, upon coming into the house and seeing a stray bee, he casually picked it up and put it out the back door, saying, "Back to work!"
Though both Ketcham and the Plewses note that there is definitely work involved in beekeeping, the benefits are well worth it. "I just like having them around, watching them, and having them pollinate up and down the river," Chris said.
The Plewses successfully harvested their honey in October, much to the delight of their friends and family, who claim that their honey is the best they've ever tasted. Ketcham and the Plewses explained that honey takes its flavor from the nectar of the plants that the bees use, so honey will taste different depending on where it's made.
After their plentiful honey crop, Corky and Chris are taking a short break from beekeeping over the winter and hope to pick it up again in the spring. Judging from their fondness for the honeybees, their dedication to the natural ecosystem, and their taste for fine honey, it doesn't seem likely that they'll "bee" free for long.•
Please enable JavaScript to view this content.