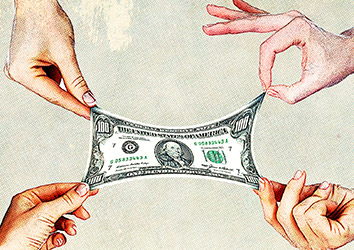 The alteration the Indianapolis Legal Aid Society made this season to its letters soliciting donations reflects a strategic decision by the nonprofit to go after higher contributions and underscores the need for service organizations of any kind to be aggressive.
Each year, ILAS runs its annual dollar campaign by sending a letter and a dollar bill to potential donors. The organization then asks the individuals to return the dollars with the hope they will reach into their wallets and add more.
This year's letter, in addition to explaining what ILAS does and touting its ability to handle a case for $100, encourages donors to give specific amounts. About 350 donors were mailed special letters asking for high dollar contributions, while another 7,600 donors were invited to give the equivalent of a billable hour or an amount that would help a certain number of clients.
"If we can show the bar we really can help people for $100, maybe a donor will say, 'I'll help 500 people,'" said John Floreancig, general counsel at ILAS.
The legal aid society has to be more upfront about its need since its main source of funding, the United Way of Central Indiana, decided to reduce the appropriation made to ILAS by $126,000, or roughly one-third.
To cover the shortfall, ILAS has to look for money from other sources, especially private individuals. However, Floreancig conceded that whether central Indiana is willing to give more support to another legal service provider is unknown. That's why ILAS is trying to aggressively position itself in a competitive nonprofit market.
Individual donors – inside and outside the bar – are becoming more important for all legal service nonprofits as money from federal and state sources shrinks. Complicating the fundraising effort is the confidential nature of the work the legal aid attorneys do and the little understanding non-lawyers have about legal aid.
Yet, experts in philanthropy contend the obstacles are not insurmountable. The key is educating the public and offering a compelling reason to contribute.
While many people may agree that providing access to the judiciary is important, they will not necessarily give financial support to the effort. Individuals who have been helped by legal aid or know someone who was in a difficult situation and received free legal assistance will be more likely to give because they have seen evidence that the organization is serving a need, said Kris
Kindelsperger, senior executive consultant with Johnson Grossnickle and Associates.
Indianapolis Legal Aid Society has hired Johnson Grossnickle and Associates to help develop a plan for its fundraising efforts. The nonprofit has already determined it wants to reach outside the legal community for donations.
The legal service providers will have to explain to potential donors what they do, why the services are necessary and the impact the organization has, Kindelsperger said, because many times the clients helped can be invisible to other sectors of the population.
Funding sources
One way to cultivate donors from outside the legal community is by building relationships. During the ILAS's 2012 dollar campaign, board members made personal appeals to colleagues, which increased donations to a record high of more than $150,000.
Dunlap
In Evansville, a trivia night competition to raise money for legal services has started to attract non-lawyers as well as increase awareness among attorneys. The Evansville Bar Association sponsors this event and other activities to solicit contributions for the Evansville Legal Aid Society and the Volunteer Lawyer Program of Southwestern Indiana.
Jean Blanton, attorney at Ziemer Stayman Weitzel & Shoulders LLP and Evansville Legal Aid Society board member, said the funds raised by the bar association give the nonprofit flexibility.
The ELAS gets 50 percent of its budget from the city-county government and 50 percent from the United Way of Southwestern Indiana. However, Blanton said, the funds come with strings attracted and can only go toward certain expenses.
Conversely, donations from the bar association can be used as the nonprofit wants. For example, ELAS upgraded computer equipment with the money from the bar.
Long-term, the funds from the government could hamper the agency's ability to meet the increasing need. As Blanton explained, the attorneys and staff who work at ELAS are considered government employees, receiving salaries and benefits comparable to other public-sector workers.
This helps to entice people to take the lower-paying legal aid positions, but with no budget increases coming from the municipality, ELAS may not be able to add more workers. Even though the organization could possibly find a new funding source to hire another employee, that worker would not receive government benefits like the other attorneys and staff members get.
Seiler
Evansville is not the only place feeling the crunch of government cutbacks. According to Chuck Dunlap, executive director of the Indiana Bar Foundation, federal and state appropriations have been falling as the demand for services has skyrocketed.
Legal Services Corp., the federal agency which provides grants for legal assistance, has recorded a $60-million cut in funding from Congress during the two years since fiscal year 2011. In fiscal year 2013, Capitol Hill budgeted $340.9 million to the organization.
The 12 pro bono districts in Indiana are given money from the state's Interest on Lawyer Trust Accounts. But with the recession and the drop in interest rates, the amount in the fund has sunk from $3 million to $300,000.
One bright spot: The state's Civil Legal Aid Fund, which supports legal aid providers around Indiana, was given a $500,000 bump in 2007 to $1.5 million. The money in this pot comes from the Legislature and is administered by the Indiana Supreme Court.
The Neighborhood Christian Legal Clinic, located in Indianapolis and Fort Wayne, cobbles together funding from federal and state sources along with donations from individuals, corporations and churches.
Contributions from private sources comprise about 10 to 15 percent of the clinic's $2 million annual budget, said Josh Abel, executive director. In the past, these donations totaled 25 percent of the yearly budget. The percentage has dropped despite the dollar amount remaining steady because funding from other avenues has picked up.
Abel said the clinic does not have as strong an individual donor base as other nonprofits like domestic-violence shelters and food pantries. Non-lawyers do not always understand why people need civil representation and often are confused why public defenders are not providing the service.
To educate people, the clinic puts the spotlight on the individuals it helps rather than identifying itself as a legal service organization. Stories of protecting victims of domestic violence and assisting immigrants fleeing persecution are more likely to resonate with potential donors.
The clinic has worked to create programs that are responsive to the community's needs, Abel said, and that attracts contributions.
Room for one more
Still, getting contributions even from the legal community can be difficult. At the Hammond Legal Aid Clinic in northern Indiana, executive director Kris Sakelaris has found it easier to ask attorneys for pro bono help than to ask for money.
The clinic was established in 2003 by Mayor Thomas McDermott Jr., an attorney and recipient of the Randall T. Shepard Award for pro bono work. Its entire budget is appropriated from the mayor's discretionary fund.
Sometimes attorneys make donations or clients may include a few dollars in a thank-you note, but otherwise the clinic does not put much effort into soliciting contributions.
A former magistrate in the Lake Superior Court, Civil and Family Division, Sakelaris has friendships with many local attorneys and knows whom to call when the clinic needs help. Making a request for pro bono services is more likely to bring a yes than putting a hand out for money, she said.
As ILAS prepares to escalate its fundraising activities, the question is raised as to how that will impact donations among the other legal service providers.
Both Kindelsperger and Tim Seiler, director of The Fund Raising School at the Indiana University Lilly Family School of Philanthropy, agreed that donors do not usually stop giving to one nonprofit to shift their money to another organization.
In addition, central Indiana has not hit a saturation point in terms of giving, Seiler said, although he conceded others hold the opposite view. National studies show individuals give an average of 1.7 percent to 2.2 percent of their disposable household income to charities, which to Seiler indicates there is room for nonprofits to solicit more contributions.
"Our experience is that central Indiana has a lot of very generous individuals and organizations," Kindelsperger said. "It is a community that is philanthropic by nature. It's not easy to raise money, but one of the obstacles is not that people aren't philanthropic."•
 
Please enable JavaScript to view this content.