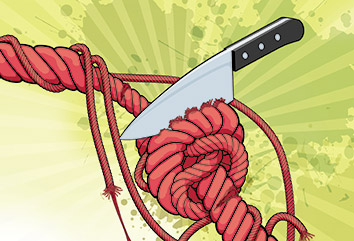 When couples decide to divorce, they don't always call their lawyers.
Instead, just like a home repair or remodeling project, many couples opt for a do-it-yourself divorce because either they cannot afford legal counsel or they believe they have the ability to reach an agreement on their own.
However, as attorneys point out, these pro se litigants often do not know enough about the law to identify all the issues that must be addressed when untying the knot. And once the divorce decree is signed, no matter how unfair or inequitable, the parties will likely have little recourse in the courts and could get stuck with what one lawyer described as "spectacular mistakes."
Anecdotal evidence indicates the number of pro se divorces is rising. Attorneys are noticing and hearing about more couples maneuvering the legal process themselves. The 2012 Judicial Service Report, compiled by the Indiana Supreme Court Division of State Court Administration, recorded 15,000 pro se domestic relation proceedings, which include petitions for dissolution, legal separation and to establish child support.
John Sage, staff attorney at Indianapolis Legal Aid Society Inc., represents spouses who do not have the resources to afford legal assistance. They arrive at his office with the forms that have been downloaded from the Indiana judiciary's self-service legal center.
Sage's clients often seek help because they cannot understand the instructions accompanying the forms. Sage said the directions are not complicated for someone with an adequate high school education, but he sees clients
who are not "sufficiently competent" and get tripped up on things like knowing to put their name in the box marked "petitioner."
"It's frustrating because a lot of these people shouldn't be doing their own forms," Sage said. "People will hurt themselves with these (pro se divorces)."
Kohlhaas
The biggest consequence is one party not getting something to which he or she is entitled.
Sage recounted the story of one woman who became disabled during her 15-year marriage. She and her husband had done their own divorce but they never discussed disability maintenance so, although the woman could have gotten something equitable to alimony, she had nothing.
Couples can also get themselves into trouble by not being honest with the court.
Franklin attorney and registered mediator Kim Van Valer recalled getting a phone call from a woman seeking post-divorce advice. Even though they had a child, the husband had convinced the woman he would pay child support and health care coverage so they did not need to involve the courts in that matter. The couple ended up using the pro se form for divorce with no children.
The woman contacted Van Valer because the husband had reneged on his part of the agreement. Van Valer told the woman she had a more serious problem of perjury since she had signed documents telling the court she had no children. To try to get a remedy, the woman would have to expose her lie to the judge.
"This is legal practice and there is a reason lawyers do this and have to learn how to do it," Sage said, explaining attorneys have the knowledge and experience to realize where the problems are and what questions to ask.
Yet, despite the messes that can be created, many attorneys were reluctant to advocate banning pro se divorce altogether.
Gooden
"I don't know that that's even feasible and it sounds a little self-serving and heavy handed, telling people they're not allowed to get a divorce unless they hire an attorney," said Michael Kohlhaas, partner at Bingham Greenebaum Doll LLP in Indianapolis.
Alicia Gooden, Indianapolis attorney and domestic mediator at The Mediation Group, said she struggled with determining what more the legal community should be doing to help, but she did not want to make a blanket statement that all pro se divorces were good or bad.
More troubling to her are the individuals who believe they will be better off without legal representation. These people hold the view that attorneys are only interested in money and not the client. Gooden pointed out the attitude that lawyers only have their best interests in mind is contrary to the good attorneys she knows who are ethical and act with integrity.
Kohlhaas encounters such an attitude in his practice. He has been in situations where he is representing one spouse against the other spouse who has decided not to hire legal counsel. The pro se litigant may believe he or she can save money by not enlisting an attorney or is smart enough to figure out all that needs to be done.
In that situation, Kohlhaas said he will use email, rather than the phone, to communicate with the pro se party so there is a record of the conversation. Also, he will continually remind the spouse who is going it alone that he is only representing the other spouse and will constantly encourage the do-it-yourself litigant to get an attorney.
Then, if an agreement is reached, Kohlhaas includes a big, bold block of print above the signature line that, again, states who he is representing and that he has told the unrepresented party many times to retain an attorney.
Not every couple who decides to divorce pro se does it completely without assistance. Sometimes husbands and wives will work with a professional mediator to reach an agreement over division of property and child support.
As in the courts, pro se parties in mediation can make the process less efficient. The mediators have to work harder, asking questions that expose areas of disagreement, and they have to refrain from giving advice or making recommendations no matter how many times the clients ask for help.
Gooden and Van Valer attorneys have seen couples purposefully not hire attorneys because they fear with legal representation the process will become too acrimonious. In other instances, the couples want to keep costs down in order to have more money for their children.
Parties that are successful in reaching an agreement in an amicable fashion will more likely be able to co-parent harmoniously rather than fighting about every issue.
"If they don't have anything they need to argue about and they do agree, it's much cheaper to do it with mediation without an attorney," Van Valer said. "Ultimately, someday I'd like to see people come to mediation first."
However, a mediator in the room does not guarantee the couple will put together an equitable agreement. People going through a divorce are often in heightened emotional states and just want to get the process over with.
This raises the possibility that issues will be forgotten or not fully worked out, and modifying them may be even more difficult. Once the parties are divorced, they do not have to take their ex-spouse's feelings into account and tensions can rise.
Sue Ann Hartig, attorney and retired director of the Legal Aid Society of Evansville, said in 1979, a final divorce decree was a page long. Now, with the required language, parenting time guidelines, child support calculator and exemptions, divorce has become more complicated and also more expensive – the two things that can really hurt pro se litigants.
"We're definitely going to continue to have pro se litigants," Hartig said, "and I think somehow our system will have to address that."•
Please enable JavaScript to view this content.