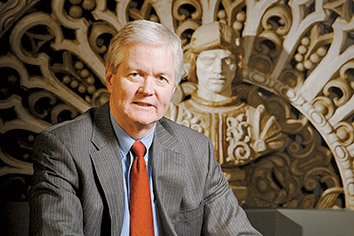 Judge John Tinder's appointment to the 7th Circuit Court of Appeals in Chicago never meant a change of address. He kept coming to the Indianapolis federal courthouse where he's labored for 30 years now as either a federal judge or prosecutor. Colleagues say the place won't be the same after Tinder retires next year.
"He was very helpful to me when I came onboard here, because it was all new to me," said Judge James M. Carr, who last year was appointed to the Bankruptcy Court for the Southern District of Indiana.
 
Carr said the federal judiciary as a whole benefited from Tinder's decision to keep his office in the Birch Bayh Federal Building and U.S. Courthouse. Carr said Tinder "showed me the ropes and gave me direction. I felt comfortable asking him the 'dumb question.'"
It didn't hurt that Tinder and Carr were classmates at Indiana University Maurer School of Law in Bloomington, earning their J.D.s in 1975. "We knew how to find our way to Nick's," Carr quipped, referring to the popular bar. "He was always a great guy and well-liked by everyone in law school, as far as I knew."
Tinder plans to retire from the 7th Circuit bench when he turns 65 next February – news that became public in early March after a clerk applicant shared a letter from Tinder with the legal blog Above the Law, which posted the letter.
"I recently decided that I will be leaving the court in 2015 so I will not be hiring any additional clerks," Tinder wrote in the letter.
In a style colleagues said is typical, Tinder took the episode in good humor. He already had informed federal court administration of his plans, which he said also were known to colleagues on the 7th Circuit.
"It's not like it was a secret," Tinder said. "Anybody could look at the calendar and figure out" that he would turn 65 in February 2015. At that point he will be eligible to assume senior judge status, but Tinder said he doesn't intend to hear cases after more than 25 years on the federal bench.
"I walked into the building here at 46 E. Ohio (in Indianapolis) in May 1984, and I've been working in this very same building ever since," Tinder said. "There's benefit in trying something different. I don't want to put any particular limits on what I might try."
Andy Mallor of Mallor Grodner LLP of Bloomington and Indianapolis also was a classmate. The longtime friend was best man when Tinder married Indianapolis attorney Jan Carroll. Mallor and Tinder clerked together during law school and have been close since.
"One thing I never doubted was whatever he did, he would do it with incredible diligence, intelligence, and ethically," Mallor said. "He is the standard in the law."
Mallor recalled that when his mother died late last year, Tinder dropped by to visit and spend time with his dad. "If you're a friend, you never have to worry," Mallor said. "He's always in your corner.

"The list of people that would do anything for him is a pretty long list."
Tinder began federal service as an assistant U.S. Attorney and was appointed U.S. Attorney for the Southern District in 1987. He then reached out to James Warden, who had been a deputy Marion County prosecutor while Tinder had been chief trial deputy prosecutor. Warden eagerly accepted an assistant U.S. attorney position, which he's held since.
"That was my professional dream. I wanted to be a career prosecutor," Warden said. Tinder "was a great boss for a combination of reasons. The primary reason to me was credibility." Warden explained Tinder brought to the office experience in criminal defense, and as a prosecutor "basically had a working knowledge about every case in the office."
A few years later, Tinder was confirmed as a District Court judge, and Warden found himself prosecuting cases before his old boss. "That can be a blessing and a curse," Warden said, noting attorneys on both sides knew Tinder from his prior experiences, and they knew what to expect from him.
"He was a very devoted and focused trial judge, and if you were prepared and straightforward, you weren't going to have too many problems," Warden said. "He didn't want you to do 'the dance.' … If you tried to do the dance, he'd call you on it."
Tinder said he's had dream jobs too – "now, and on the District Court, and as U.S. Attorney. They're all things I enjoyed every day and I continue to enjoy." But after 27 years on the federal bench, he decided he'd heard enough cases.
He has some "hazy notions" about what his post-retirement life may hold – public interest advocacy, maybe arbitration – along with some time for extended travel.
William Dazey of the Indiana Federal Community Defenders office in Indianapolis has represented defendants before Tinder since the judge's appointment to the federal bench. He's not surprised Tinder would carve his own path after retiring.
"I don't need a crystal ball to know that the next phase will be fun-packed and that the world around him will be a bit brighter place as a result," Dazey said.
Dazey said Tinder consistently kept court light and treated counsel with dignity and respect "even where counsel's conduct deserved neither."
"His wry sense of humor has tended to infect his work and work product," Dazey said. "I am certain that there is a bit of a little kid inside Judge Tinder who takes delight at the well-placed pun or amusing observation tucked inside an opinion and greater delight when a colleague takes notice."
Tinder's retirement plans won't include starting a law firm or appearing in a courtroom. "I'm not retiring from the legal profession, but I will be leaving the court, and I hope to remain active in some way in the legal community and the community at large," he said. "I'm not just going to sit home and watch sitcoms."
But Tinder said he does allow binge-watching of "House of Cards" and other popular dramas, and figures he as well as anyone might put his experience to work in a more artistic endeavor.
"My great hope is that I get a phone call from the people who are producing the prequel to 'Breaking Bad,'" Tinder mused. "It would be fun to be a judge in a courtroom where Saul Goodman appears," he said of the crooked lawyer portrayed in the just-concluded AMC network series.
And why not?
"I never would have thought I would have had a chance to do the things in the legal field I've been able to do," Tinder said. "It's just amazing to me, and it's been a fun ride. Who know what lies ahead?"•
Please enable JavaScript to view this content.