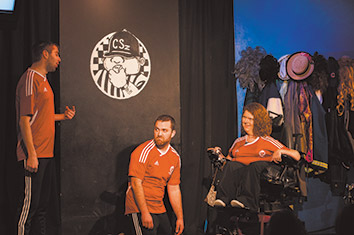 As a theater major at the University of Notre Dame, Katrina Gossett always thought she'd be spending more of her time performing than prosecuting. However, life took one of its unexpected detours, and today she's a mid-level associate in Faegre Baker Daniel LLP's business litigation group.
"I actually did mock trial in high school," she said. "I did it more for the theater aspect, but I did play a lawyer, and I really enjoyed that. But I still didn't think I'd ever be an attorney; I thought I was either going to be a teacher or in Hollywood." She paused and smiled. "Actually, if Hollywood comes calling, it might be hard to turn that down."
 
When Gossett eventually ruled out teaching as a career path, she thought back to her time in mock trial and decided law school would be a good option for her.
But she couldn't escape her roots entirely. When the ComedySportz World Championship came to Indianapolis in 2011, it inspired her to take improv classes and eventually to audition for the local ComedySportz team.
ComedySportz is an all-ages improv comedy show formatted like a sporting competition. There are two teams of "act-letes" who perform on a "field," not a stage, while a referee mediates. As the night unfolds, points are scored and fouls are called – such as the infamous Groaner Foul, called against an act-lete whose joke is so stupid or "punny" that the audience audibly groans. Gossett explained that there are also winners and losers, although it's hard to imagine anyone losing when the ultimate goal is rampant hilarity. ComedySportz operates in 24 cities in America and Europe and has been around since 1984, making the Indianapolis team part of a proud global tradition in gut-busting belly laughs. It's not hard to see why Gossett was eager to join the fray. But that's not to say that making the leap into improv was an easy decision. Even seasoned actors often have a smidgen of stage fright.
"Even though I did theater in college, improv terrified me," Gossett admitted. "I was so afraid that I wouldn't be funny enough, so I kind of held back. But I decided to stretch myself because I still have the theater bug in me, so I have to find ways to feed it."
After enrolling in classes with ComedySportz, Gossett discovered that she actually had a lot of the skills needed to be good at improv, like the ability to think on her feet and to "just go for it." Most importantly, she learned to stop worrying and just let it happen.
"I learned that you're not actually trying to be funny," she explained. "You're trying to perform and the funny just happens. I think once you let go of the idea that you have to be funny at all times, then you can kind of breathe and actually do improv."
Katrina Gossett performs with Ben Fraley, left, and D.J. Murray, center, at ComedySportz in Indianapolis.
Once she had plenty of practice under her belt, and bolstered by positive feedback from her classmates and instructors, Gossett auditioned for the team last May. She made the cut, and she has been part of the regular rotation since December. Despite juggling a busy schedule, this is what she wants to be doing.
"I decide I'm going to make time for it, and the time appears. It leaves me very little time for sleep and vegging out in front of the TV, but I'm having a blast doing it, and it's where I want to spend my time outside of work."
Even though this is a relatively new hobby for the attorney, her enthusiasm is contagious and it's hard for even devoted introverts not to be a little captivated by the charm of improv. It's difficult to resist the idea of being someone entirely different – several someones actually – each and every time you mount the stage.
"I love the freedom of it," Gossett said. "There are no limits when you're doing improv. You can be anybody. So I could be an old man, I could be a toddler, I could be an elephant that can talk. There are absolutely no restrictions. I also feel that, being a person who uses a wheelchair, a lot of people put limits on me and think that I can't do this or that, and it's an opportunity for me to step out of that."
Perhaps unexpectedly, Gossett also thinks that the time she spends at ComedySportz actually complements her work as an attorney, noting that the skill sets involved often overlap.
"How to react and interact with other people, all of that is very important in litigation," she explained. "You have to collaborate, you have to respond, be quick on your feet and be ready to answer anything in the courtroom."
Gossett encourages anyone who is interested to give improv a shot. She claimed that most of the skills necessary to do improv can be learned and notes that ComedySportz offers classes at all levels, including those for beginners to help you "get out of your shell."
"Besides," she added, "you get to play pretend for a few hours, and how many adults get to do that?"•
 
Please enable JavaScript to view this content.