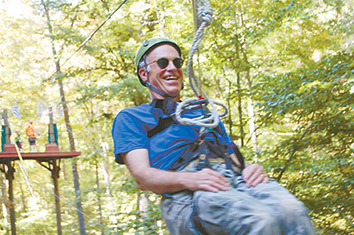 Lawyers from Indianapolis and South Bend recently soared on zip lines through the forest in the hardwood heart of southern Indiana. It was a retreat they won't soon forget.
"Next, it's paintball with a group of triple-A lawyers," joked Plews Shadley Racher & Braun LLP partner Ron Walker, fresh off an exhilarating first zip trip. "And this is not a non-competitive group by any means."
Plews Shadley partner and sky-diving enthusiast Amy Romig arranged the firm's adventure-rich retreat at Explore Brown County near Nashville. For those not so brave of heart, there also were options like hiking, biking and nature walks.
"This is our annual retreat, and it gives us a chance to spend time together and see people outside of our offices," Romig said. It also gives lawyers who work in separate buildings at the Indianapolis location, and those who work for the firm in South Bend, a chance to get better acquainted and forge new bonds.
Representatives of firms around the state – particularly those with multiple offices – say their practices benefit from retreats, team-building exercises and even regular face-to-face meetings of top partners.
"We just had a retreat where we brought speakers in and talked about communication skills and generational differences," said Mary Hendrix, marketing director of Jackson Kelly PLLC, which has offices in Evansville and Crawfordsville, along with locations in five other states and Washington, D.C.
Hendrix said the firm finds it important to balance such events with social time. "Just spending the time together, and dealing with issues that are not specifically legal issues, is helpful, and it does build teamwork."
John Remsen Jr. is president of The Remsen Group of Atlanta, Georgia, a legal consulting company which has helped plan more than 200 law firm retreats, including for firms in Indianapolis and Lafayette.
"I think that it's important to get away, get out of town and sequester yourselves as a firm from the hectic day-to-day aspects of the firm," Remsen said. "When we're brought in, we often ask, 'What do you hope to accomplish in terms of outcome,' and then let's build an agenda to make that happen," he said.
Remsen's company most often works with firms of 20 to 200 attorneys and offers scalable services. Retreats his company plans vary in cost, but he said $1,000 to $1,500 per attorney is typical, including transportation, lodging, meals and programming.
According to Remsen, one of the biggest mistakes firms make in planning retreats is packing the agenda with meetings. Another mistake is repeating the same kinds of retreats without mixing things up.
"A lot of firms tend to be stuck in their ways of doing things. It's good to get out of traditions from time to time. Tradition is important, and culture and history are important, but the profession has changed dramatically in the last 10 to 15 years, and if you haven't changed, you're probably losing ground."
Remsen suggested ideal retreats should strive for a balance. A third of the time should be set aside for meetings, a third for structured activities – golf or tennis, for instance – and a third of the time should be unstructured.
"Those conversations at the reception, poolside or in the hospitality suite so often allow us to leave with renewed energy, renewed trust," Remsen said.
But there also can be pitfalls in outside-the-firm festivities, and Remsen said he advises that firms provide a "tip sheet" that outlines expected behavior.
"There are a lot of stories where associates have lost their jobs due to bad behavior at a firm retreat," he said. "It always involves drugs or alcohol or promiscuous behavior."
Remsen said firms should consider extending retreats and events to spouses and significant others.
Lewis Wagner LLP will do that one better this month at the firm's annual picnic.
"This year we rented the Children's Museum for a night and we will have the entire firm there – lawyers, staff, families and children – for a night at the museum," said managing partner John Trimble. The event will include a haunted house and costume contest for the kids.
"From our perspective, our team is not just the lawyers, our team is everybody," Trimble added.
Lawyers from the firm who completed zip line rides watch as their colleagues complete their trips. (IL Photo/Dave Stafford)
The firm also takes the entire staff on an annual bus trip. This year, the firm headed to Chicago for a day on the town, complete with a rented rooftop venue to watch a Cubs game. Other past trips have been to Churchill Downs and West Baden/French Lick.
For firms that operate regionally, regular face-to-face meetings of key leaders from each office can foster teamwork beyond the immediate office walls.
Kopka Pinkus Dolin operates offices in Crown Point and Indianapolis, along with two offices each in Illinois and Michigan, and has about 60 lawyers across the firm. Managing partner Bob Kopka said managing partners from each office gather regularly for daylong meetings along with other key personnel from each location.
"We're trying to develop a team approach where blame doesn't exist and everyone's responsible for the success of the office and the success of the firm as a whole," Kopka said. "I want to create a team approach where people acknowledge their shortcomings and seek the wisdom of the group."
To that end, Kopka recently distributed copies of "Startup Nation" by Dan Senor and Saul Singer. The book explores the conditions that make Israel, a country of 8 million, the second-leading generator of startup companies behind the United States.
Kopka took from the book descriptions of a culture in which all citizens must serve in the armed forces, but where expectations are different. "In Israel, you call your commanding officer by a nickname. … Also in Israel, when orders are given, the expectation is that the junior officers will contest and question orders.
"So, what often arises is that there may be a better approach," Kopka said.
In an effort to improve his own leadership and team-building skills, Kopka sought out a business coach. The firm also conducted training that aimed to show attorneys how they could help develop their colleagues' careers.
"That's how you maintain continuity and keep people from leaving, and as a firm, we've had incredible success in that regard," he said.•
 
Please enable JavaScript to view this content.