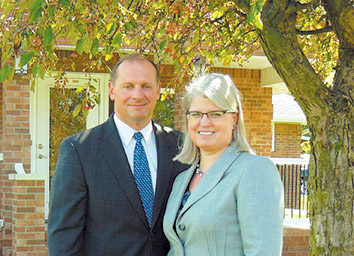 Jeff Hawkins is like most Indiana lawyers – he works in a small practice. Hawkins, incoming president of the Indiana State Bar Association, will be the first of three consecutive leaders hailing from solo or small law firms.
"I have a heart for the small-town lawyer, because that's all I've ever been," said Hawkins, who practices with his wife, Jennifer, at Hawkins Law P.C. in Sullivan. "I worry that when older, small-town lawyers retire, we won't have a crop of young, well-trained lawyers coming to take their place."
That's an ironic issue given the increasing number of law school graduates who have been unable to find jobs in the legal field, prompting many to open solo practices.
That trend poses two problems, Hawkins said. First, young lawyers need a support network they can turn to, and second, they need to practice in locations where lawyer populations are declining.
Hawkins will be sworn in as ISBA president at the organization's annual meeting Oct. 10. He said the ISBA is embarking on a three-year strategic plan that aims to help not just small-town lawyers but attorneys in firms large and small around the state.
Among other things, the plan aims to build membership in the ISBA and increase diversity of membership. It also aims to improve member engagement and promote career evolution.
"We want to open the door to participation by attorneys and judges and non-lawyer participants like paralegals and court staff," he said.
The ISBA also is concentrating on how best to serve lawyers in a challenging environment envisioned by futurists such as Indiana University Maurer School of Law professor William Henderson, Richard Susskind and others.
"We've all been paying attention to what they've been talking about – fundamental changes affecting the practice of law," Hawkins said. Those changes include fewer career prospects and declining entry-level compensation for law school grads due in large part to fundamental, evolutionary changes in the legal services industry, including the emergence of services such as LegalZoom and other do-it-yourself legal websites.
The ISBA's Mentor Match program can help young attorneys who may be thinking about setting up shop, Hawkins said. ISBA member resources such as online forms and practice software give attorneys a wealth of assistance. The association also has an active solo and small firm section and each year sponsors a solo and small firm conference.
Much like lawyers today, the ISBA has to offer its clients something special, Hawkins said. Like lawyers, the bar must "provide a value-added service that is better than what someone can get on their own from the Internet," he said.
Hawkins Law might be a small-town firm, but the proprietors are wired for capabilities that Hawkins believes are crucial for lawyers. "My wife and I are some of the 'techiest' lawyers in Indiana," he said.
Adinamis The couple years ago developed proprietary document-assembly templates, they use voice-recognition technology, and they have wired their office, home and vehicles to be able to work anytime, anyplace. Hawkins believes it's essential that lawyers be on the cutting edge of technology.
"Clients are sending me texts and emails, and if I don't reply by noon, they're calling me to see what's wrong," he said.
All in the family
Joining Hawkins in ISBA leadership Oct. 10 are President-elect Carol Adinamis of Indianapolis and Vice President Mitch Heppenheimer, a partner in Heppenheimer & Korpal P.C. in South Bend.
Like Hawkins, Adinamis practices with her spouse, Jeff Saunders. Her sister, Susan Adinamis, also is a partner at Adinamis & Saunders LLP.
Adinamis
"We kind of have our own clients, so it's not like we see each other 24 hours a day," said Carol Adinamis. "We still come home and say, 'How was your day?'"
Hawkins said he and Jennifer also carry individual caseloads, though he acknowledged she'll likely be picking up a bit more due to his bar leadership commitments in the year ahead.
"We speak about work at the office, and we speak a lot about work at home," Hawkins said. "It's just like the family business."
Carol Adinamis said that in a profession such as law, it's natural that people would choose to practice with spouses or family members. "The fact that you have people that you trust implicitly is very valuable," she said.
Adinamis, who will become ISBA president in October 2015, is looking forward to serving in the bar's leadership. "I think what I really want to see us do … is focus on things we can do for Indiana lawyers that make their lives easier and make their work lives more effective and efficient."
She said it's important that lawyers know the state bar association is the first place they should turn when they have a problem.
Heppenheimer, who practices in a two-person firm, will follow Adinamis in leadership. He said service should be the hallmark of what the bar is doing. "Part and parcel of that will be improving, making sure the legal community is serving the citizens of Indiana well … and making sure the legal system runs efficiently."
'Down to earth'
Outgoing ISBA president Jim Dimos, a partner with the large Indianapolis firm Frost Brown Todd LLC, said it's fitting that representatives of small firms will lead the bar in the coming years since about 70 to 80 percent of Indiana lawyers practice in small and solo firms.
Dimos said Hawkins will ably carry on an emphasis on membership, governance and diversity.
"I think people will find Jeff to be very down to earth," Dimos said. "Jeff will be incredibly energetic, a hard worker and a very good representative of the lawyers of the state."
Dimos said 81 percent of attorneys in Indiana are members of the bar, which he believes speaks to the quality of service. "That 81 percent figure is extremely high," he said. "We're a voluntary bar association, so to get that high number, we have to be providing value to our members.
"There's good leadership in the pipeline as well as the board," Dimos said.
Hawkins believes leaders from small firms such as his can impart valuable insights to those new to the profession as well as longtime attorneys. Lawyers who also understand the challenges of running a business share knowledge that can form a reliable foundation even in times when fundamental change is a challenge to the profession.
"We all understand what it takes to make payroll and keep the lights on," Hawkins said.•
Please enable JavaScript to view this content.