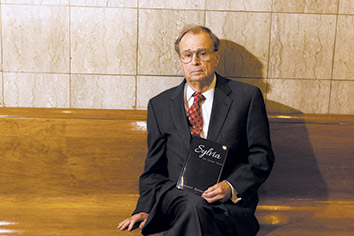 Almost 50 years later, attorney Forrest Bowman Jr. still shakes his head.
"I can't explain it," he said of the unceasing fascination with the monstrous abuse and killing of teenager Sylvia Likens on Indianapolis' east side in 1965. "I do not understand it."
Likewise, why Gertrude Baniszewski, her children and neighbor children went into the basement of Baniszewski's home to beat, burn, torment and brutalize the 16-year-old for weeks until she died continues to defy comprehension. "There are so many unanswered questions," Bowman said.
Bowman, though, does understand the legal case that followed. He defended two boys who had participated in Likens' abuse while her carnival-worker parents had left her and a younger sister in Baniszewski's care.
Almost 50 years later, Bowman is talking about the case, something he's not done much of in the past. His just-released book, "Sylvia: The Likens Trial," presents a thorough, inside, day-by-day recollection of a trial that captivated and horrified the state in 1966.
Writing the book took a lot of convincing. Bowman said he was distressed that the story had become sensationalized and dramatized in popular culture in numerous novels and films such as "An American Crime," and "The Girl Next Door."
At the urging of writer friends and acquaintances including veteran Indianapolis journalists Dick Cady and Dan Carpenter, Bowman decided to tell the story from inside the courtroom. The result is a gritty, richly detailed chronology punctuated with Bowman's narrative that mixes legal strategy with observations and anecdotes about the parties and lawyers who tried the case.
Reviewing the extensive, grim record and writing the book took the better part of two years, he said. "I could only work on it two to three hours at a time, and then I needed a mental health break. And this was after 48 years," he said. "I could write five more books about this case, and I'm not going to."
The discovery of Likens' emaciated, battered body and the gruesome revelations that followed startled the nation. She was bruised and cut from head to toe. Cigarette burns covered her body. On her stomach was carved, "I am a prostitute and proud of it." Prosecutor Leroy New called Likens' torture and killing "the most terrible crime ever committed in the state of Indiana."
Bowman describes the ensuing 17-day trial as a travesty. Baniszewski, her daughter Paula, son John, and neighbors Richard Hobbs and Coy Hubbard were tried together in a raucous courtroom in Indianapolis' City-County Building. Bowman represented John Baniszewski and Hubbard, who respectively were 13 and 16 years old at the time of trial.
Judge Saul Isaac Raab denied repeated motions for change of venue and separate trials – issues on which convictions for the five defendants later were overturned by the Indiana Supreme Court. Bowman writes in the book that Raab admonished jurors probably more than 500 times that certain evidence or testimony could be considered for some defendants but not others.
"I couldn't keep track of it; there's no way a jury could," Bowman said. "It was absurd." He noted that within months of the verdicts, the Supreme Court of the United States decision in Bruton v. United States, 391 U.S. 123 (1968), ruled such practices unconstitutional.
"This was an aberration," Bowman said of the trial. "It was unique."
In the book, he writes of standing beside his young clients as the jury returned verdicts, wondering if they would be sentenced to die in the electric chair – the penalty New had implored the jury to impose on all five co-defendants.
"I believed that what happened to Sylvia was barbaric," Bowman writes in the book. "I wondered if what was happening now wasn't also."
"Throughout this book there are expressions of outrage at the demand for a death penalty for those kids. … The announcement of it was shocking," said Bowman, who spares no criticism of New's prosecution, comparing his summation demanding the death penalty to the style and delivery of an evangelist.
Bowman took a less dramatic approach in his closing arguments than New and other defense counsel. He told jurors, "I would like to have an hour of their time to talk about why 16-year-olds and 13-year-olds should not be put to death."
Gertrude and Paula Baniszewski were convicted of murder and sentenced to life in prison; the other defendants were convicted of manslaughter and ordered to serve two to 21 years in prison. Bowman said his clients were released after 21 months. Both are now deceased. After appeals, Gertrude and Paula Baniszewski were retried and again convicted of murder. Gertrude Baniszewski was released from prison in 1985 and died in 1990. Paula Baniszewski was freed in 1972; in 2012 she was fired as a teacher's aide in Iowa after her identity and connection to the case were discovered.
A memorial to Sylvia Likens was dedicated at Indianapolis' Willard Park in 2001, more than 35 years after she was tortured and killed in the home of Gertrude Baniszewski. (IL photo/Dave Stafford)
John Dean covered the Likens trial for the Indianapolis Star and also wrote a book about the case, most recently reissued as "House of Evil: The Indiana Torture Slaying." Now an attorney practicing in Kentucky named Natty Bumppo (he changed his name in the 1970s to avoid confusion with the Watergate figure of the same name), he also encouraged Bowman to write the book.
"He's coming at it from a different perspective," Bumppo said. Because Bowman knew the defendants and was an active participant in the trial, the former reporter thought the defense lawyer would offer a different perspective on the case.
"He was effective and good," Bumppo said of Bowman's defense.
That was something Bowman said he was concerned about as he retraced transcripts and reconstructed the trial. He wondered whether as a more experienced lawyer he might find things he failed to do for his clients. Instead, he was comforted by his performance.
"I think I gave them the best defense they could receive."
Bowman has his own impression of why the terrible events happened inside the house at 3850 E. New York St., which since has been demolished.
"I don't think (Gertrude Baniszewski) was guilty of murder because I don't think that she intended to kill Sylvia," Bowman said. "I think she was stunned when she died. … In no way does that excuse the God-awful things she did or caused to be done.
"She had a miserable life," Bowman said. "What I think this was about was jealousy" of young Likens.
Some commentators suggest Gertrude Baniszewski was a Svengali-like presence for the youngsters she invited into her home and who followed her instructions to torture Likens.
Hobbs, a defendant who was 14 at the time of the crime, denied on the witness stand allegations that he had had a sexual relationship with Gertrude Baniszewski, but Bumppo and other observers believe it's the case. Bowman speculates in the book the vehemence of Hobbs' denial might have indicated the accusation was true. Bowman said New's cross-examination of Hobbs was the most vicious he's ever witnessed.
After almost 50 years, Bowman said in looking at the case anew he found something else in the record – the missed opportunities to save a young girl's life.
"As I was doing this, I was experiencing something I did not experience during the trial, and it was the frustration over all of the many ways that this should have been stopped and wasn't."•
 
Please enable JavaScript to view this content.