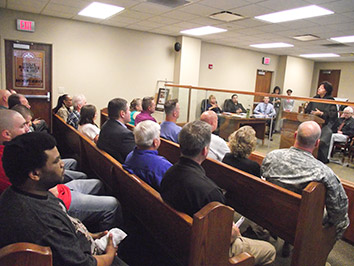 Returning military veterans sometimes come home with hidden traumas that in time reveal themselves, but growing numbers are recovering with help from other vets and courts designed to treat those wounds resulting from military service.
"Really, right in front of my eyes, with the support of these mentors, their honor is being restored," Floyd Superior Judge Maria Granger said of participants in her veterans treatment court in southern Indiana.
Veterans court candidates are those charged with an offense that can be connected to their service. Judges, attorneys and veterans' advocates say trauma, post-traumatic stress disorder, brain injury and substance abuse connected to military duty frequently are triggers that lead to offenses.
"The common thread seems to be deployment, candidly," said Allen Superior Judge Frances C. Gull who, with Allen Circuit Judge Thomas J. Felts, presides over veterans court in Fort Wayne. "We've got veterans coming back from wars as far back as the Vietnam War who've never dealt with their trauma."
The result can be a veteran reaching a breaking point and committing an offense such as drunken driving or criminal recklessness. Judges said the courts will not accept defendants who pose a risk to public safety.
For the courts to work, the veteran also has to be willing to confront the underlying service-related issue, and Granger said that's not always easy. Many veterans keep their service experiences to themselves which often can lead to self-medicating and destructive behaviors. They might not take an easier road when it's offered until they find themselves facing the criminal justice system.
"Then they realize it's time to make a change," she said.
For veterans who can access a treatment court, "the benefit to them is not only sobriety and recovery," Gull said, "but no felony on their record."
Granger's court got its start in 2011 and became the first one certified in Indiana the next year. Since then, veterans courts have sprung up in all corners of the state, and more are on the way. Like other problem-solving venues such as drug courts and re-entry courts, prosecutors hold the keys for diversion to veterans court.
Unlike other problem-solving courts, veterans courts rely heavily on volunteers from the wider communities they serve, and court coordinators take pains to match participants with mentors from the same branch of service. The say this helps build trust, support and camaraderie.
Floyd Superior Judge Maria Granger stands beside Nicholas Coulbern, who shows his Certificate of Achievement for completing a veterans court program in August 2013. (Submitted photo)
"We recognized we've got a lot of young people coming back from Iraq, Afghanistan and elsewhere who are having a very difficult time dealing with what they saw over there," said Kurt R. Earnst, a defense attorney in the veterans court that began operating this year in LaPorte County under the direction of Superior Judge Jennifer Koethe.
"We've got a great group of mentors and that's really the backbone of these programs," Earnst said. "A lot of them are Vietnam vets, and their motivation is, there wasn't anything like this for us; we're not going to let these young men and women down.
"The veterans here in LaPorte County have really stepped up to the plate," he said. "It gave them a place, for lack of a better word, to serve again."
Marion Superior Judge David Certo will preside in an Indianapolis veterans court tentatively scheduled to begin operating in January. He said a coordinator will be hired with an eye toward developing the network of volunteer mentors. "We hope for a very robust response from the community," he said. "The whole role of a mentor is to do things I can't do from the bench."
Granger said Floyd County's veterans court is preparing to have its eighth graduation ceremony, traditionally timed around Memorial Day and Veterans Day holidays.
Gull
Her court is run with military discipline in which mentors take the role of commanding officers. When a veteran successfully completes an individualized program, Granger said he or she also will get new coping abilities and a better understanding of treatments and services available to them through the U.S. Department of Veterans Affairs and other organizations.
"It's a solution you won't find in any civilian rehabilitative justice program," she said. "It links veterans with the benefits they need for life."
On Nov. 9, nine veterans will graduate from the veterans court program in Porter County, where Superior Judge Julia Jent said 26 veterans have graduated in the two years the program has been operating. She said it's common to see people in the program whose offenses are attendant to PTSD or hypervigilance, sometimes worsened by alcohol or prescription drug abuse that can be traced to their service.
"Oftentimes the issue is not that service is not available, it's that oftentimes the veteran doesn't avail themselves of services," said Jent, herself a veteran.
There are about two-dozen veteran mentors who help participants through the program in Porter County, and Jent has noticed these interactions often go beyond the occasional court days.
"They become friends, so they go out to lunch together and talk," she said. "We have the whole community involved, or we try to."
Certo
The veteran volunteers aren't the only people donating their time. It takes judges and court staff willing to give their time to make the programs run, as is common with problem-solving courts.
Gull said Allen County, which will mark its first veterans court graduating class of 13 on Nov. 10, is a joint effort with Judge Felts.
"We're running veterans court out of drug court and out of restoration court with no additional staff," Gull said. "It's a heavily volunteer effort and we don't have any extra money."
Judges say they're committed to problem-solving courts as the wave of the future, but they share a concern that the courts lack ongoing support from the state. Usually courts receive some grant funding, but Granger worries that continuity could be compromised because the programs rely so heavily on the volunteer will of judges, staffs, mentors, and community and veterans groups.
"My hopes are that Indiana will finally support these courts so they will survive beyond the judge that created them," she said.
Earnst argues that the courts also offer big savings. In LaPorte County, where the court can serve up to 20 veterans at a time, that could be as much as $200,000 to about $400,000 a year based on diverting vets who otherwise might be sent to jail or the Indiana Department of Correction. The programs also may save lives, he said, noting more vets and service members are dying from suicide than on the battlefield.
Jent
Gull said the courts recognize the unique challenges some veterans face readjusting to civilian life. "We do need to do something separate for those people," she said.
"It's a recognition that they gave a lot for their country by serving. We shouldn't expect them to have to give up their freedom" when the service leads to problems back home, Gull said.
For many judges, the veterans courts they lead are deeply personal. That may be truest for Granger, whose stepson, Army Sgt. Steven P. Mennemeyer, was killed in 2006 while serving as a medic in Iraq.
"I know from my personal experience the pain and enduring loss that veterans and their families cope with every day," Granger said. "These courts bring justice and hope. This approach sends a strong message to veterans that we will not take for granted the sacrifice that they made for our freedom."•
Please enable JavaScript to view this content.