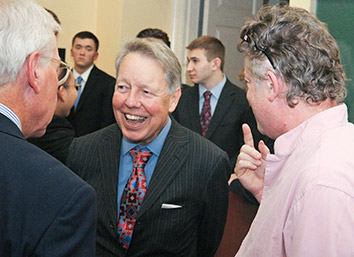 At a time when libel and slander laws favor defendants and technology has made communication easier, attorney David Kendall sees a decline in meaningful political speech.
The paradox between the right to free speech and the public's hesitant exercise of that right was pointed out more than a century ago by Mark Twain and Alexis de Tocqueville, Kendall noted. However, while that right has been bolstered, thoughtful and meaningful speech, particularly in the political arena, has diminished.
"These two writers had no idea about the Internet, they died long ago, but I think if they were brought back to us today and looked at the political scene, nothing much would surprise them," Kendall said. "We live in an era of great expression yet there seems to be a real shortage of reasonable political expression."
Kendall talked about free speech in today's society Oct. 23 at his alma mater Wabash College. His remarks at the Public Discourse Summit were part of his keynote address – "The First Amendment and the Internet: Was Mark Twain Right?" – given as the introductory event to the college's Wabash Democracy and Public Discourse Initiative.
A native of Sheridan and 1966 graduate of Wabash College, Kendall has built a legal career that ranges from First Amendment freedoms to the issues that have arisen for intellectual property and copyright in cyberspace.
He has represented media clients – like the Washington Post, Newsweek magazine and National Review – in libel, privacy invasion and copyright lawsuits. In addition, he has fought against subpoenas as well as prosecuted Freedom of Information Act requests.
After graduating from Yale Law School, Kendall clerked for the late U.S. Supreme Court Justice Byron White. Then he spent five years as associate counsel at the NAACP Legal Defense & Education Fund Inc. before joining the Washington, D.C., law firm of Williams & Connolly LLP where he is now a partner.
He is a longtime friend to Bill and Hillary Clinton, meeting them in law school and later representing them during the Whitewater scandal and impeachment hearings.
Kendall spoke at Wabash to a standing-room-only crowd that included students, alumni, professors and members of the WDPD advisory committee. He examined the ironic consequences to the technological advancements and legal rulings that have given Americans more ways to express themselves.
"Now, with so many ways to speak and with so many protections of speech, there should be a lot more thoughtful, rational, nuanced political speech than ever before, right?" Kendall asked before responding with the single-word answer, "Wrong."
He pointed to the Internet as one of the reasons for the decline in reasonable speech. The unregulated Web has an enormous amount of nastiness and triviality, he said, and with no editors reviewing content, rumors and lies spread quickly.
Other reasons he cited include the news media devoting more attention to covering trivial rather than substantive issues and the U.S. Supreme Court's decision in Citizens United, which equated money with speech and opened a flood of anonymous contributions to political campaigns.
Kendall criticized the Citizens United decision, in particular, saying the majority of justices ignored long-held common sense that unlimited campaign spending either corrupts, or appears to corrupt, the political process.
"The flood of money in the electoral campaign has resulted in a lot more speech, but I think it is not reasoned and meaningful in large part because it allows the rich to drown out the not-so-rich and to help set the public agenda," he said.
Following his lecture, Kendall said he does not expect the public to react to the coarsening of public conversation by demanding limits be placed on speech. Instead, he believes citizens will not pay attention to the issues.
"I'm afraid that in the political arena what the public does is it turns off and it tunes out and it doesn't go to vote and that's bad," Kendall said. "I think … people simply won't participate."
As a college student, Kendall participated in the national discourse by spending the summer of 1964 in Mississippi registering African-American voters as part of the Civil Rights movement. He tried to be inconspicuous and blend into the crowd but still he was arrested numerous times.
The Internet, had it been available back then, would have brought Civil Rights more quickly by showing the public outside of the South the struggle for civil rights, he said. And on the ground in Mississippi that summer, cellphones would have made a real difference.
In particular, Kendall said cellphones would have saved the lives of James Chaney, Andrew Goodman and Michael Schwerner, the three civil rights workers who were murdered after they were released from jail in Philadelphia, Mississippi. If those young men had their own phones, they would have been able to call their friends and coordinate five or six other cars to escort them back to Meridian, Mississippi.
As for remedies to improve public discourse, Kendall offered some ideas.
Along with reversing the gerrymandering that has created congressional districts rigged to favor one party and overturning Citizens United, he admonished voters to act like grownups by being realistic about what the government can and should do.
"We can elect politicians who are honest and thoughtful whatever their ideology," Kendall said. "We need grownups in office, and today we've got too many people who care only about getting re-elected and running on the hamster wheel of political fundraising to get elected again."
Kendall concluded his remarks by describing his recent walk to the Lincoln Memorial in Washington, D.C., a place he had not visited since his high school senior class trip. There, he said, he re-read the president's inaugural address and was surprised by the empathy as well as the absence of triumphalism and partisanship, elements which are pervasive in today's public discourse.
"I hope the country never needs the services of an Abraham Lincoln," Kendall said. "But I do wish the politicians of today would more often consult not only Lincoln's language but also his style of government."•
Please enable JavaScript to view this content.