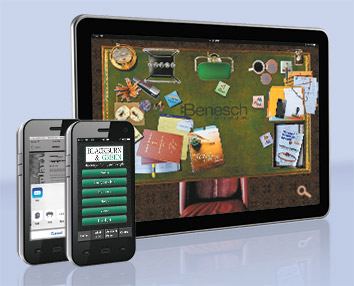 As a law student, Matthew Gardlik wanted to keep a copy of Black's Law Dictionary nearby for quick reference, but he didn't want to lug the massive tome from class to class. So he did what many smartphone and tablet users do: He found an app for that, downloaded it and always had the dictionary handy whenever he had a question.
Gardlik, now an associate at Woodard Emhardt Moriarty McNett & Henry LLP, is using the same idea to create the firm's first app, which will have the current laws on intellectual property, like patents and trademarks, as well as the Code of Federal Regulations.
"All of the attorneys here have a scientific and technical background," he said. "We thought it would be cool to have an app."
Gardlik, who holds a Ph.D. in chemistry, thinks the app would appeal to any IP attorney, whether in private practice or working as an in-house counsel. It would put IP law, which can be very complicated and therefore difficult to recall, at the attorneys' fingertips when they are out of the office.
In describing his firm's app and its uses, Gardlik hit upon the conundrum law firms face in this part of the technological world. While the market expects every service-oriented business to have an app, law firms have a difficult time figuring out what, exactly, they could put into an app.
Developing an app can be costly, Gardlik said, and not all areas of the law may lend themselves to being easily accessed by a simple click. The essential question is what benefit the app creates, he said.
Lawyers like their mobile devices. According to the American Bar Association's 2014 Legal Technology Survey, 91 percent of attorneys use smartphones and 49 percent use tablets. They are downloading apps, with the most popular ones providing a specific function like access to Westlaw and Lexis services, and to legal dictionaries.
While apps like Fastcase and TrialPad were created especially for the legal profession, apps created by law firms are a small part of the market and not very popular. Advertising executive and acclaimed graphic designer Burkey Belser has a simple reason why.
"If there were a need for law firm apps," he said, "they would exist."
Belser is the president and co-founder of Greenfield Belser LTD, a marketing and design agency based in New York. Among his notable work as a designer is the black and white nutrition label that adorns the boxes and cans on grocery store shelves.
Gardlik
The challenge for law firms is to create an app that brings value, Belser explained. Being cool is not enough. The apps must be functional and fill a need that the user has. Putting the firm's legal blog or newsletter into an app is, as Belser bluntly put it, a dumb idea because no one will read the material.
What successful apps all have in common is that they are useful. Pointing to the apps on his own phone, Belser noted he has apps for real estate, translating English into another language, giving the scores of ball games, or locating restaurants. All fulfill a need at that moment, such as a white-noise app he uses when he has to sleep while staying at a noisy hotel.
Personal injury firm Blackburn & Green developed an app to help drivers if they are involved in an accident. The app, available since 2011, enables users to store their insurance policy number and agent's number, vehicle information, and emergency contacts. It also gives drivers the capability to document an accident, take notes and videos, log the other driver's information and, by pressing a red button, call 9-1-1.
Louise Myers, marketing manager for the law firm, wrote the content and worked with an outside agency which built the actual app.
"We decided to develop our accident app because we saw it as a great way for us to be among the first personal injury law firms to adopt the newest technology in order to provide something of actual value to the general public," Myers said. "Though we did not develop the app with the sole intention of promoting the firm, the app does reinforce the image we have put forth in our advertising of being a firm of trustworthy lawyers who really do care about their clients and will always be 'by your side.'"
Belser attributed the trend of law firms creating their own apps to younger lawyers, who are comfortable and excited about technology, moving into management positions. They see the app as a way to market the firm.
Yet, when he sits down with a law firm and talks about ideas for apps, he goes back to the premise that it must meet an immediate need. Complicating their foray into apps is that law firms underestimate the competition, the cost and how difficult the applications are to build, Belser said. In addition, other apps might have functions that overlap with what the law firm is offering so the public does not see a need to download the firm's app.
"I've been looking at this thing for several years myself," Belser said. "I have seen more bad ideas by multiples of 100 than I have seen a passable thoughtful idea."
Although Benesch Friedlander Coplan & Aronoff LLP felt the firm must have an app since mobile devices are becoming ubiquitous, it wrestled with what the app would do, according to Julie Gurney, director of marketing and communications at the firm. Benesch did not want to rehash its website, and it did not think most legal news would interest people to the point that they would want to check for the latest developments on their phones.
It was the tight legal job market that provided the impetus for the new app. The firm launched Apportunity in May 2011 which lists job openings at Benesch and gives alerts whenever positions become available.
When the firm goes to job fairs at law schools, it encourages students to download the app, and it lets job hunters know about the application as well.
Gurney
Benesch worked with an outside agency to build the app. The agency advised the firm the app needed to have a game element. Initially the lawyers were reluctant to do anything gimmicky, Gurney said, but eventually they did find a way to give the app an interactive twist.
The firm took a photo of a senior partner's desk and put it into the app. By moving the curser around the desktop, the app user can interact, eat a "virtual" bagel, and turn an iPhone on and off.
Apportunity has been a success, but Gurney underscored the difficulty law firms have with apps when she noted Benesch has not since offered another one. The firm would love to do another, she said, but developing an app takes a lot of time and money and so far, the firm has not found an idea that would provide the necessary level of value or fill a need.
Gardlik said he has ideas for more apps, yet he quickly acknowledged the difficulty in building the app that he currently has in the works. He is creating the Woodard Emhardt app himself, writing the code and testing prototypes on his smartphone.
"It wasn't the hardest thing I've ever done," he said, "but it wasn't the easiest."•
Please enable JavaScript to view this content.