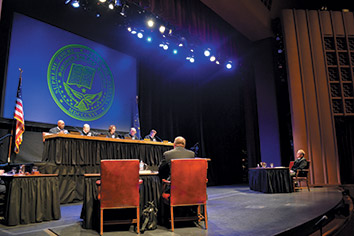 Adoption laws are evolving, as evidenced by a case before the Indiana Supreme Court and a separate push for a pre-birth abandonment bill aimed at biological fathers who don't support their baby's mother during pregnancy.
Justices on Nov. 10 traveled to Purdue University to hear arguments in Jason and Justina Kramer v. Catholic Charities of the Diocese of Fort Wayne-South Bend, 71A03-1308-CT-301. The case arose from a formalized adoption that should not have been approved.
 
Jason and Justina Kramer adopted a newborn girl but had to return the baby seven months later. The baby's father had twice registered with the Putative Father Registry kept by the Indiana Department of Health, a fact that Catholic Charities didn't know until after the child was placed with the Kramers. The registry is designed to allow single men who think they may be the father of a child to obtain notice in the event of an adoption proceeding.
As courts around the state conducted special events to celebrate National Adoption Month, justices grappled with Kramer, which poses at least two issues of first impression. One issue: Can adoption agencies face negligence claims when a child mistakenly has been placed with an adopting family? A second issue: What is the precise duty of care an adoption agency owes to its clients?
The adoptive parents argue they have a negligence claim against Catholic Charities, but the agency says it complied with applicable state statutes. The agency noted that its earlier checks of the registry found no record of the father, even though he had registered. Catholic Charities also argued
the Kramers had signed a waiver accepting the potential risk of a contested adoption.
A divided panel of the Indiana Court of Appeals reversed the trial court's grant of summary judgment in favor of Catholic Charities, and the Supreme Court heard arguments on whether to grant transfer in this case.
"I don't think the Court of Appeals went far enough," South Bend attorney Charles Rice argued on behalf of the Kramers. He said the waiver his clients signed did not absolve Catholic Charities of possible negligence liability.
"Other states have found a fiduciary relationship with regard to adoption agencies and adoptive couples," Chief Justice Loretta Rush interjected. "Are you asking this court to adopt that?"
"Absolutely," Rice replied. Adoption agencies are the only entities with access to all the pertinent information about all parties because of confidentiality laws, he said. "With that responsibility by Catholic Charities there is an incredible amount of trust and confidence imposed upon them by the adoptive parents and the birth parents," Rice said.
Catholic Charities, though, claims it is entitled to the summary judgment it won at the trial court and that it did everything the law requires for an adoption. "We did not breach any duty that we owed to the Kramers in terms of this placement," South Bend attorney Thomas Vetne argued for the agency.
But pressed by Justices Brent Dickson and Robert Rucker on the duty of care an adoption agency owes its clients, Vetne said, "I'm not sure this court has ever decided what that duty is.
"We have a statutory mandate to contact the registry no earlier than one day after the father's deadline to register. That's what we did. That's due care. … We were entitled to summary judgment based on the clear language of the release" the Kramers signed, he said.
"There is an inherent risk in any adoption proceeding that the biological father could step forward and claim custody, the mother could changer her mind, any one of a number of things could happen to upset the adoption apple cart," Vetne argued.
Kendra and Susie Fisher adopted baby Grace Nov. 10 during a National Adoption Day event in the court of Vanderburgh Superior Juvenile Judge Brett Niemeier (Photo courtesy of Channel 14-WFIE)
But several justices challenged the notion that a waiver in this kind of case was sufficient and noted the language in the release said nothing regarding negligence. Rice argued that adoptions qualified as the sort of special relationship in which there should be no exculpatory clauses for adoptive parents to sign. Further, he said the Kramers didn't sign the release until several days after the child had been placed with them.
"The harm occurs when the placement is made" in a case such as this, Rice argued. "When that child is placed to (adoptive parents), the emotional attachment begins."
Rice argued summary judgment was inappropriate because the duty of reasonable care is a question for a jury to decide. "That duty is no different than (for) any other actor under tort law," he said. While the agency may have complied with the legal requirements, Rice said, "There's wisdom in doing more than the bare minimum."
Vetne said Catholic Charities wasn't seeking immunity in the case and pointed out that despite the mistaken placement, the Putative Father Registry ultimately worked.
"The child ended up with her biological father," he said. "That's a good outcome, and in the state of Indiana we ought to encourage that and not hold adoption agencies liable when that happens."
'Abandoning' fathers
Biological fathers who don't support their putative child's mother during her pregnancy could lose their right to contest an adoption under a proposal that received mixed reviews during the General Assembly's Interim Study Committee on Courts and the Judiciary.
Advocates, including Adoptions of Indiana, asked the committee in September to endorse a pre-birth abandonment law. Adoptions of Indiana Executive Director Meg Sterchi implored the committee to endorse a bill that would eliminate the ability of fathers to block an adoption "out of a desire to control and spite the expectant mother.
"Over the last two decades I've seen women who were pursuing adoptive placement become completely overwhelmed after a biological father filed for paternity or filed with the registry and therefore in effect stopped their adoption plan," Sterchi wrote in a letter to the committee. "His desire wasn't to be an engaged father, but only to control her. These women and their babies need the protection of Indiana law."
Sterchi wrote that the result in some cases was women who were forced into single parenthood without support of the child's biological father.
But as president of the Indiana Council of Juvenile and Family Court Judges, Henry Circuit Judge Mary Willis urged the committee not to endorse the proposal to amend I.C. 31-19-9-8. The council concluded that current law adequately covers concerns and that "abandonment" wasn't adequately defined, among other things.
Willis said she believes the proposal is well-motivated but would remove discretion of judges and strip fathers of due process.
The juvenile judges council also expressed concern that the pre-birth abandonment proposal wouldn't take into consideration instances in which the birth mother has refused contact with or financial assistance from a putative father without justifiable cause.
The interim study committee made no recommendation on the proposed pre-birth abandonment law.
 
Leach
Adoption attorney Nathan Leach with the Indianapolis firm Bleeke Dillon Crandall P.C. attended the interim study committee hearing at which the abandonment proposal was discussed. He noted Indiana law currently doesn't address pre-birth paternal abandonment.
"If worded properly, I do like the opportunity for a birth mother to place her child for adoption," Leach said, "and be able to do so over the objection of an alleged father who is not providing any support and is refusing to do so. I think it would benefit Indiana's adoptive parents as well as Indiana women who want to make an adoption plan."
He said concerns about due process for fathers must be balanced against a woman's right to make an adoption plan and the child's best interest. "Nobody's in the business of taking children away from a father who wants to be a father," Leach said.•
Please enable JavaScript to view this content.