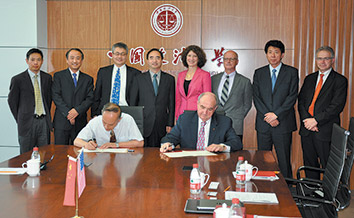 Talking about the rows of books and journals available in the library coupled with the access to databases and the ability to confer with faculty, Zhou Chao sank into a smile that bordered on relief and described her research as "very beautiful."
Zhou, an associate professor in the department of law at the China Agricultural University in Beijing, is spending a year at the Indiana University Robert H. McKinney School of Law studying U.S. laws and regulations regarding food safety. She is part of the visiting scholars program that is one of many educational partnerships the Indianapolis school has established in China since 1987.
 
Her interest in food safety is a budding field in China and one that is receiving more emphasis following some high-profile incidents like the tainted milk powder scandal in 2008 and the arrival of genetically modified foods. Studying in the U.S., Zhou said, gives her access to materials and expertise that are not available in her homeland and enables her to craft well-researched and reasoned proposals which the Chinese government can use to ensure the food supply is safe for consumption.
Recently, faculty from the China University of Political Science and Law arrived at Indiana University Maurer School of Law for a one-day summit to trade ideas about judicial reform and criminal procedure. The professors visited as part of the Academy for the Study of Chinese Law and Comparative Judicial Systems, a joint program between CUPL and IU Maurer.
In addition to the scholarly research and visiting professorships, student exchanges between China and three Indiana law schools – IU McKinney, IU Maurer and Notre Dame Law School – give students in both countries the opportunity to learn about the law of another country as well as its culture and history.
Many law schools in the United States have exchange programs and partnerships with universities in China. The attraction of cultivating relationships with the country is easy to understand since it is a political and economic powerhouse. As businesses and governments increase their connections with China, the need for lawyers is growing.
Indiana law schools are enabling their students to gain an advantage over the competition for careers in international business law by spending several weeks studying in China. The schools are also helping the Asian nation develop a legal system based on the rule of law and an independent judiciary.
Rule of law
The partnership between IU Maurer and CUPL is tilted toward scholarship and exchange of ideas. More than a decade ago, young faculty members at CUPL began coming to Bloomington to study in the LLM program, and the relationship has progressed to the establishment of the academy this spring.
Indiana University President Michael McRobbie (seated right) signs an agreement with China University of Political Science and Law Vice President Zhang Baosheng (seated left), which established the comparative law academy at IU Maurer School of Law. (Photo courtesy of IU Maurer School of Law)
The academy is an outgrowth of the Collaborative Innovation Center of Judicial Civilization, which Chinese officials created to lead the country's judicial reform effort. China is relying on research and collaborations between scholars, judges and lawyers to help transform its legal system from one where police and prosecutors decide guilt and punishment to one that resembles American jurisprudence.
IU Maurer alumnus Thomas Man, adjunct professor of law at CUPL and professor at the School of Transnational Law in Peking, is a driving force behind the reform effort and helped get the Bloomington law school involved.
The partnership is producing substantive thinking and conversations that foster new ideas, said IU Maurer professor Joseph Hoffmann. The discussions not only aid the Chinese in crafting their legal system but also give American scholars a fresh perspective on the U.S. judicial process.
Man and his colleagues have been drafting proposals to introduce criminal procedure law into the Chinese court system, including rules governing search and seizure, presentation of evidence, burden of proof and witness testimony.
Man said the reform effort is pushing for judges to be more transparent. Instead of the current practice of issuing a ruling with no explanation, reformers want judges to provide the reasoning behind their decisions so the parties can raise objections or determine grounds to appeal.
The academy will bring Chinese legal scholars to the U.S. for extended periods of study, and professors from both countries will teach short stints at the respective schools.
"I envision the academy will continue the reform effort," Man said, "and IU Maurer professors and students will become participants in the process."
Hoffmann sees the possibility that Chinese judges will come to IU Maurer to take classes in evidence law so they can better understand how to put the reforms into practice.
Scholars and students
Students and professors who come to Indianapolis from China usually make the same comments to IU McKinney Professor Lloyd "Tom" Wilson. They find the city to be clean and quiet, and they are amazed that the sky is so bright.
The comments are not surprising considering the visitors are coming from urban centers crammed with 10 million to 15 million people, or more, and with pollution reaching levels that blot out the sun. But the exploration of the differences in the cultures is a key part of the education programs at IU McKinney.
Indiana students travel to Renmin University of China Law School to study during the summer and, possibly, do a short internship in a Chinese law firm. About three years ago, IU McKinney started accepting students from Sun Yat-sen University Law School.
Students enrolled in the programs get rigorous doses of law curriculum along with field trips to the respective countries' courts, government agencies and historic sites.
Quan Yanmin attended IU McKinney in 2006 as an LLM student and he returned earlier this year as a visiting scholar, like Zhou, in the Joint Center for Asian Law Studies. He is studying copyright law in hopes of being able to better understand the differences in interpretation of ownership and fair use that often spark disputes between the U.S. and China.
His first time in Indianapolis, he said, he was buried in his studies. However, this trip he has joined other students in visiting a local law firm, meeting some government officials and attending a federal court hearing. All of these experiences, he said, have enhanced his studies.
Bringing diversity
Six years ago when Yi Fang sat in her law class at Notre Dame, she discovered she was the only Chinese national in the entire law school.
Her classmates, she said, were brilliant but they were not getting the exposure to international experiences like their counterparts at other law schools. So after a year spent clerking for a federal judge, Yi returned to her alma mater and helped establish a student exchange program with the law schools at Peking and Tsinghua universities in Beijing.
Notre Dame Associate Dean for International and Graduate Programs Roger Alford said establishing an educational partnership in China made sense since the law school also has exchange programs in Chile and Italy, and it is starting one in France.
The program, Alford said, will give valuable experience to Notre Dame students who are interested in practicing in China or working with companies that do business in China. They will know what it is like to live in China and their studies will make them more competitive for jobs in international law.
Yi said the next step will be to keep the exchange program running. Getting students to participate is difficult, she said, because studying abroad requires courage, the ability to adapt and the willingness to learn.
However, echoing Alford, Yi said the students who do study in China will gain an "unspoken quality" that will help them stand out from other lawyers.•
 
Please enable JavaScript to view this content.